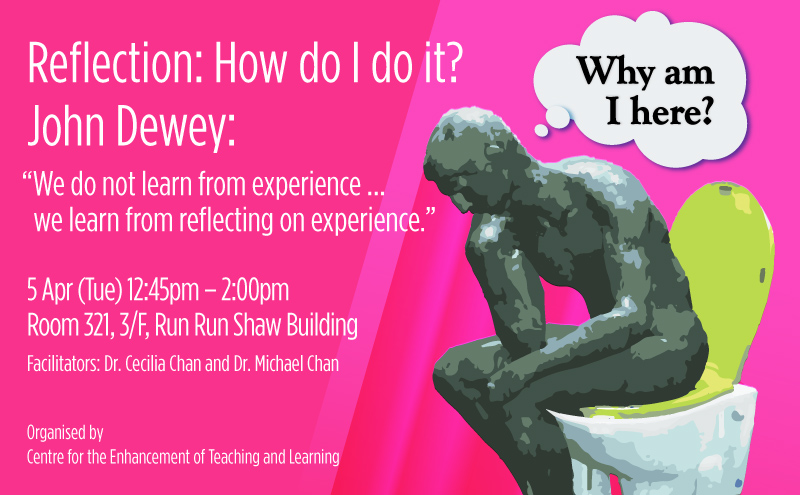 Organized by Centre for the Enhancement of Teaching and Learning (CETL)
Date : 5 April, 2016 (Tuesday)
Time : 12:45pm – 2:00pm
Venue : Room 321, Run Run Shaw Building
Abstract:
In academic contexts, reflection is an essential tool for both teaching and learning. It refers to the active intellectual monitoring and evaluation of one's own formal learning and professional practice activities, and this very process that leads to new knowledge and self-understanding. This workshop would focus specifically on the context of reflective learning, and examines how reflection can be an essential part of teaching and learning within higher education. By exploring the possible conceptualization and implementation of reflective learning within the different disciplines, we will discuss and share insights and tools on how to motivate, engage, and assess the learning of students through reflection.
Facilitators
Dr. Cecilia Chan, Head of Professional Development, Associate Professor, CETL
Dr. Michael Chan, Project Officer, CETL
About the Speaker:
Dr. Cecilia Chan
Head of Professional Development/Associate Professor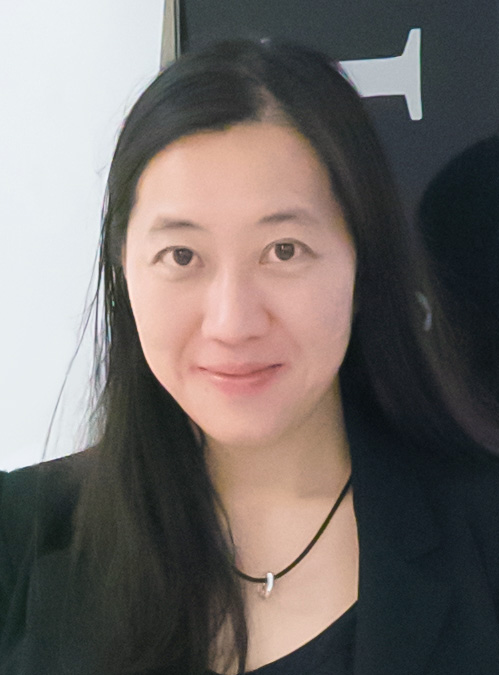 Dr. Cecilia Chan is the Head of Professional Development and an Associate Professor in the Centre of the Enhancement of Teaching and Learning at The University of Hong Kong (HKU). Cecilia has a dual cultural background; she was originally born in Hong Kong but grew up in Ireland. In addition to her dual cultural background, she also has a dual discipline expertise in engineering and education; she has been playing an important role in enhancing engineering, business and science education. Her combined expertise in these fields and multi-cultural experience enabled her to lead and conduct research on topics such as assessment, technology enhanced learning and the development and assessment of 21st century skills from east to west in the different disciplines.
Cecilia holds a PhD in Engineering from Trinity College, a postgraduate diploma and a MA in Higher Education. She also held a Fellowship from King's College London. She has received many teaching awards and has over 15 years of effective practical experience in engaging students.
Dr. Michael CHAN
Project Officer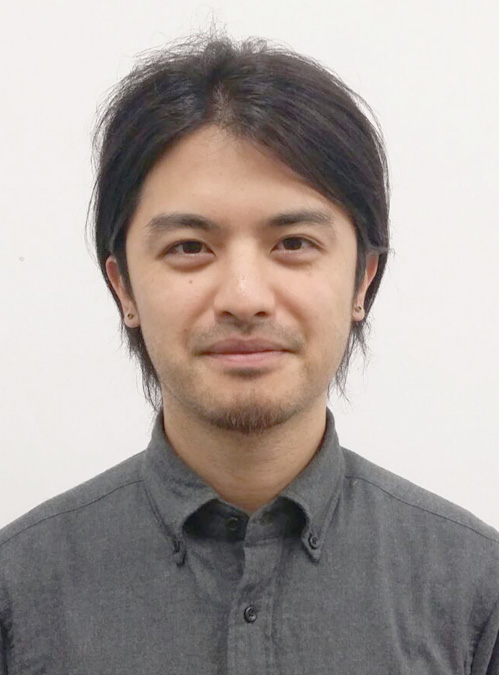 Dr. Michael Chan received a M.A degree in Cultural and Religious studies and a Ph.D in Religious Studies both from the Chinese University of Hong Kong in 2010 and 2015 respectively. As an Adjunct Lecturer for different higher education institutions in Hong Kong, he teaches undergraduate courses on comparative culture and religion, particularly on the development of contemporary religious traditions and its connection with current global issues.
Michael is responsible in managing and executing different research projects on teaching and learning at CETL. Apart from working on the Centre's latest project on developing and assessing generic skills in engineering education, he is keen to explore avenue of teaching and learning that approximates to his own research interest in culture and religion, particularly on the impact of ethnic diversity and multiculturalism on teaching and learning approaches and experiences.
For information on registration, please contact:
Ms. Noranda Zhang , CETL
Phone: 3917 4729; Email: noranda@hku.hk​