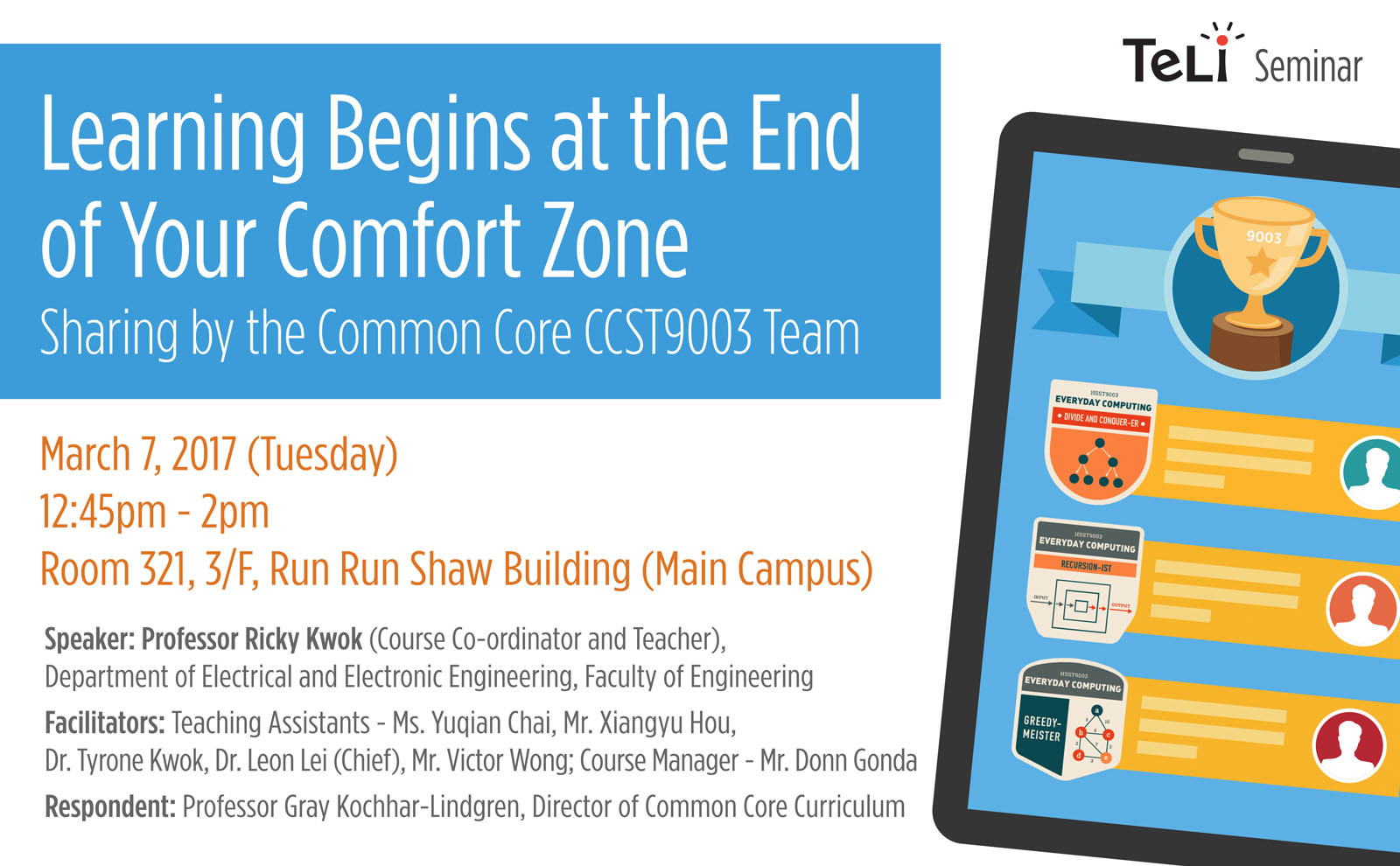 Organised by Technology-Enriched Learning Initiative (TELI)
Date : March 7, 2017 (Tuesday)
Time : 12:45pm – 2pm
Venue : Room 321, 3/F, Run Run Shaw Building (Main Campus)
Speakers : Professor Ricky Kwok (Course Co-ordinator and Teacher), Department of Electrical and Electronic Engineering, Faculty of Engineering
Facilitators: Teaching Assistants – Ms. Yuqian Chai, Mr. Xiangyu Hou, Dr. Tyrone Kwok, Dr. Leon Lei (Chief), Mr. Victor Wong; Course Manager – Mr. Donn Gonda
Respondent: Professor Gray Kochhar-Lindgren, Director of Common Core Curriculum
About the sharing:
The Common Core Curriculum Committee granted approval for running CCST 9003 – Everyday Computing and the Internet in the Scientific and Technological Literacy Area of Inquiry – as a Small Private Online Course (SPOC) in the first semester of 2016-17. Traditional in-class lecture materials were replaced by video recordings and other online learning materials, leaving more time for interactions in face-to-face sessions. For those of you who would like to know more about what happened, please sign up for this sharing session. The teacher-in-charge and TAs will show you how the course was re-designed, what in-class activities were used, and perhaps most importantly – the pains and pleasures of running this SPOC.
Please note that participants are required to watch a few short videos and send in some questions before coming to the face-to-face sharing. They will also be given hands-on exercises during the 75-minute session (so, we are serving light refreshment). Come prepared.
Sign up via http://bit.ly/2lEKso3 by March 3, 2017.
Enquiries should be directed to enquiry@teli.hku.hk.