Guest blogger series: Dr. Fred Ganotice, Jr.
Dr. Fred Ganotice, Jr.
serves as the program coordinator of Interprofessional education of the Bau Institute of Medical and Health Sciences Education. Through his TDG-supported project called "Finetuning the application exercise and facilitation strategies of interprofessional education", he works to improve further the IPE model currently being implemented.
Interprofessional Education (IPE) aims to break educational silos by putting students from diverse backgrounds to be better collaborators by learning with, from, and about each other, thus managing power hierarchies in the workplace. Teamwork and collaboration are important learning competencies to help prepare future health professionals reshape both the process (e.g., from silos to interprofessional team-based care) of health care management and health outcomes. IPE becomes a means within which future healthcare professionals become collaborative practice ready.
This year, IPE has been scaled-up to include both face-to-face IPE and "online asynchronous and synchronous IPE" and are participated in by five disciplines: Chinese Medicine, Medicine, Nursing, Pharmacy, and Social Work. The outbreak of coronavirus disease has prompted the inclusion of online IPE which helps mitigate the potential health risks of large student gatherings. Three of the four IPE lessons have been transformed into online IPE.
IPE Lesson
Mode
Duration
Student Participants
1. Anticoagulation therapy
Face-to-face
January 19, 2020
MBBS – 116
Nursing – 123
Pharmacy – 30
Total 269
2. Multiple drugs and complementary therapies
Online
Feb 10 – 22, 2020
MBBS – 114
Nursing – 84
Pharmacy – 30
Chinese Med – 9
Total 237
3. Depression
Online
March 2 – 14, 2020
MBBS – 116
Nursing – 93
Chinese Med -24
Social Work – 22
Total 255
4. Cancer
Online
March 16 – 28, 2020
MBBS – 114
Nursing – 93
Chinese Med -15
Social Work – 22
Total 274
The online IPE is built around asynchronous self-paced interprofessional team-based activities, online discussion teams, and healthcare planning exercises to develop teamwork skills among students. The content experts go live for an online synchronous interactive discussion while students participate via Zoom in the convenience of their homes.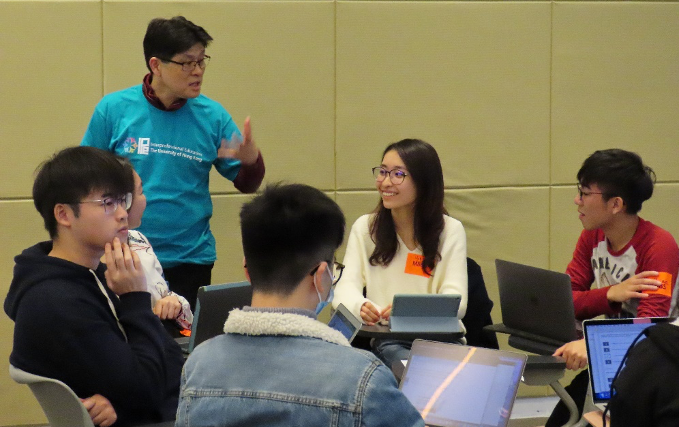 Dr George L. Tipoe, BIMHSE Director, facilitates interteam discussion in IPE Anticoagulation Therapy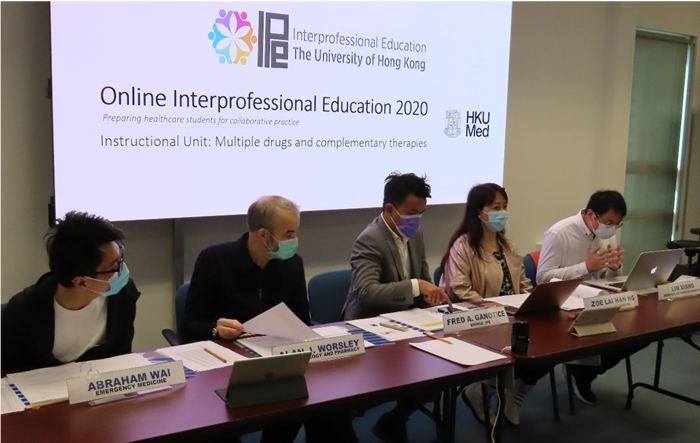 The teachers involved in IPE Multiple drugs and complementary therapies process the IPE team activities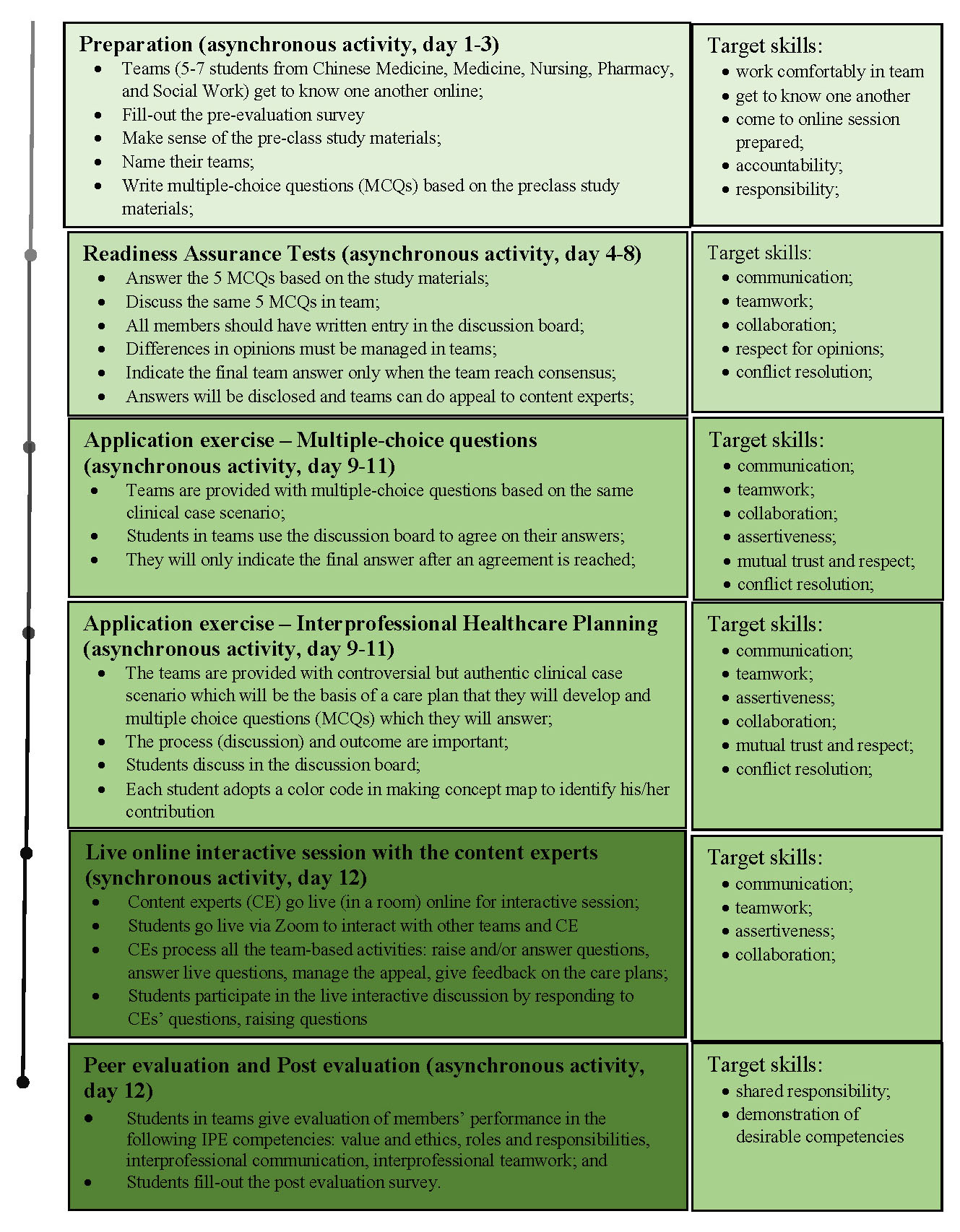 The sequence of activities for Online synchronous and asynchronous IPE.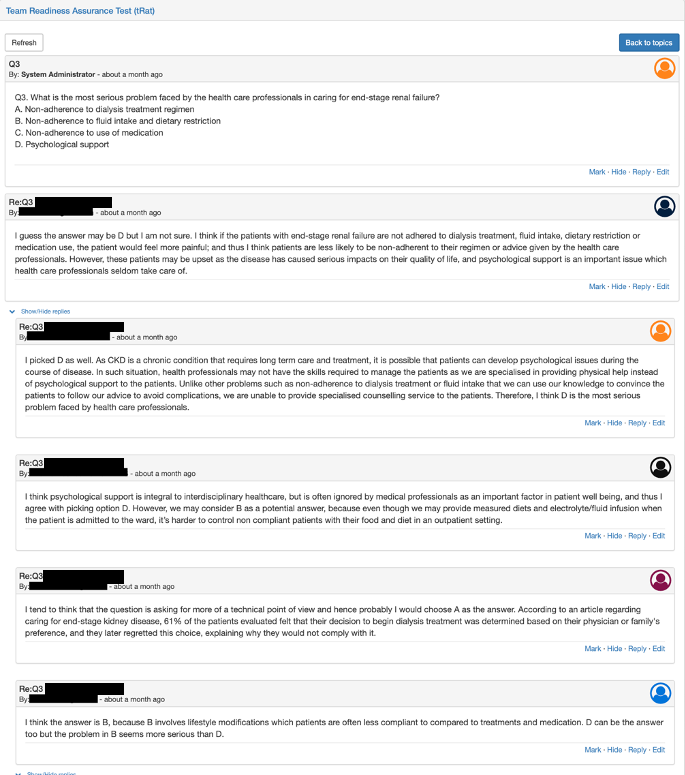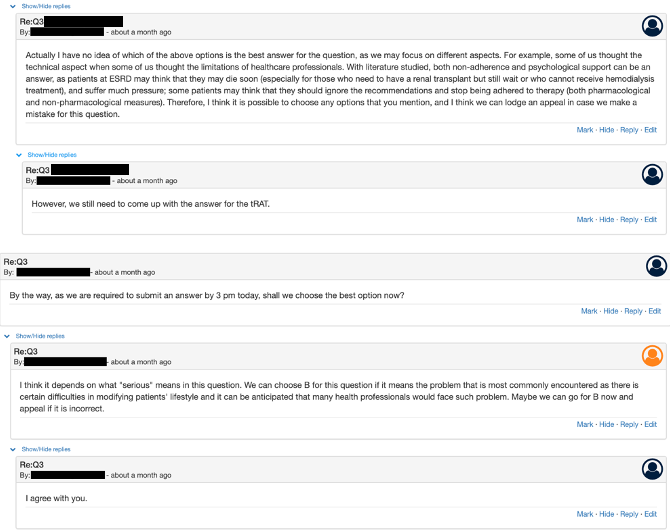 Sample of discussion board entries of a team in readiness assurance test (tRAT)
To promote teamwork and collaboration among teams, they are instructed to represent the knowledge of their discipline in the discussion of multiple-choice questions as a team. We used the within team differences in perspectives to push them to discuss more and be respectful to other disciplines.
An important part of Online IPE is the formulation of interprofessional care plans, which provides students from four to five disciplines the chance to integrate their collective intelligence and expertise in the management of patients.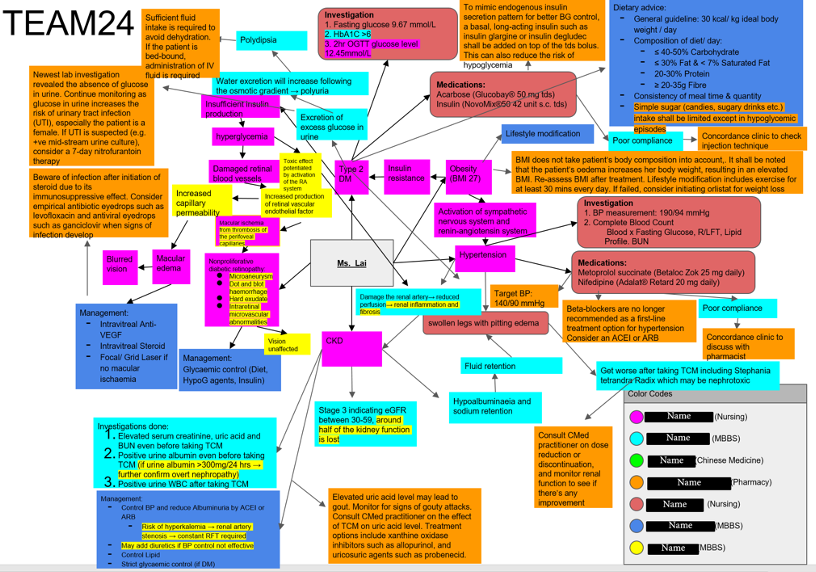 Sample team care plan developed based on a clinical case (asynchronous team activity)
This year, infographics on guidelines in facilitating interteam discussion is made available to the teachers to help them be more equipped in developing amongst teams desirable teamwork skills e.g., collaborative decision making and problem solving, teamwork and collaboration, communication (ability to listen and express), negotiation, respect for the opinion of other disciplines (e.g., accommodate/reconcile differences in perspectives), and social skills (e.g., being comfortable in team).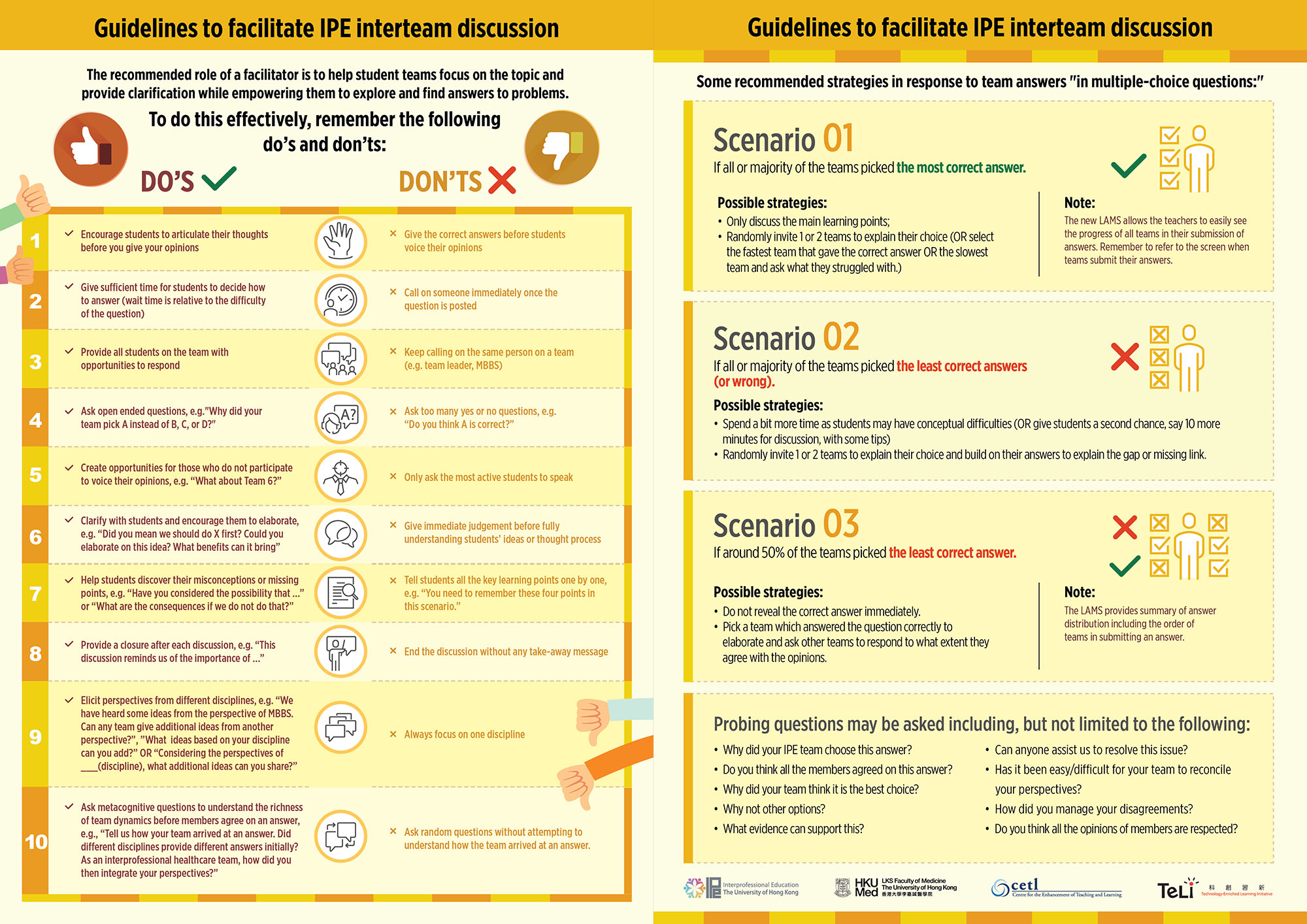 Guidelines to facilitate IPE interteam discussion (developed through the help of CETL and TELi)
Initial evaluation data provide sources of reflection for the program implementers. For example, the following realization from a student is a good point for reflection: "I used to think that doctors always play the most significant role in healthcare. I realized that it's not – as they also need the support of other disciplines and it's critical to form an interprofessional team in order to provide quality care for the patients. In the future I plan to exchange idea and collaborate with peers from different disciplines" (lifted verbatim).
If you want to learn more about online IPE, please contact Dr. George L. Tipoe (tgeorge@hku.hk) or Dr. Fred A. Ganotice, Jr., (ganotc75@hku.hk) at Li Ka Shing Faculty of Medicine, Bau Institute of Health Sciences Education. If you want to know the technical aspects of running large classes, you may contact the Technology-Enriched Learning Initiative (TELI) via enquiry@teli.hku.hk.

Trailer

About this course
State, Law and the Economy I
Economic concepts often give a fresh and unobvious perspective when applied to the study of how the state, law, and the economy functions and are interrelated. This course teaches students essential economic concepts in an intuitive manner relevant to the study of political economy.
The use of interdisciplinary materials, empirical inference, game theoretic simulation, and cross-referencing with political philosophies and well-known historical cases, provide students an opportunity to connect different perspectives and deepen their understanding of the democratic state in a free society using economic concepts.
Part One of a four-part course on the economic analysis of the state, law, and the economy and their interrelationships. Part one studies the contractual nature of the state, the logic of collective action, liberty and the theory of the democratic state.
Weekly Highlights
Week1: Some Methodological Issues and Collective Choice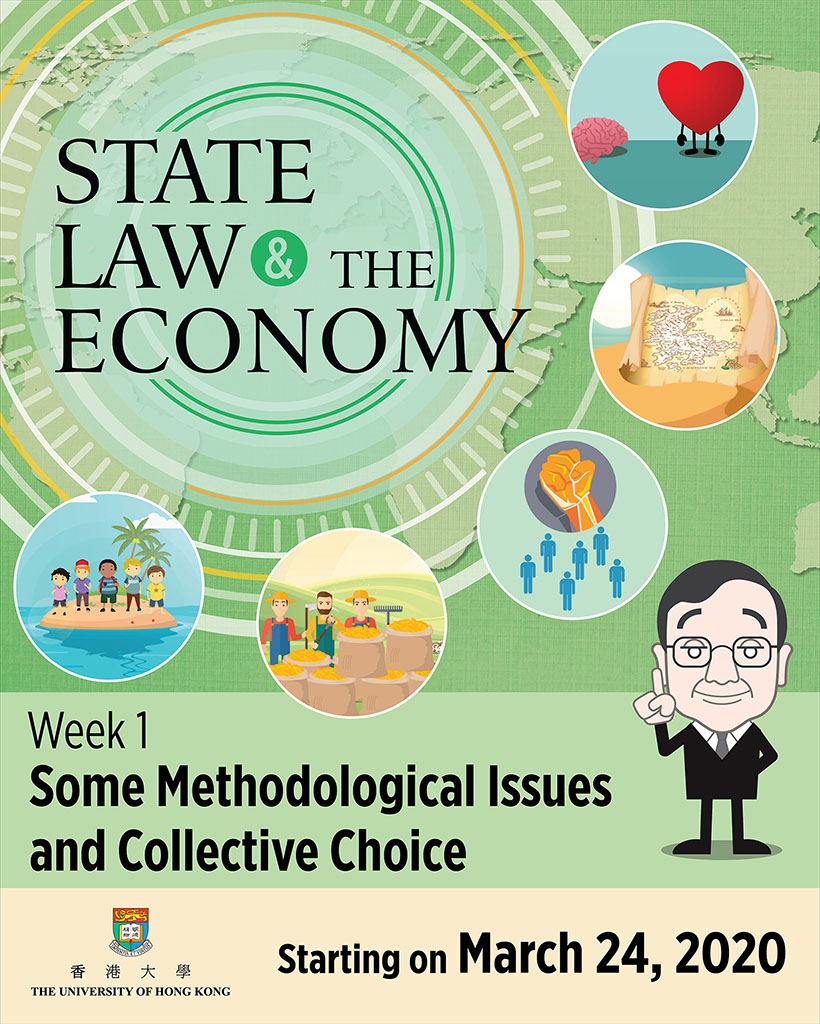 Lectures 1 and 2 consider some specific concerns in applying economic analysis to the study of collective action, namely, (1) the rationality assumption, (2) the use of simplifying models, and (3) the problem of the fallacy of composition in studying collective action. Then we will explore the contractual nature of the state. We consider why the sum of individual choices is not collective choice. The reasons for collective choices are to achieve allocative efficiency and redistribution.
Week2: Pure Public Goods and Coase Theorem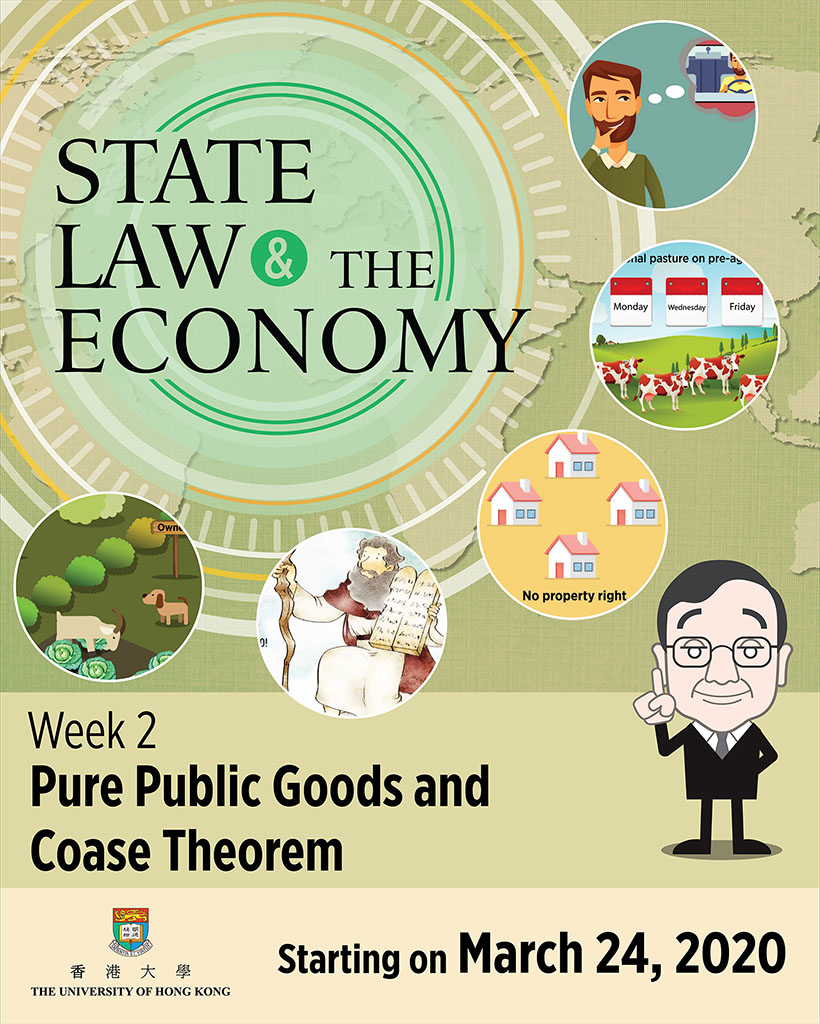 Lecture 3 and 4 utilizes game theory to explain how the structure of payoffs characterizes political choices, including the provision of public goods. We then learn how market externalities can be corrected through collective action and consider the implications of the Coase theorem for public intervention.
Week3: Violence and the Origins of the State and Wisdom of Philosophers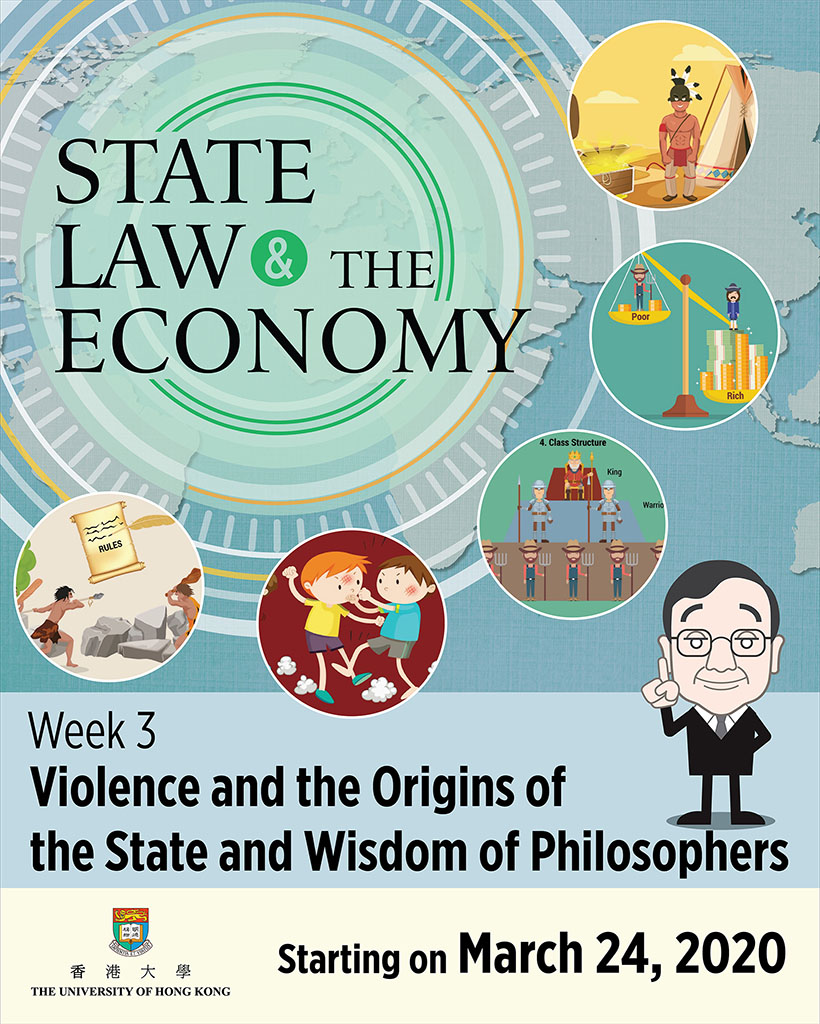 Lecture 5 and 6 considers how the emergence of state institutions with human civilization has reduced violence and life loss. The purpose of moral and political philosophies, from Plato and Aristotle to Locke, Rousseau, and Marx has sought to find practical or ideal political arrangements where humankind can live together in peace and flourish.
Week4: Two Concepts of Liberty, Theory of Social Choice and the Theory of Democracy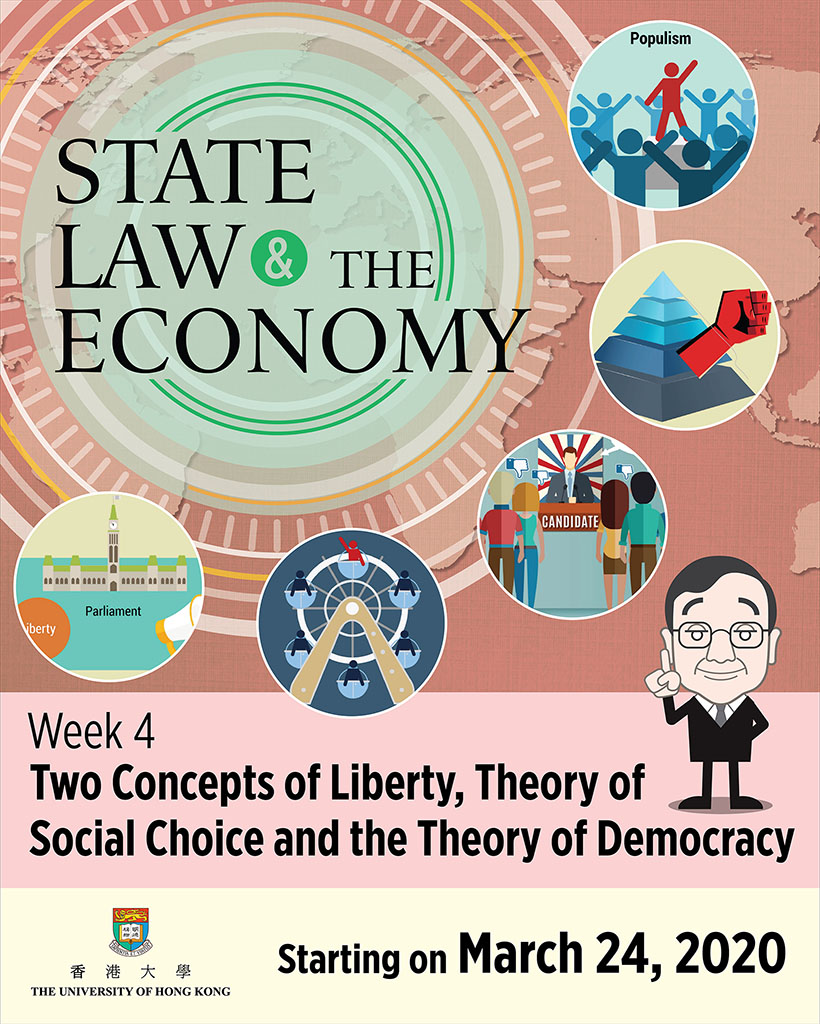 Lectures 7 and 8 introduce two concepts of liberty: negative and positive liberty. The two interpretations of liberty are then related to liberal versus populist democracy through the application of social choice theory. We examine how when applied to voting and the design of political institutions, social choice theory provides a new perspective on the just society considered by political philosophers from Plato to Marx.
Week5: The Art of Political Manipulation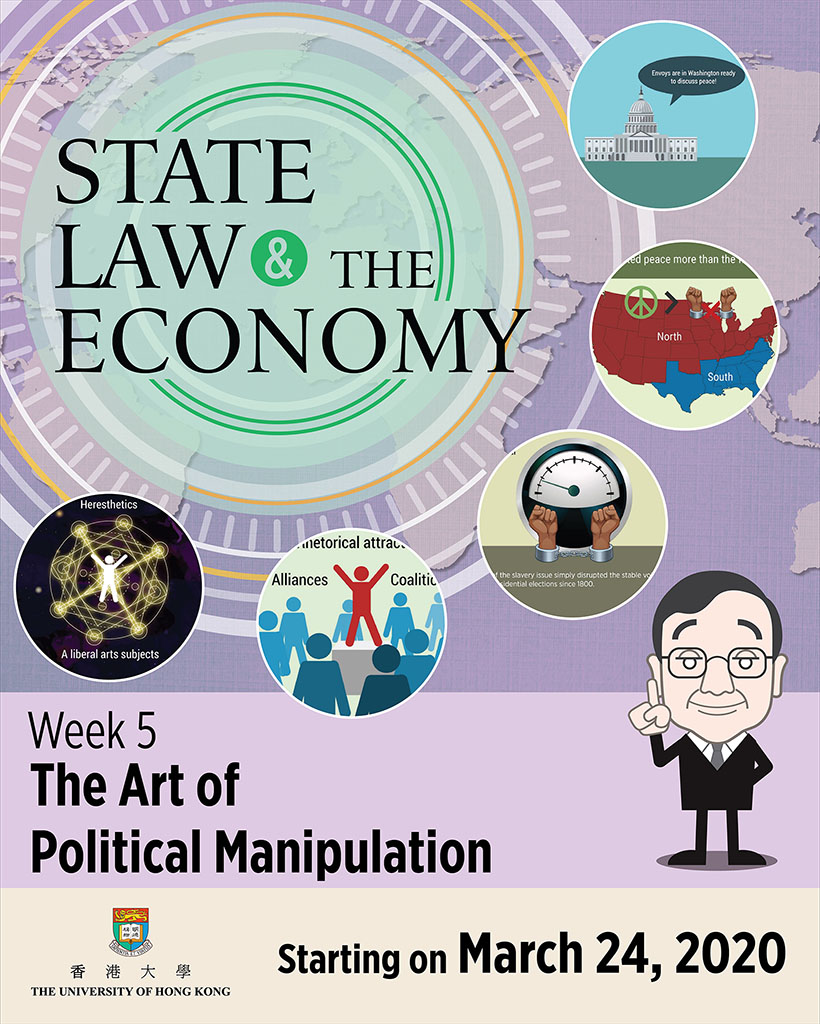 Lecture 9 studies how heresthetics—the use of rhetoric and strategic structuring of social choice—is used to achieve a desired political outcome. The example of Abraham Lincoln in ending slavery is used as an illustration.

Date : 18 March 2020 (Wednesday)
Time : 12:30pm – 1:30pm
Venue : To be held virtually by Zoom
Speaker : Dr Leon Lei, Ms Crystal Luo, Ms. Sharon Keung
Registration link: http://bit.ly/hku_online_assessment
Same as other dimensions of teaching and learning, course assessment has been digitizing extensively since the past decade. Despite multiple-choice question banks, technology solutions such as online proctoring, sophisticated essay marking (e.g. Turnitin GradeMark), peer-grading systems (e.g. Turnitin PeerMark) have been introduced for online learning. Meanwhile, there is a pressing need for teachers to evaluate students' performance within and beyond the campus. Teachers may worry conducting such online assessment requires high digital literacy skills, some also worry online learning may include the risk of incurring academic misconduct behaviour in online learning.
Through the workshop, participants are expected to have a reflection on better practices and design considerations in online assessment. Upon completion of this seminar, the participants will be able to:
Understand the potential and affordances of online assessment
Understand the mechanism of conducting basic online test proctoring
Design an assignment or a quiz activity on HKU Moodle

During class suspension at HKU, instructors have to switch to online teaching to deliver course content. There are two effective ways for instructors to deliver online teaching: one is to produce pre-recorded videos and the other is to schedule live teaching sessions with students. They serve different purposes. We provide students with basic knowledge of a subject by producing pre-recorded videos, in which instructors may prepare PowerPoint slides and explain the subject content with their voice and talking head recorded. After students gain sufficient basic knowledge of a subject, in live teaching, instructors can make use of the precious time to interact with students to probe their understanding of the subject, address their questions and discuss more advanced topics. Live teaching is an invaluable opportunity for students to interact with and learn from their peers and their instructors.
The HKU Learning Management System Moodle (https://moodle.hku.hk/) is our central online learning resource for course teachers to share engaging online learning content with their students. In particular, the Panopto system (http://lecturecapture.hku.hk/), a centrally managed video capture solution, is integrated seamlessly with the Moodle system to enable instructors to record or upload lecture videos for sharing with students in Moodle. A step-by-step guide for instructors can be found here: https://hku.to/elearn_video
As for live teaching, HKU ITS has entered a campus license with Zoom (http://hku.zoom.us/). Using features like screen sharing, chatroom and whiteboard, instructors can schedule meetings to have rich real-time interaction with their students. In addition, meetings can be recorded and put on Moodle for students to revise later.
The following diagram summarizes the use of different tools for online teaching. More advice for instructors can be found here: https://hku.to/elearn_quickstart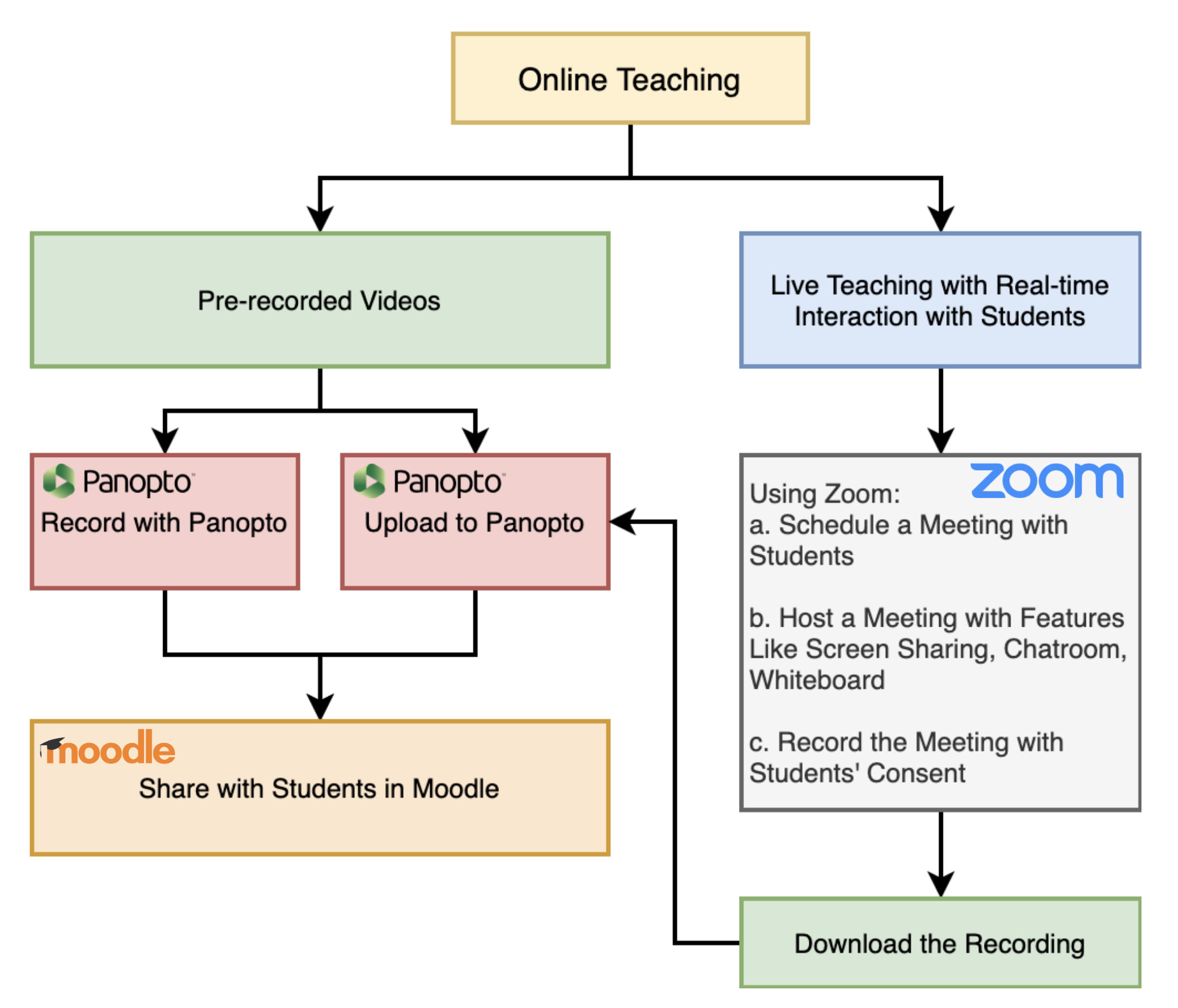 In TELI, we are working closely with ITS colleagues to provide prompt support to teachers and students as to the use of the above-mentioned tools. For example, we are monitoring the workload and response time of the Moodle and Panopto systems. When needed, the capability of the two servers (i.e., processor, memory and disk space) will be enhanced. In addition, TELI colleagues Leon Lei (9162 3384) and Tyrone Kwok (5964 8396) are happy to provide individual consultation to teachers via WhatsApp.
Written by Dr Tyrone Kwok, Dr Leon Lei, Ms Crystal Luo and Ms Sharon Keung