FinTech Ethics and Risks is the second course in the HKU FinTech Professional Certificate Program. Upon its initial launch on May 15th, 2019, over 5,000 learners from 154 countries and regions have joint and actively engaged in the discussions around the ethical impact of FinTech.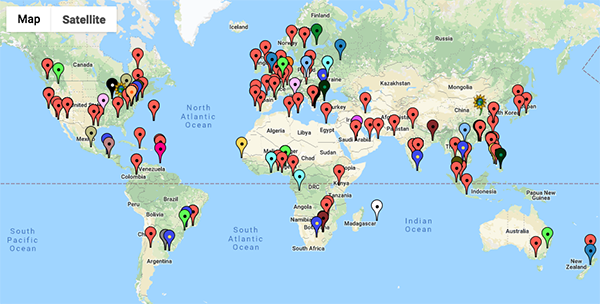 Learner distribution of FinTech Ethics and Risks.
FinTech has started a global revolution and will keep accelerating the transformation in the financial services industry in the coming years. There are many ways in which FinTech can improve the lives of people around the world; however, those same technologies can also be used to enslave, coerce, track, and control people. Accordingly, it is necessary to consider the implications of the introduction of these technologies so that they are utilized properly, regulated sufficiently, and their adoption does not come at the expense of societal growth.
Trailer and course introduction
Click here if you cannot access YouTube.
Click here if you cannot access YouTube.
This 6-week online course covers 6 modules, representing the full spectrum of finance, technology, and the introduction of FinTech solutions globally. We will discuss questions that are not often asked or addressed when new technologies are adopted, for examples:
Why should we adopt FinTech solutions, and what are the best ways to introduce disruptive technologies?
How does blockchain technology change the way we provide financial services, and how should blockchain technology be governed?
Is FinTech creating risks in cybersecurity and how can technology help us prevent financial crimes?
As Artificial Intelligence (AI) is developed and widely adopted, will human biases and prejudices be built into such mechanisms?
And at a larger scope, should FinTech lead to a decentralized, democratized system of finance, or will existing institutions adopt FinTech strategies to cement their existing hold on the financial markets?
The course instructors, Mr David Bishop and Mr David Lee, are award-winning teachers from the Faculty of Business and Economics of The University of Hong Kong. Incorporating their expertise in the subject and their enthusiasm for teaching, the course is highly informative, interactive and engaging. Using animated case studies and conversational videos followed by carefully designed prompt questions, learners are immersed in an intellectual journey of exploring the transformational impact of FinTech. They are exposed to different opinions, inspired by the sharings from learners, and encouraged and challenged by the teachers' comments and feedback. At the end of each module, the instructors would summarize the discussions and provide further resources, insights, and considerations on the weekly topic.
Roundup video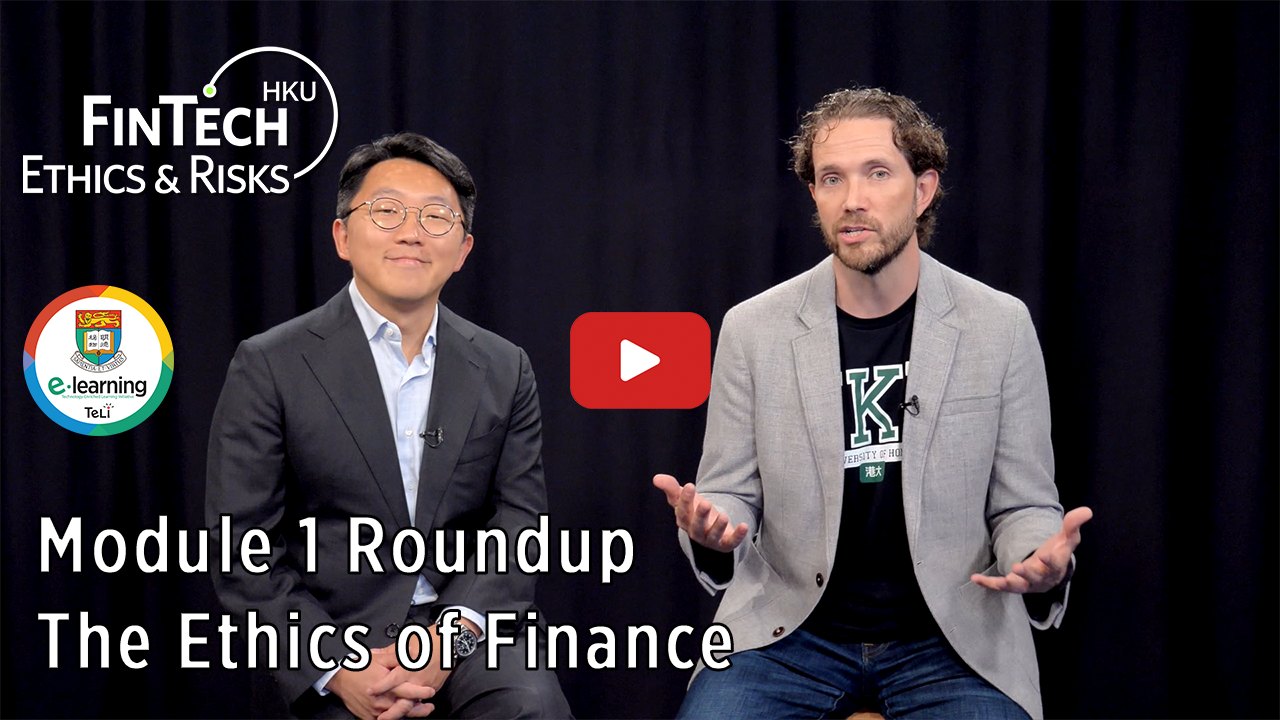 The course is progressing weekly with an increasing number of learners joining this global discussion. No matter if you are a FinTech enthusiast, a finance or technology professional, or just a consumer of financial product and service, you are all welcome to join this course and your input will help grow this learning community.
The course is free and open to everyone, and you can upgrade to a verified certificate for your career advancement or professional development. From May 30th to June 5th, 2019 (11:59 pm EST), you can use code "SUMMER20" to save 20% on the verified certificate, both for the course FinTech Ethics and Risks and the HKU FinTech Professional Certificate Program.
Don't forget to join us on Facebook, Instagram, Linkedin and Twitter for more updates!

This is an event organized by Technology-Enriched Learning Initiative (TELI).
Details of the event:
Date : 30 May, 2018 (Thursday)
Time : 3:00pm – 4:30pm
Venue : CPD-LG.59, Centennial Campus, The University of Hong Kong
Speaker : Ms Charlotte Chang, e-Teacher-in-Residence, The University of Hong Kong
Respondent : Professor Ricky Kwok, Associate Vice-President (Teaching and Learning), The University of Hong Kong
Abstract
To teachers who are used to the setting and dynamics of a classroom, getting started in online education might seem daunting. After all, creating online courses involves adapting and rewriting course content, reenacting lessons on camera, and reorganizing class structures to enable student interactions in a completely different context—or, in other words, nothing short of overhauling traditional modes of teaching in large part. All this effort, however, is not only manageable with the right support, but also immensely rewarding for any teacher—practically, pedagogically, and intellectually.
In this seminar, Charlotte Chang, TELI's e-Teacher-in-Residence, will use her own journey into online education as a starting point to reflect on the obvious and not-so-obvious (often even counter-intuitive) opportunities that await teachers who undertake a similar endeavor.
In the first part of the talk, "Taking the Leap", Charlotte will reflect on the intellectual impulses and practical considerations that led her to create an online course. What ultimately convinced her that this daunting task would be worthwhile?
In the second part, "Reflecting in the Process", Charlotte will share insights on the many opportunities for professional and intellectual growth that she found, often unexpectedly, throughout the course creation process. In optimizing and refining content and pedagogy for the course, she was motivated to strive for nothing less than the "best of her teaching". An online course, ultimately, should not just be a repackaging of existing courses in a virtual format; rather, it is an opportunity for the educator to enhance and enrich existing curricula, teaching materials, pedagogical approaches, and student engagement.
In the final part of the talk, "Reaping the Rewards", Charlotte will elaborate on the benefits of online education that classroom teaching cannot offer. Apart from practical rewards like eliminating the time spent on repeating core content, online education offers many less obvious, perhaps even counter-intuitive benefits to teaching and learning, such as deepening interactions with students with a wide range of learning styles and abilities.
Charlotte's reflections on her journey as an online teacher should resonate with fellow educators from diverse academic fields who wish to embark on their own explorations of online education and the immense opportunities that it promises.
About the Speaker
Charlotte Chang, TELI's "e-Teacher-in-Residence" in 2018-19, founded the online English education platform Ms. Charlotte Academy in 2017. After a year of writing a curriculum, developing materials, and filming and editing lessons, Charlotte launched her online course "Core Concepts of English" in late 2018. In the course, which currently enrolls over 200 students, Charlotte uses an analytical framework based in linguistics concepts to teach Hong Kong adults the unchanging rules of English syntax, introducing students to a systematic, structure-based approach to understanding how English works and how it differs from Cantonese/Chinese.
Charlotte's core belief as a language teacher is that every student with basic analytical skills can gain a "big picture" perspective of how any language works, even if it is as different to their native language as English is to Chinese. Online education, which enables students to absorb and internalize new knowledge at their own pace, is a fitting format that facilitates this type of analytical teaching and learning.
Prior to her career in online education, Charlotte graduated from Harvard University in 2012 and worked as a secondary school teacher from 2012 to 2014. From 2014 to 2017, she experimented with and refined her linguistics-based approach to teaching English before finally writing her own curriculum. Her transformation from "traditional" to "online" teacher gave her much insight into the many benefits that technology can offer education, both in facilitating teaching and enhancing learning.
Enquiries should be directed to enquiry@teli.hku.hk.
On May 7, the first FinTech in Africa conference in Hong Kong was held at HKU. The South African Consulate General, the Fintech Association of Hong Kong, Acorus Capital and the Asian Institute of International Financial Law (AIIFL) collaborated to bring the Conference to HKU campus.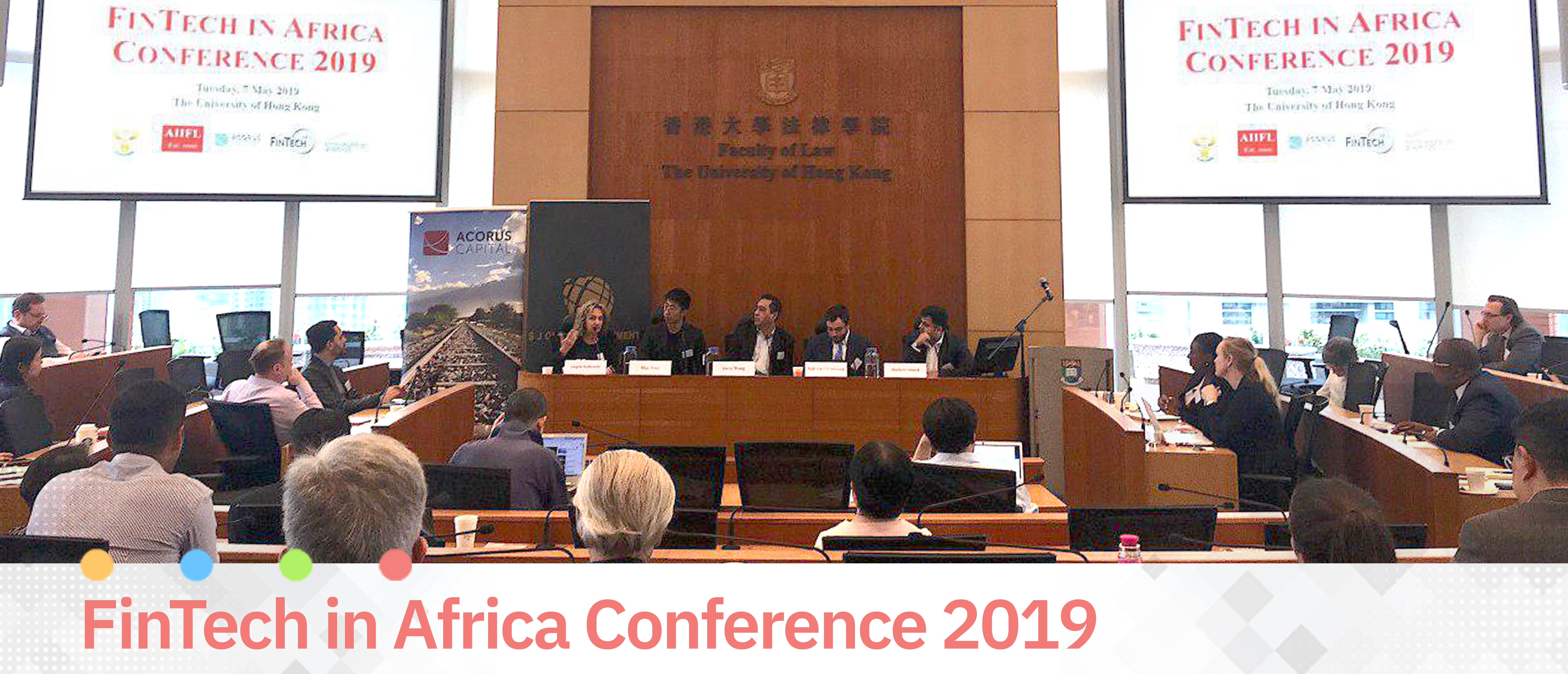 One of the key themes was to discuss how FinTech can be used to provide the world's unbanked population with access to financial services, particularly in Sub-Saharan Africa where the majority of the unbanked population is situated. The FinTech initiatives in Africa are currently being driven by three main hubs in Kenya, Nigeria, and South Africa. FinTech has been experiencing a 24% annual growth rate in the past 10 years in addition to a steady increase in foreign direct investment in Africa. The following are some highlights of the discussion panels of the conference.
Discussion Panel 1: African FinTech – Development, Opportunities and Investments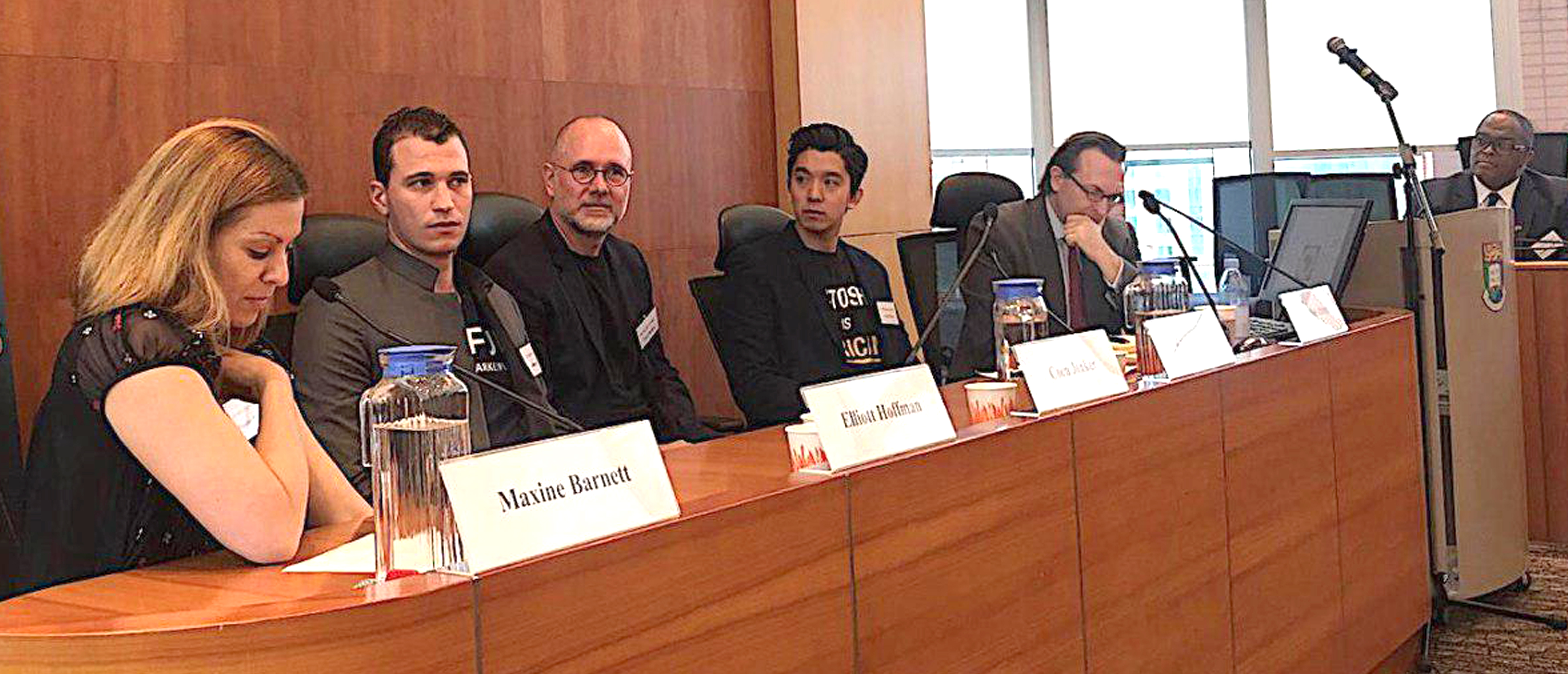 Discussion panelists (from left to right): Moderator Maxine Barnett (Acorus Capital), Elliott Hoffman (Paxful), Coen Jonker (Tyme Global), Gareth Lai (Lumen), Douglas Arner (HKU)
In the first panel discussion, the panelists addressed the issue and means to reach the high unbanked population dominating Africa's key regional markets such as Kenya and Nigeria. The relations for FinTech adoption in Africa are generally associated with identification, connectivity, and costs. To investors, the interest in FinTech investment in the continent lies not only in economic rewards but also in social gains.
In addition, according to Acorus Capital, Africa has seen successful uses of biometric technology, for example, a SA-based firm called 'Paycode' reaching customers in remote areas and delivering financial grants to farmers in rural areas. Biometrics technology is used for the purpose of verifying users' identity, and at present, the platform has 4 million registered users.
Ghana made headway in the continent in creating interoperability among mobile money operators through Africa's first government-initiated mobile money interoperable payment system, creating convenience in fund transfers from one mobile money wallet to another across networks.
TymeBank, SA's first fully digital bank launched in Feb 2019, saw transformative results in providing the unbanked population with their quick and easy FinTech solution to financial access. Customers can gain access to Internet bank services and open a bank account within 3-5 minutes, which is 10 times faster than opening a bank account in a physical bank and bank cards can be printed within minutes in Tyme's Kiosk. Currently, more than 300, 000 customers have opened a TymeBank account.
Discussion Panel (2): Banking, Payments, and New Technologies –
Blockchain, AML, eKYC, Digital Identity and Beyond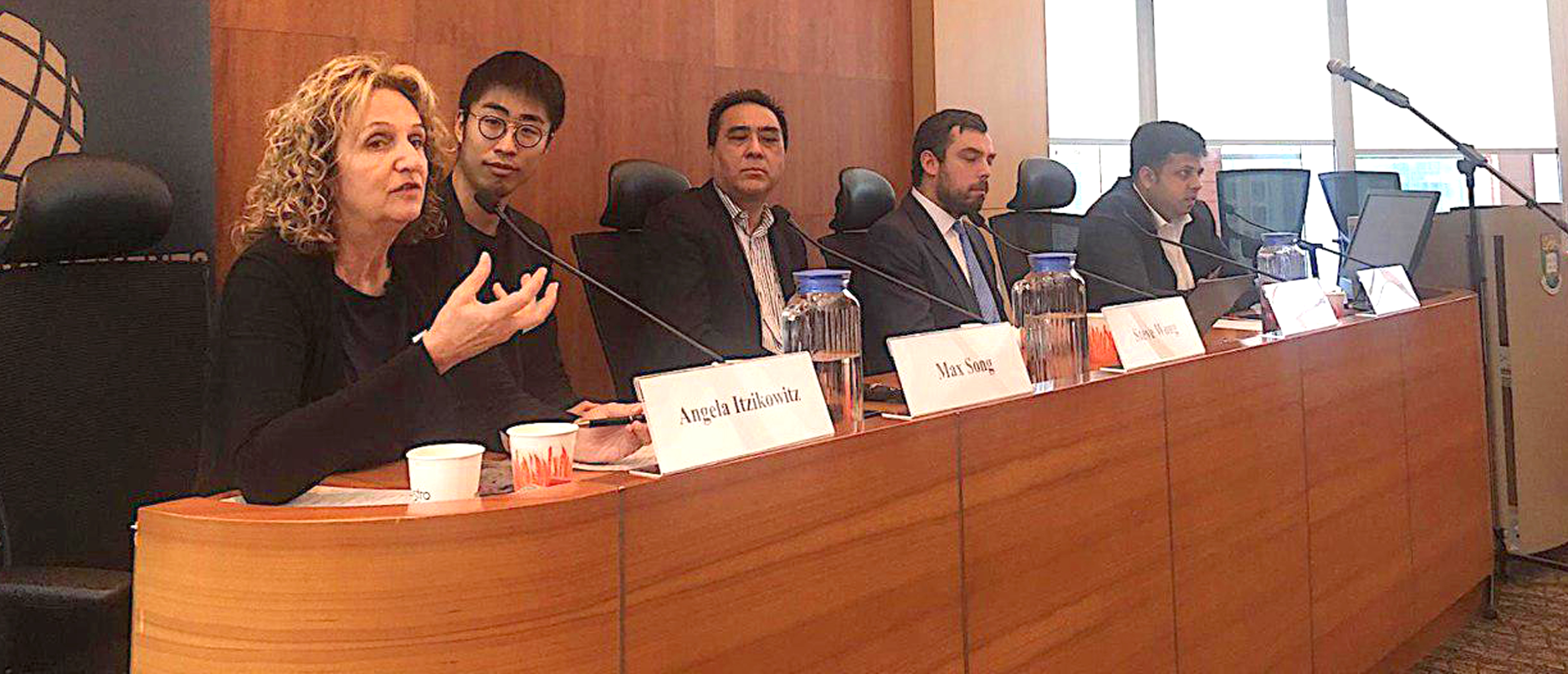 Discussion panelists (from left to right): Angela Itzikowitz (ENSafrica & University of the Witwatersrand), Max Song (Blockdynamics), Steve Wong (Belt and Road Blockchain Association), Nick von Christierson (Diginex), Moderator: Musheer Ahmed (Fintech Association of Hong Kong)
The second panel discussion and Q&A session focused on the current landscape of FinTech in Africa, including how banks and financial institutions are adopting FinTech and Blockchain and responding to Telcos. The panelists also shared lessons that can be taken from Asia to apply in Africa and lessons from Africa to other parts of the world.
When asked how banks are responding to FinTech, the panelists suggested that similar to the approach in China, mobile payments are seen as a key initiative to growing Africa's banking sector and fostering inclusive economic development.
Telcos is a dominating force in the African FinTech landscape. According to Diginex, one of the four digital banks focusing on blockchain, Telcos are developing into international banks in Africa, driving P2P and gaining scale in user adoption and returns and becoming more centralised using M-Pesa and Safari.com. The concentration of Telco power in Africa is seen as a good phenomenon, particularly in light of the inherent way in which Telcos can acquire customers and offer cross-border services compared to the less digital native bank services that may be harder to scale.
It was pointed out from the panel that investing in FinTech investments in Africa need market intelligence and knowledge of the jurisdiction. While Kenya became the front runner in the mobile money space through M-Pesa, the attempts to adopt the M-Pesa model in SA was unsuccessful. It was mainly because SA is fairly well banked and its main challenge is not about access. There was also another lower-end product "Mzanzi" in the market before M-Pesa.
Professor Angela Itzikowitz of ENSAfrica additionally highlighted that one of the biggest obstacles in finance in Africa is the cross-border exchange culture. The success of TymeBank was largely due to its fee structure and facilitation of broader financial inclusion. The panel also referred to two new players in the market in SA, Bank Zero (a mutual bank) and Discovery Bank (a behavioural bank).
It was suggested from the discussions that Africa can take the lessons from Asia's FinTech development, learn from Asia's failed attempts, and apply the successes in its context. On the other hand, it was also suggested that the world can learn from Africa's FinTech experiences in terms of financial inclusion, whether it's their experiences with M-Pesa or the well advanced e-KYC space in SA, etc.
All in all, the speakers in this conference helped to bring to surface many lessons we can learn and apply in appropriate contexts while adopting FinTech.

Be flexible, be innovative, and you will discover numerous ways to engage students with technology. HKU TELI and the Knowledge & Education Exchange Platform (KEEP) of the Chinese University of Hong Kong (CUHK) jointly organized a seminar to share examples of effective teaching strategies, namely flipped classroom, mobile apps, visualization tools and gamification.
KEEP: Flexibility and Visualization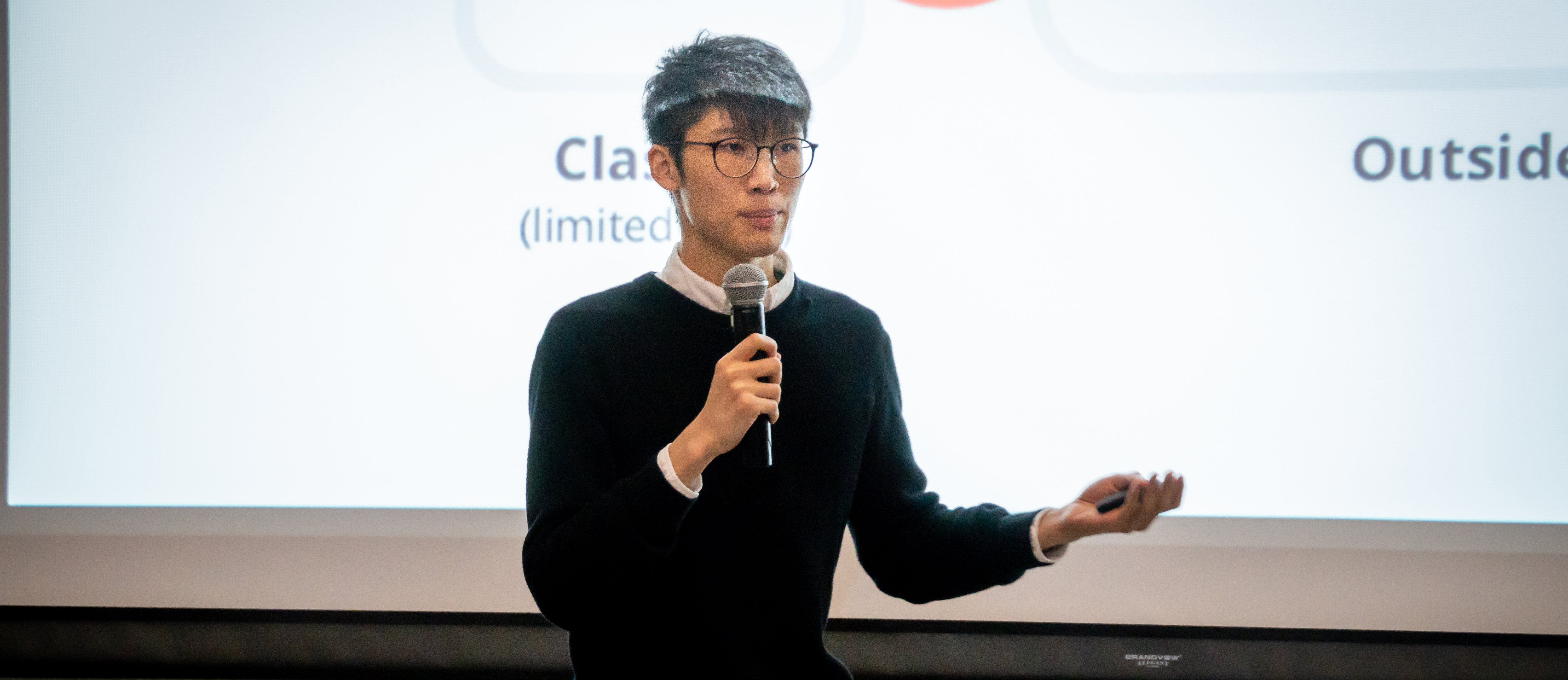 Mr. Eddy Yet, Project Coordinator of KEEP, presents on CUHK's innovative practices in online teaching.
Mr. Eddy Yet, KEEP's Project Coordinator, advises teachers to be flexible in teaching and visualizing students' responses for effective knowledge exchange:
Flexibility: To maximize the potential of flipped classroom, course teachers can adopt various e-learning tools to cater to students of different levels. For example, the instructor of a General Education Course, In Dialogue with Nature, presented the course content in the form of (i) Core Videos (which all students need to watch) and (ii) optional Online Supplementary Materials (for high achievers and those who are interested in further exploring the topic). This method of differentiated instruction allows flexibility in learning. The course team also developed a "Reading Companion" mobile app, which helps students evaluate their own learning from time to time with knowledge checks and a mini-dictionary.

"Reading Companion" mobile app of a CUHK General Education course (In Dialogue with Nature). [Image credit to KEEP]

Visualization: Often, a popular discussion thread in an online course contains over a thousand elaborated written responses. These responses are not effective if students do not read all of them. One solution is to introduce visualization tools, such as Sharing Board, where students illustrate their ideas with mind maps instead of words, or present data in word clouds. The KEEP team has witnessed successful examples of visualizing the course content and believes that this is an effective way to "summarize the learning content, and make good use of students' input".
TELI: Gamifying In-class Activities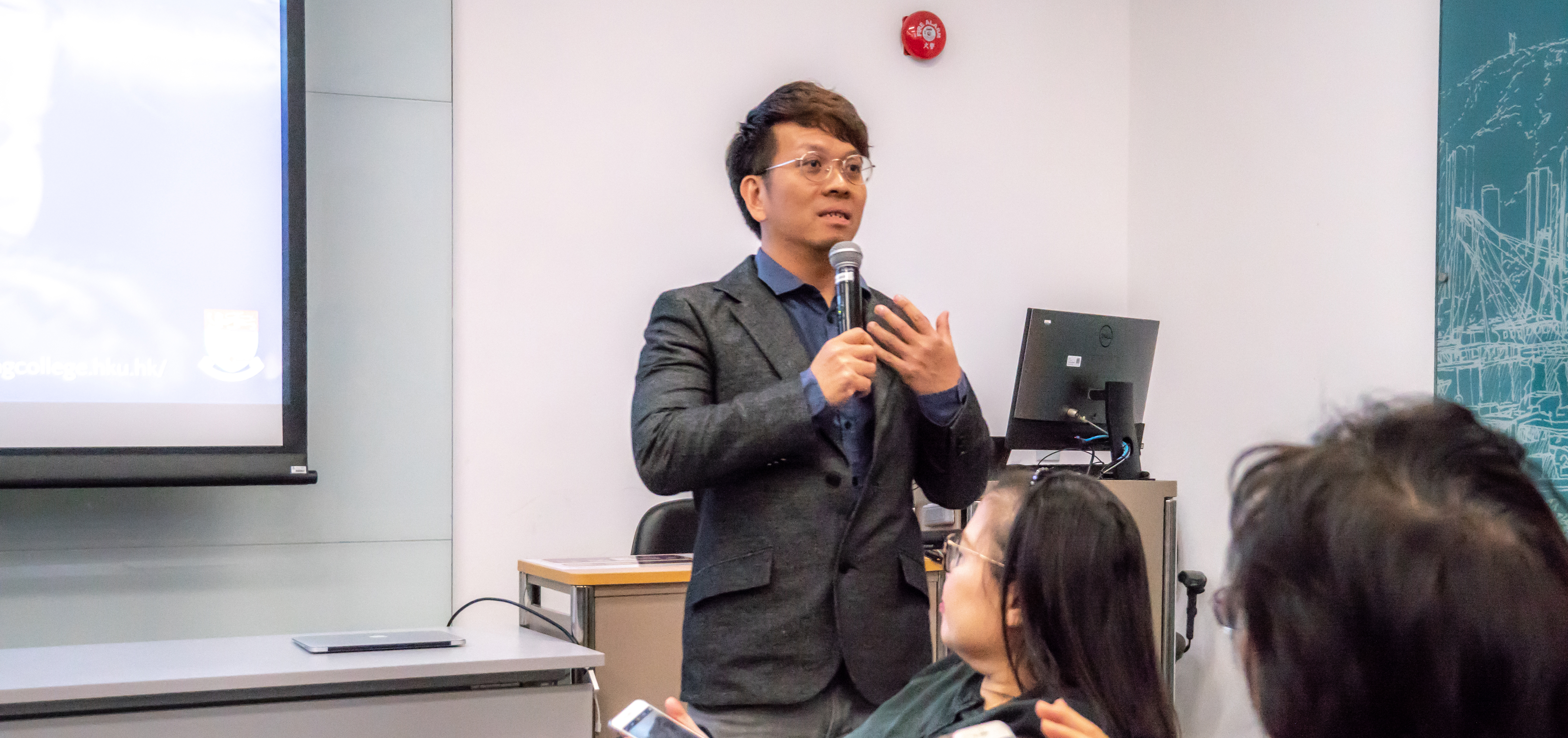 Professor Ricky Kwok, Associate Vice-President (Teaching and Learning) of HKU, introduces the course design of his Common Core course (Everyday Computing and the Internet).
Professor Ricky Kwok, Associate Vice-President (Teaching and Learning) of HKU, strives to spend quality time with students during class. Hence, he worked with TELI and designed a board game as an in-class activity of his Common Core course, Everyday Computing and the Internet.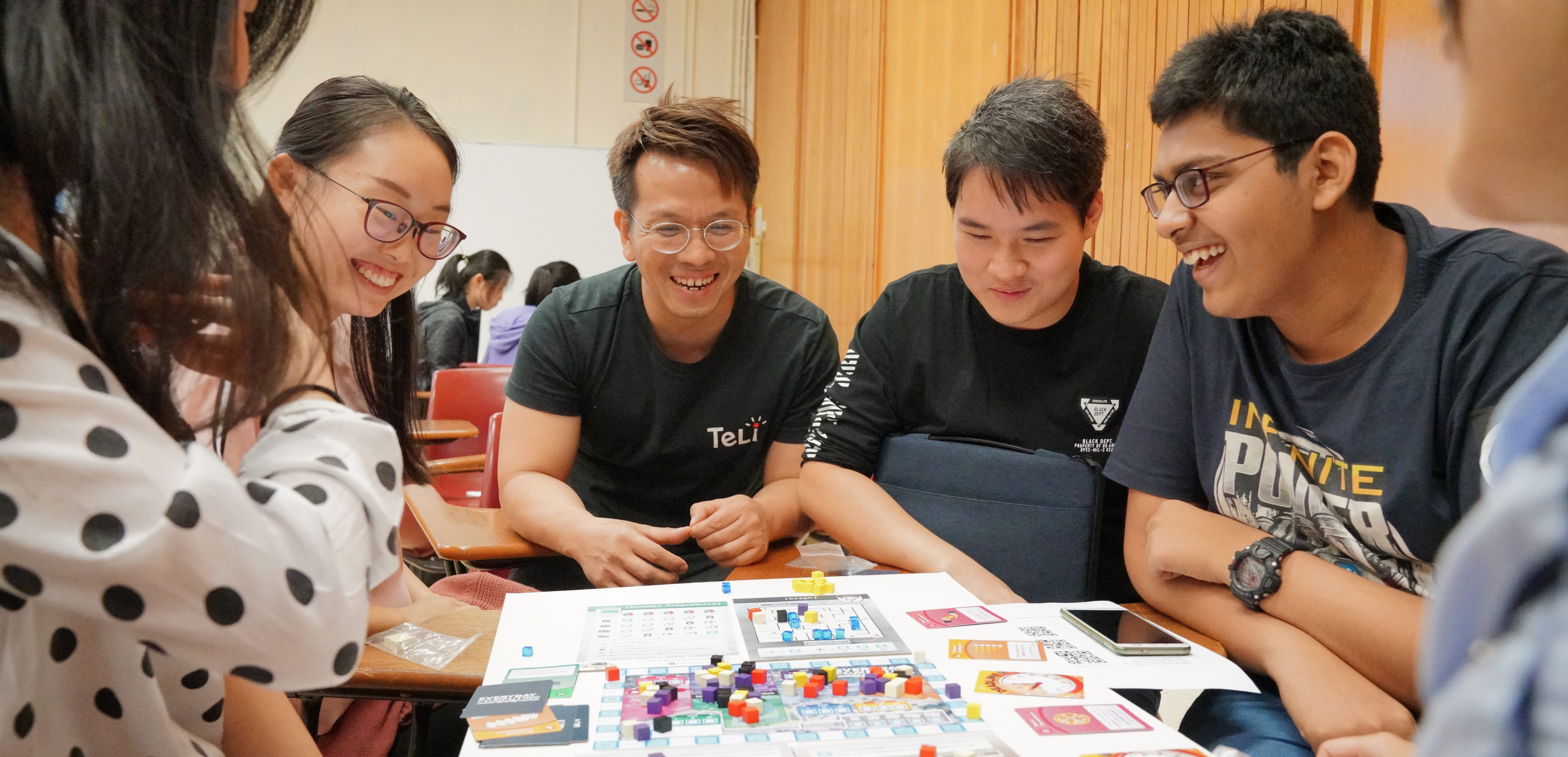 Professor Ricky Kwok (Middle) guides students to play the board game in his class.
The board game's design is similar to that of poker, but is integrated with the course's core concepts. To win the game, students need to first develop a good understanding of the course content by watching online explainer videos produced by the course team. The wish to win motivates students to actively participate in the board game, and therefore take greater ownership of their learning.
Having moved the lectures online, Professor Kwok can give more quality time to each student in class to support his/her learning. He jokes that when students are competing in the board game, he becomes a "server", walking around the classroom and answering students' questions about the game as well as the course content by asking them, "How can I help you, Sir?" Professor Kwok found that students, in such a way, are more vocal in asking questions, increasing his interaction with students.
At the end of the seminar, Professor Kwok summarizes three success criteria for gamification in education:
Is the game interesting and goal-orientated?
Does the game have a good pace? Do players have to spend much time to make one move?
Is the game connected to the course content?
It is always possible for educators, not just from HKU, but also from the other institutions, to digitalize, visualize, or even gamify their course content. Interested in bringing these ideas into your classroom? Don't hesitate to contact us!
Watch the full recording of 2019 TELI X KEEP Seminar:
Further Reading