Explore the "secrets" of dental materials and digital dentistry together in the Materials in Oral Health MOOC offered by the best dental school in the world.
Click here if you cannot access Youtube.
We all need healthy teeth, don't we? Have you ever wondered why titanium, ceramics and some synthetic polymeric materials are the "materials of choice" in oral health care? What are the "secrets" that make these materials so special for dental implants and other restorative procedures?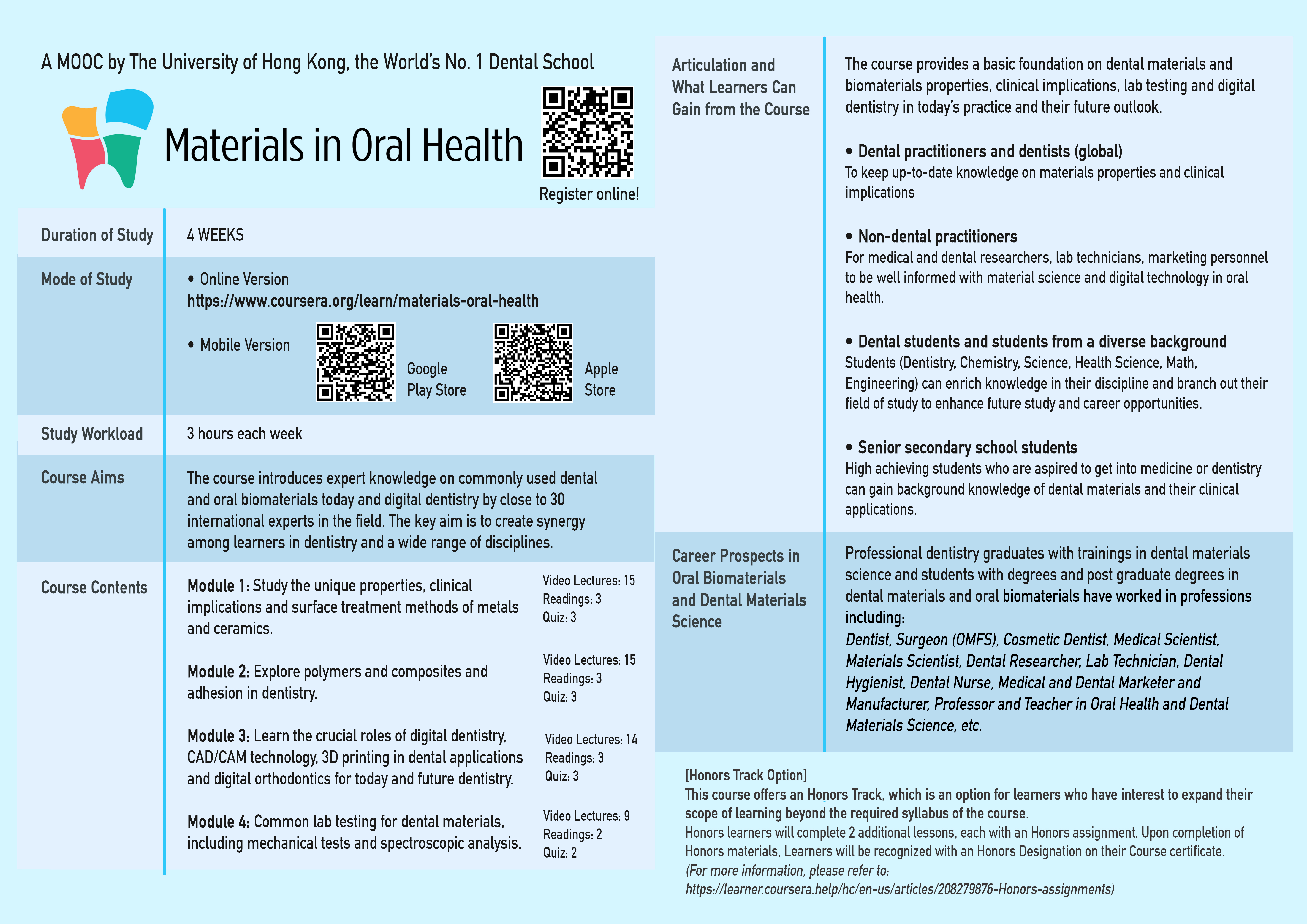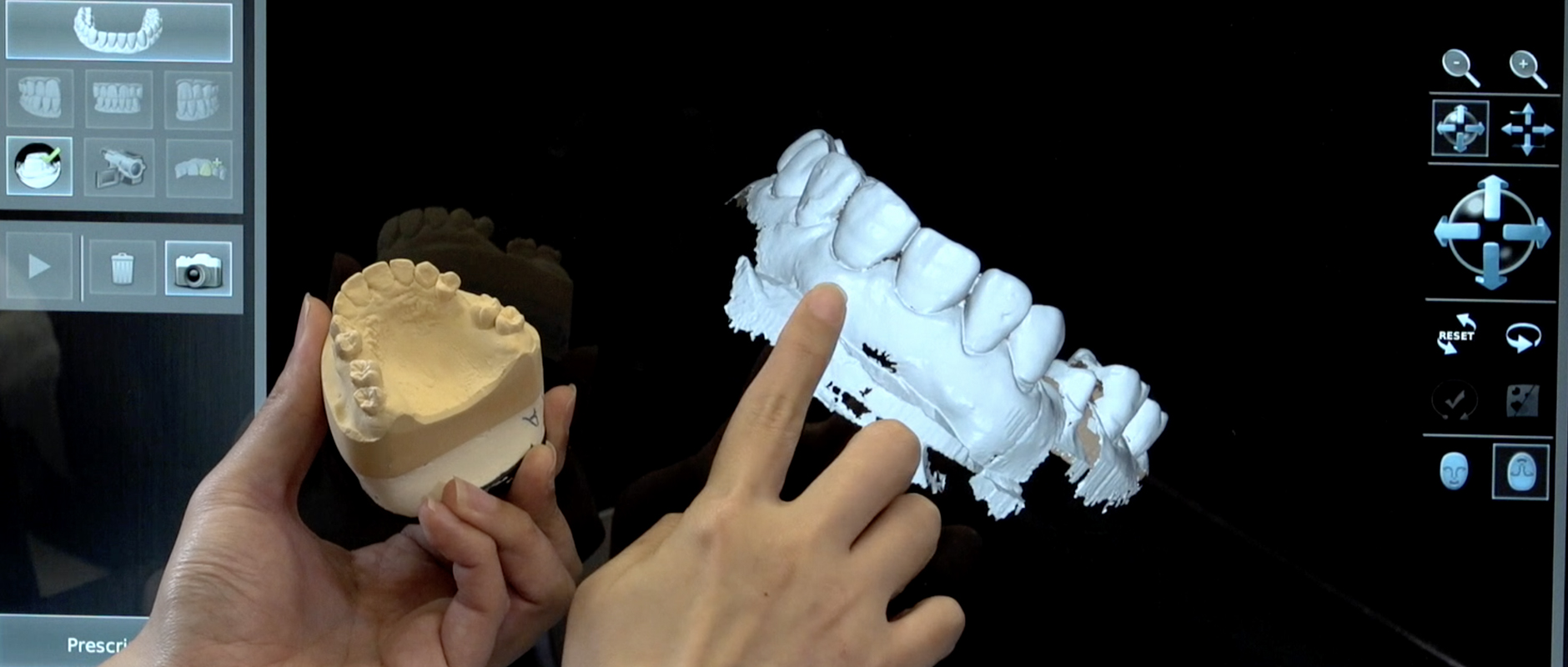 HKU Dentistry ranking No. 1 in the World has the vision to bring together the expertise and best practices in dental materials and biomaterials in the rerun of the MOOC Materials in Oral Health. The course is taught by a professional team of 30+ local, regional and international dentistry professionals and experts in dentistry and dental materials. What does this course cover? This 4-week Oral Biomaterials course unveils the exciting and unique properties and clinical implications of some state-of-the-art dental materials, including titanium, zirconia and modern synthetic polymer-based composites. We are also going to look at the crucial roles of CAD/CAM technology and 3D printing in dental application and digital orthodontics.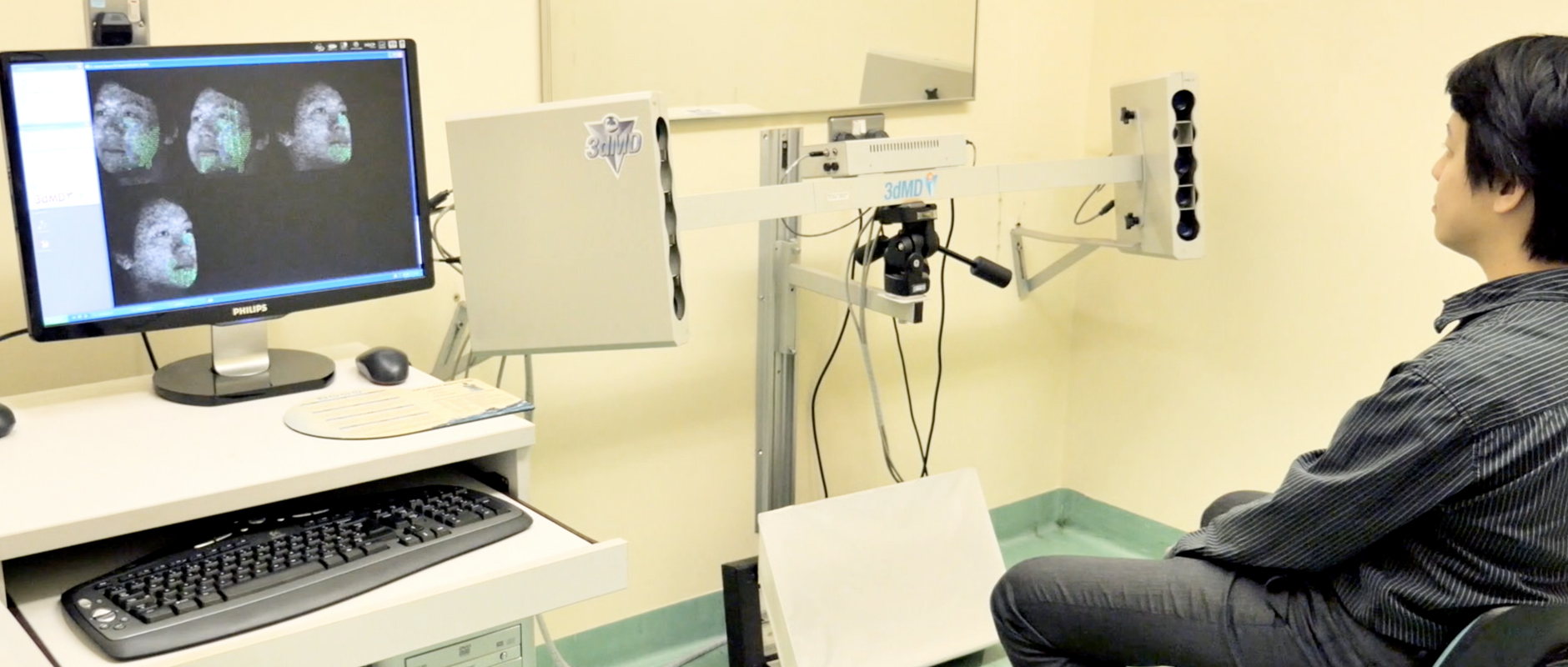 Oral biomaterials today is an exciting area encompassing contributions from professional dentistry to biology, chemistry, physics, material science, mathematics and engineering. Whether you are dental practitioners and dental technicians, non-dental practitioners, dental students, university students from various disciplines, or senior secondary school students – this course will open your eyes to the magic of dental materials science. If you are a prospective university student, this course can open up new and exciting opportunities possibly leading to new career paths.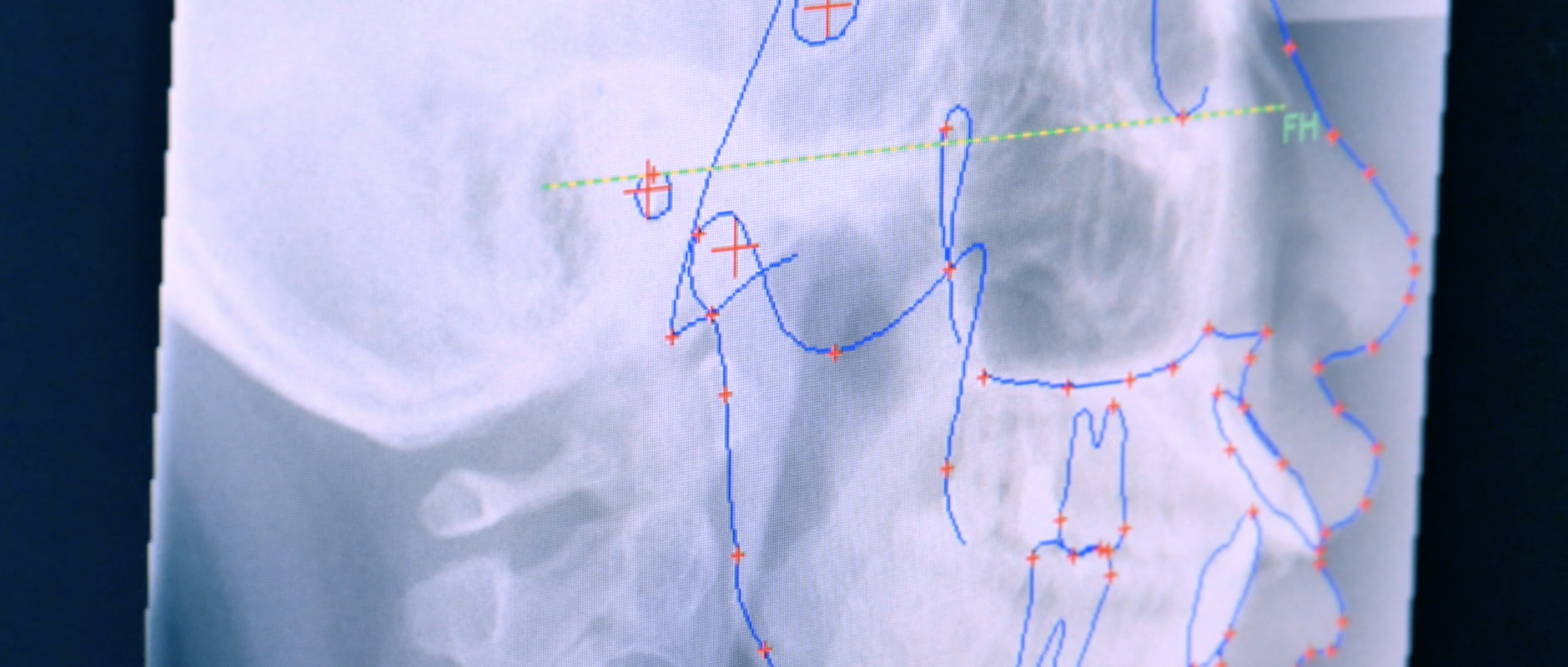 Join us in the upcoming Materials in Oral Health MOOC on August 29 2017!
Learners' Stories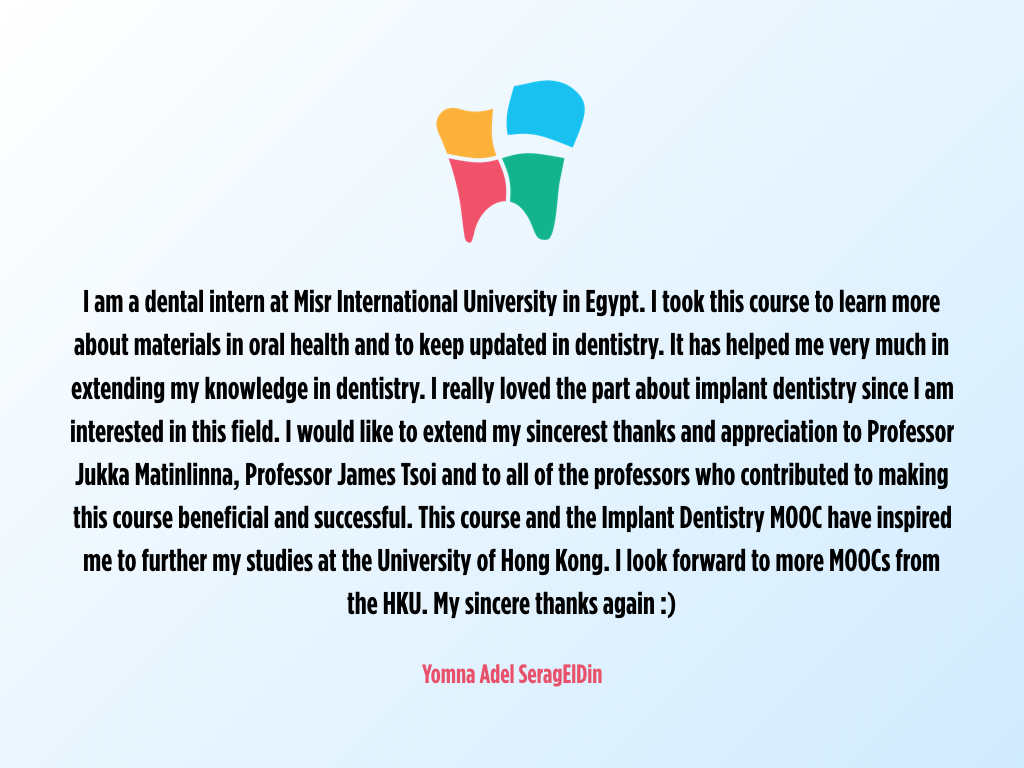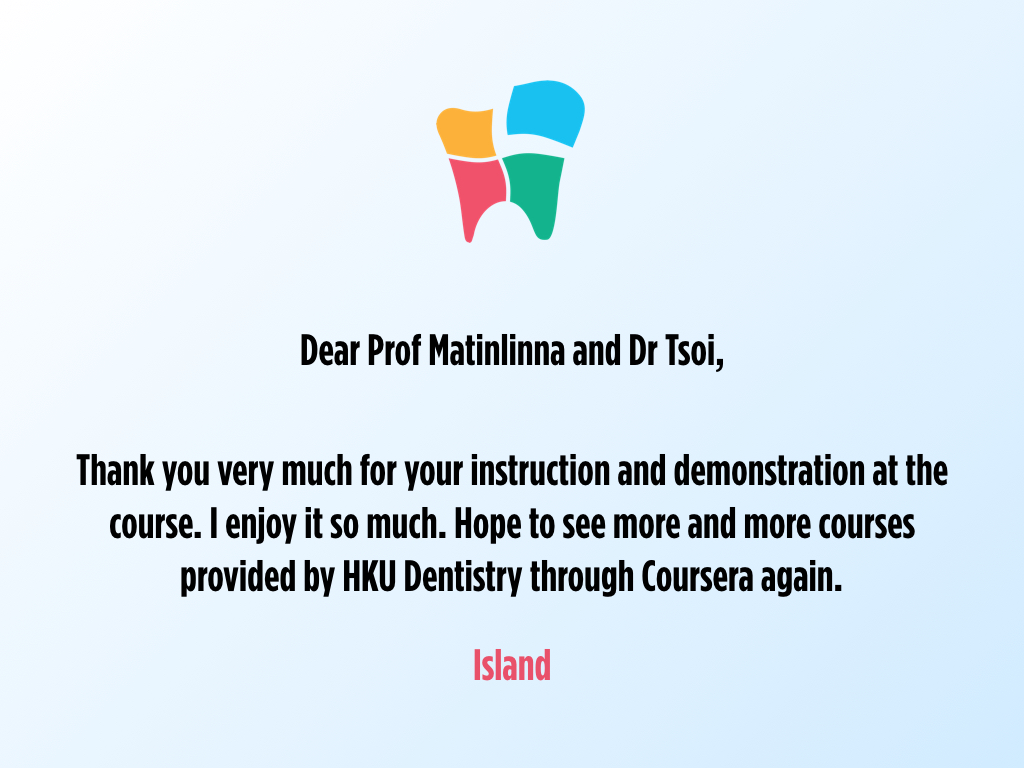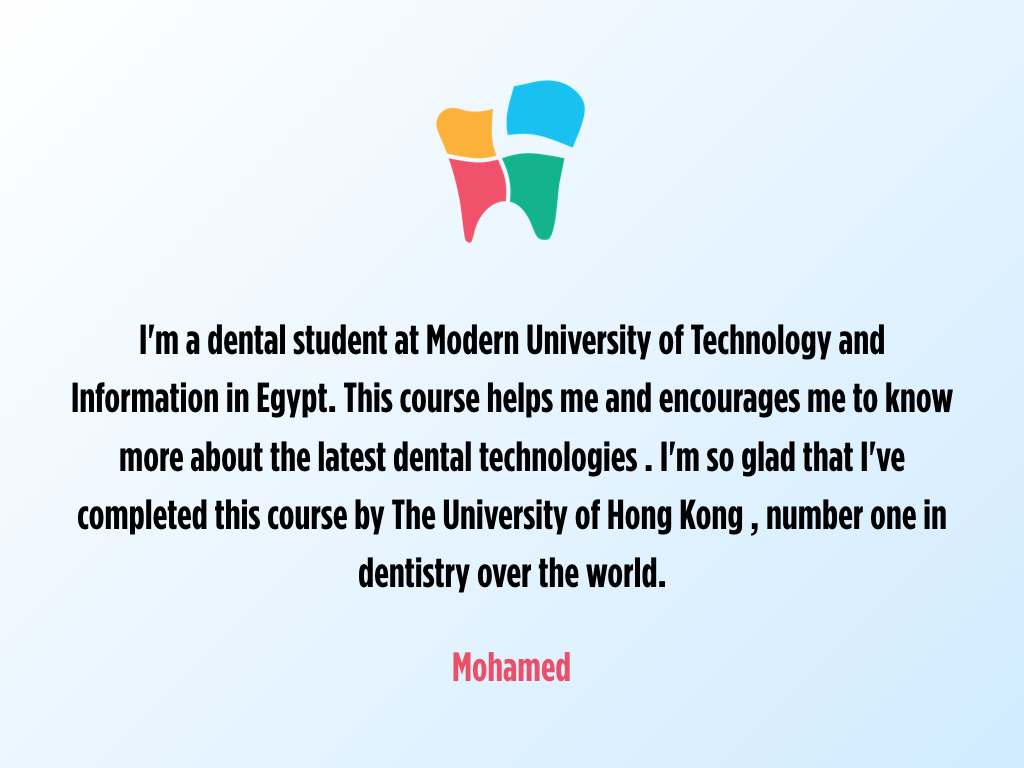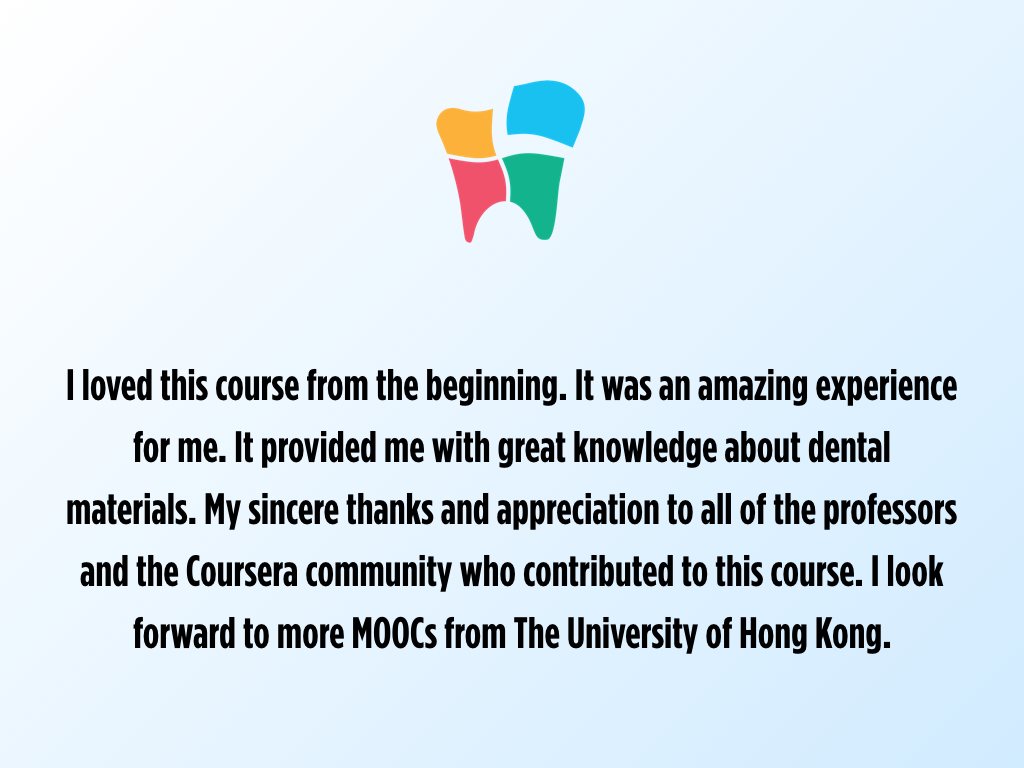 Follow our Facebook pages: HKU Online Learning and Dental Materials Science, Faculty of Dentistry, HKU!
Sneak Previews
Have a taster of what will be taught in this course!
(Sneak preview playlist here.)
The Application of Silicon and Silicon Compounds in Dentistry – Prof. Jukka Pekka Matinlinna
- "Silicones find a wide range of biomedical applications…"
Dental Material Choice: Zirconia vs Titanium – Prof. Niklaus P. Lang
- "Shortcomings with titanium are mostly aesthetic in nature…"
What is Digital Dentistry? – Dr. James Tsoi
- "Digital dentistry is one of the emerging fields in dentistry…"
Materials used in Implants – Dr. Nikos Mattheos
- "Osseointegration is a remarkable story of scientific discovery…"
More sneak previews here.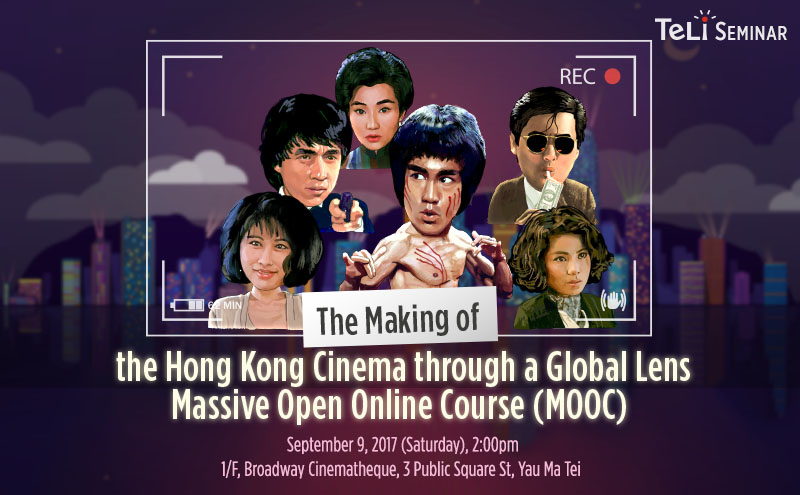 Organised by Technology-Enriched Learning Initiative (TELI)
Date :
September 9, 2017 (Saturday)
Time :
2:00pm
Venue :
1/F, Broadway Cinematheque, 3 Public Square St, Yau Ma Tei
Speakers :
- Gina Marchetti, Professor in the Department of Comparative Literature, HKU
- Aaron Magnan-Park, Assistant Professor in the Department of Comparative Literature, HKU
- Stacilee Ford, Honorary Associate Professor in the Department of History, HKU
Registration: http://bit.ly/hkcinema2
The talk will be conducted in English.
About the seminar:
Understanding the role Hong Kong plays on world screens animates the first Massive Open Online Course (MOOC) devoted to Hong Kong films. Together, let's examine how the local and the global intersect to make Hong Kong cinema an integral part of popular culture around the world as well as a leading force in the development of world cinematic art.
This presentation introduces you to the key films, stars, directors, and genres that represent Hong Kong on global screens. We will chat about how flows of capital, people, technologies, ideas and creativity circulate and shape the cultural industry of filmmaking globally, resulting in transnational co-productions and cross-cultural co-operations.
Join us to learn more about Hong Kong cinema as an expressive art and a creative industry.
Films:
The Karate Kid (dir. Harald Zwart, 2010)
Fist of Fury / The Chinese Connection 精武門 (dir. Lo Wei 羅維, 1972)
Enter the Dragon 龍爭虎鬥 (dir. Robert Clouse, 1973)
An Autumn's Tale 秋天的童話 (dir. Mabel Cheung 張婉婷, 1987)
The Killer 喋血雙雄(dir. John Woo 吳宇森, 1989)
Infernal Affairs 無間道 (dir. Andrew Lau and Alan Mak 劉偉強和麥兆輝, 2002)
In the Mood for Love 花樣年華 (dir. Wong Kar Wai 王家衛, 2000)
HKU free online course: Hong Kong Cinema through a Global Lens
| | | |
| --- | --- | --- |
| Week 1 Teaser | Week 2 Teaser | Week 3 Teaser |
| Week 4 Teaser | Week 5 Teaser | |

Trailer and sneak previews

About this course
"If history is our guide, we can assume that the battle between the intellect and will of the human species and the extraordinary adaptability of microbes will be never-ending." (1)
Despite all the remarkable technological breakthroughs that we have made over the past few decades, the threat from infectious diseases has significantly accelerated. In this course, we will learn why this is the case by looking at the fundamental scientific principles underlying epidemics and the public health actions behind their prevention and control in the 21st century.
This course covers the following four topics:
Origins of novel pathogens;
Analysis of the spread of infectious diseases;
Medical and public health countermeasures to prevent and control epidemics; and
Panel discussions involving leading public health experts with deep frontline experiences to share their views on risk communication, crisis management, ethics and public trust in the context of infectious disease control.
You will learn:
the origins, spread and control of infectious disease epidemics;
the importance of effective communication about epidemics; and
key contemporary issues relating to epidemics from a global perspective.
Who is this class for
This is an introductory course suitable for all learners, with no prerequisite required.
Join the fight against epidemics now.
Don't forget to follow us on Facebook for more updates!
—-
(1) Fauci AS, Touchette NA, Folkers GK. Emerging Infectious Diseases: a 10-Year Perspective from the National Institute of Allergy and Infectious Diseases. Emerg Infect Dis 2005 Apr; 11(4):519-25.
It's always good to recognize your own achievement after reaching a goal. Same for completing a Massive Open Online Course (MOOC) – After working so hard for a course, the best way to reward yourself is to get a unique certificate. With a certificate, you can easily share your achievement with your employers and friends.
Q: How to get one?
A: As we offer courses on both edX and Coursera, the process of application differs for the two platforms. But in general, you will need to complete the following 3 steps to get the certificate:
pass the course
Q: How much is a certificate?
A: It depends on the course. Usually USD 50.
Q: Is it printed?
A: You will receive an e-certificate on the edX or Coursera platform. You will NOT receive a printed copy but you are welcome to print it. Check out these links for more details on where to find your Certificate on edX and Coursera.
You may also add your certificate to your LinkedIn profile (edX, Coursera).
Q: I followed all the steps but still can't purchase / download it. What's wrong?
A: Please contact us at enquiry@teli.hku.hk and let us know your name, the email you used to register at edX and/or Coursera, and the issue involved. You may also include a screenshot of the problem you encountered.
Q: Is the certificate issued by the University of Hong Kong?
A: It is jointly issued by the platform (edX or Coursera) and HKU. However, please note that the certificate does not count as credit towards a degree from our university.
Q: I can't afford to pay for a certificate. What should I do?
A: You can file an application for financial aid from edX and Coursera.
Q: Can I still take the course without buying a certificate?
A: Yes of course! Most of our course content is free (except the Honours track in Materials in Oral Health). You are more than welcome to join our courses without buying a certificate. You can choose to upgrade to a verified certificate later if you change your mind. The verification upgrade deadline may be different for different courses. More details can be found here: edX, Coursera.
Still got a question? Contact us.
Happy learning!