Date: 21st Oct 2020 (Wed)
Time: 11:30am – 12:30pm
Venue: Virtual Venue – via zoom
(For HKU staff only)
Speakers:
Dr. Leon Lei, Technology-Enriched Learning Initiative
Ms. Sharon Keung, Technology-Enriched Learning Initiative
Abstract:
With the current social distancing measures being put in place, teachers may be looking for ways to conduct high-stakes assessments online. However, teachers may worry that conducting an assessment online would require high digital literacy skills while some are concerned about the risk of academic misconduct in the online environment. This webinar will look at strategies in conducting a high-stakes online assessment with proctoring and conducting one without proctoring. We will also introduce some good practices and design considerations in developing high-stakes online assessments.
This webinar will cover the followings:
Conducting high-stakes assessments with live proctoring and self-proctoring
Conducting high-stakes assessments without proctoring: designing good open-book questions
Colleagues are very welcome to sign up for this webinar. We look forward to seeing you there!

Date:
6 Oct 2020 (Tue)
Time:
1130am – 1230pm
Speakers:
Mr. Mathew Pryor, Faculty of Architecture
Mr. Gavin Coates, Faculty of Architecture
Dr. Leon Lei, Technology-Enriched Learning Initiative
Ms. Sharon Keung, Technology-Enriched Learning Initiative
Mr. Patrick Desloge, Centre for Applied English Studies (Digital Literacy Support Services)
Online Registration (For HKU staff only)
Abstract:
During the current pandemic, teachers from the Faculty of Architecture have been looking for creative ways to maintain field trip experiences for students. Taking advantage of Twitch (video live streaming service), and Zoom, Mathew and Gavin from the Faculty of Architecture have been conducting virtual field trips in and around Hong Kong. Linking these real-world activities to the virtual T&L environment has helped students stay connected with their studies and to achieve authentic outcomes for their projects. The virtual field trips are also a synchronous teaching experience with the possibility to receive feedback in real time with the students. In the webinar, Mathew and Gavin will share their experiences and the techniques they use. Patrick, Leon and Sharon will share their experiences of designing, preparing and implementing virtual field trips, and discuss the range of possible applications for this approach. They will also look at the support and resources available at HKU for conducting virtual field trips.
This session will cover:
Experience sharing by the Faculty of Architecture in designing, preparing and implementing a virtual field trip
Create a virtual field trip with Google Earth
Support and resources at HKU in conducting a virtual field trip
Colleagues are very welcome to sign up on this workshop. Look forward to meeting you there!

Starting from September 22, 2020, dual-mode teaching for UG and TPD courses will start. Most of the courses will be available online throughout the semester while some students may return to campus for some face-to-face classes. A key challenge in this mode of teaching is to engage both the on-campus face-to-face students and off-campus online students effectively.
Tips and Advices on Dual-mode Teaching at HKU
To help teachers to get ready for dual-mode teaching, we have prepared a set of slides with some tips and advices, including:
Checking the facilities of the classroom assigned for your course,
How to stream your lesson for off-campus online students,
How to engage both face-to-face and online student groups, and
Connecting the two groups of students with collaborative tools, etc.
Extra Resources
We have also prepared a list of resources for HKU teachers and students to get ready for this semester.
If you have questions, please feel free to contact us at our Whatsapp Hotline (+852 6437-8034 / http://wa.me/85264378034)

The new teaching arrangement of the upcoming semester will be a combination of offline and online teaching using various tools such as Zoom, MS Teams, Panopto and Moodle. Teachers that taught students in an exclusively offline setting may find the transition to online teaching daunting and foreign to them. In order to facilitate the transition, we have produced a step-by-step video for all the different tools and methods that teachers can use to conduct, record and upload their lectures.
In this video, we will demonstrate how you can conduct a dual-mode (f2f and online) teaching at HKU step-by-step. We will show you how to start an online class, how to enable video and audio sources before and during the class, how to share your screen/PowerPoint and ways to record your lecture via Zoom and Panopto. We will also explicate the steps to upload your lecture/video to Moodle and provide tips on hosting a lecture with students in class and online.
Video timestamps
1. Start an Online Class 00:10
1.1 Join an Online Meeting via Moodle 00:10
1.2 Check Audio and Video Sources 00:41
1.3 Share Computer Screen / PowerPoint 01:49
2. Record Your Zoom Online Class 2:13
3. Upload Your Zoom Recording to Moodle 03:00
4. Effortless Online Class Recording and Sharing Using Panopto 03:59
5. More Ways to Engage Students in an Online Class 05:23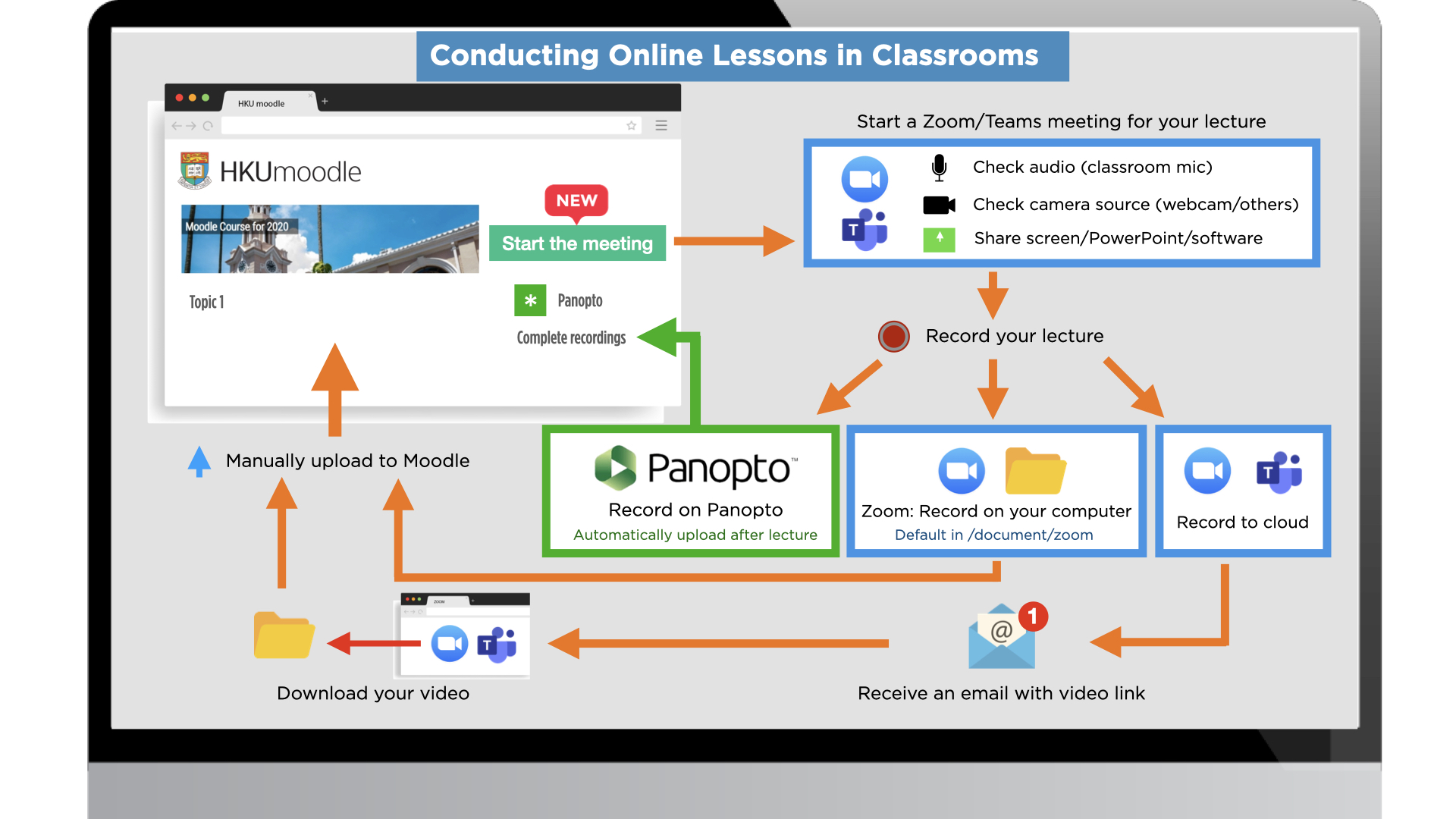 For details of using the MS Teams block and Zoom block in Moodle courses, please refer to the following user guides prepared by ITS:
At TELI, we work closely with teachers and students to maximize the use of e-learning tools. Please check out other resources available at the teaching and learning website. If you have questions, please feel free to contact us at our Whatsapp Hotline (+852 6437-8034 / http://wa.me/85264378034).
Written by Ms Hanah Fjelddahl and Mr Sunny Kong