More updates from Dr. Pittman about his research, fieldwork and MOOC filming trip to Argentina. Less than 1 month until the start of the 3rd edition of Dinosaur Ecosystems. Join more than 7500 students who have already enrolled. Sign up at https://www.edx.org/course/dinosaur-ecosystems, and see you on Feb 7, 2020

---
Course trailer also available on Uvision
What is this course about?
| | | |
| --- | --- | --- |
| Week 1 Teaser | Week 2 Teaser | Week 3 Teaser |
| Week 4 Teaser | Week 5 Teaser | Week 6 Teaser |
What was it like being a dinosaur? Where did they live? Who did they live with? Were things anything like they are today? How do we even know all this?
Find out the answers to these questions and more in our upcoming Massive Open Online Course (MOOC) on Dinosaur Ecosystems! Starting from February 8th 2017, Dr. Michael Pittman of the University of Hong Kong's Department of Earth Sciences, together with Professor Xu Xing of the Institute of Vertebrate Paleontology and Paleoanthropology (Chinese Academy of Sciences), will lead you on an expedition to the Gobi desert to unveil a famous ancient ecosystem!
In this course, we will take you to Erlian, Inner Mongolia, and leading museums and institutions to explore:
dinosaur biology
how palaeontologists reconstruct ancient ecosystems using fossil and modern evidence
the traits and significance of a Late Cretaceous dinosaur ecosystem.
---
Our milestones
Dinosaur Ecosystems, the first MOOC offered by our Faculty of Science, was selected to be one of the 10 finalists for 2018 edX Prize for Exceptional Contributions in Online Teaching and Learning. It is also the first MOOC on dinosaur in Asia. It is the first time that we send crew members to the desert and world-renowned museums to film. Our course was also featured on the edX homepage, edx newsletter and various media reports and the HKU Convocation Newsletter Summer 2016 (Pg 15, MOOC in the spotlight: Introduction to Dinosaur Ecosystems).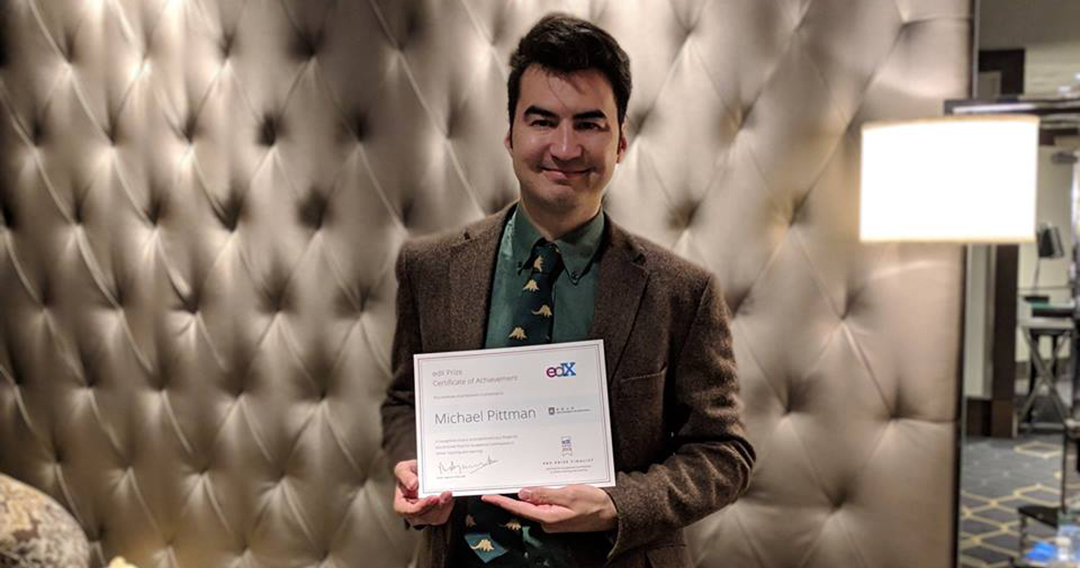 Dr Michael Pittman attended the Global edX forum 2018.


Our course featured on the edX homepage!
List of media reports:
—-
A Roaring Start
With the collaborative efforts from multiple parties, our course had a roaring start. The enrollment number jumped from 2,000 to 3,000 two days before launch, and even doubled on the next day. By the end of the course (as at March 27th), we had 8,996 learners from over 100 countries!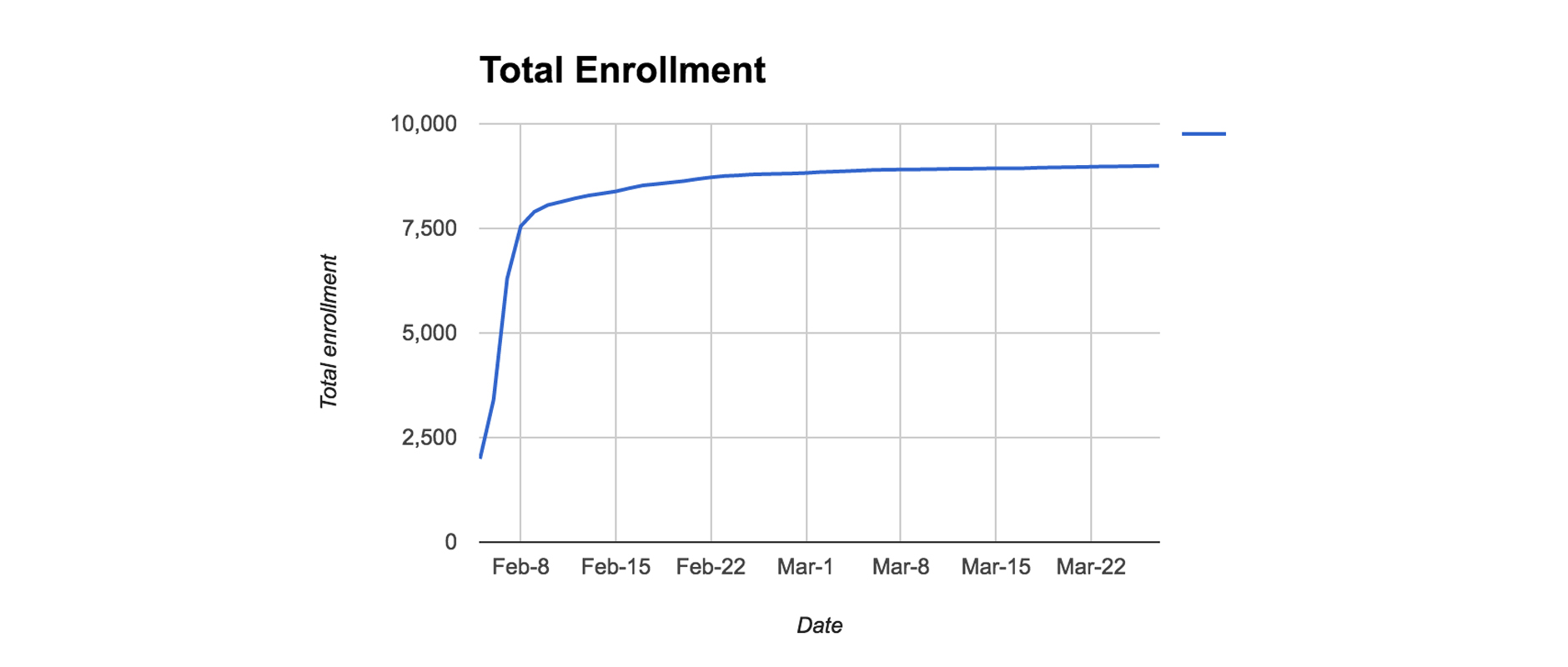 Learners' Comments
Check out what our learners said about our course: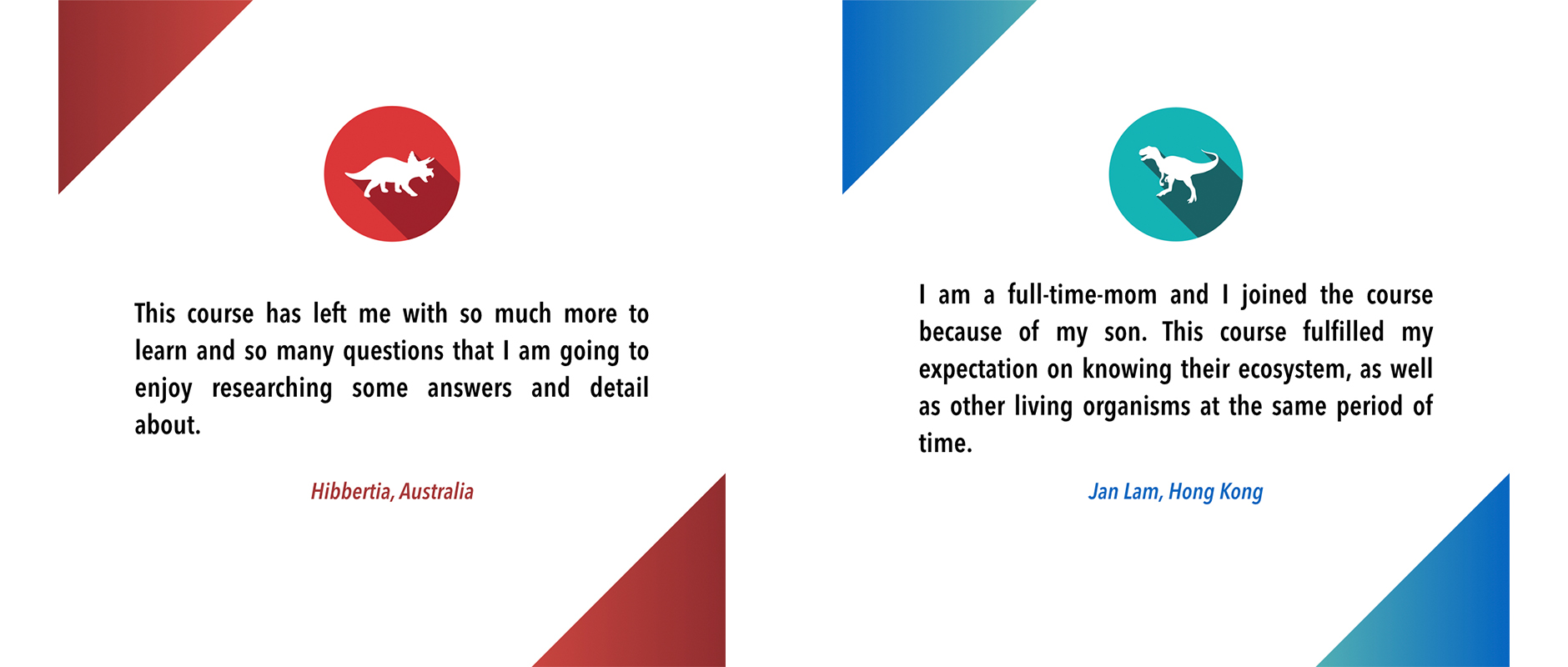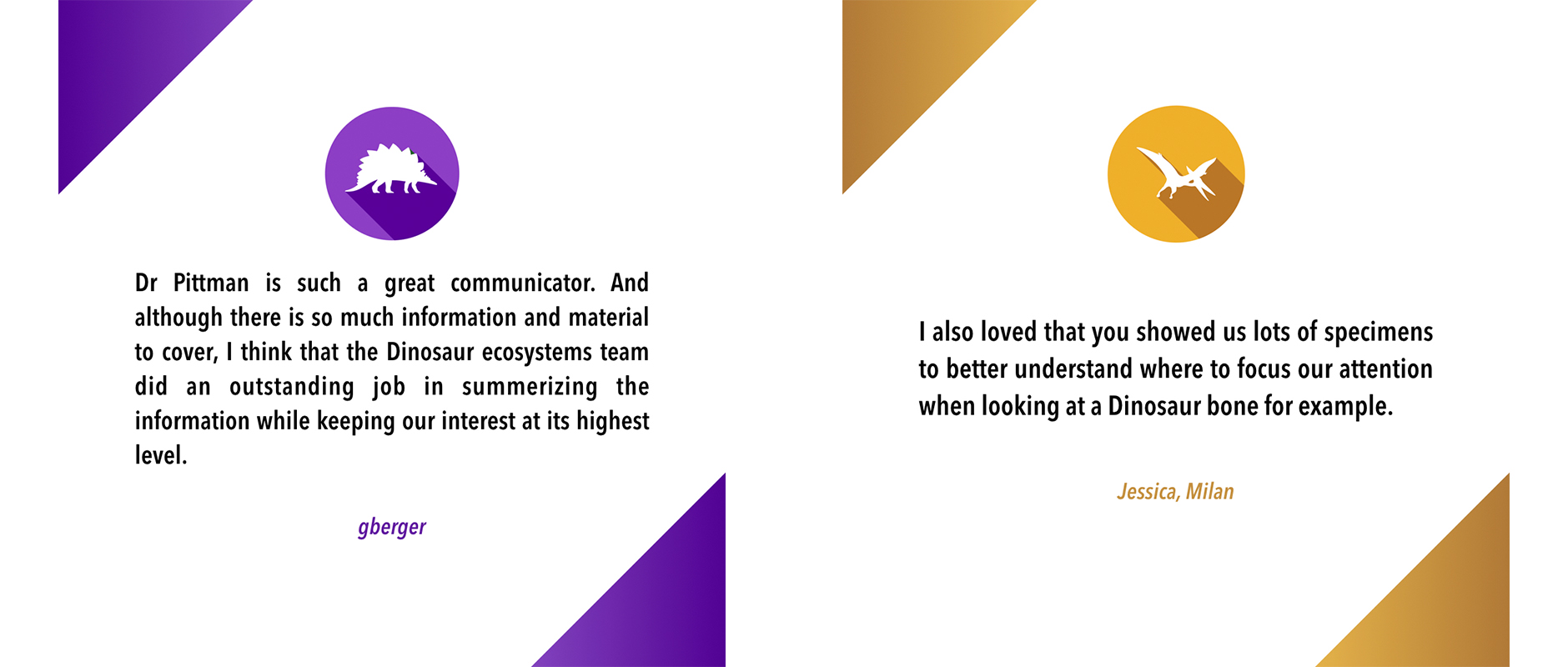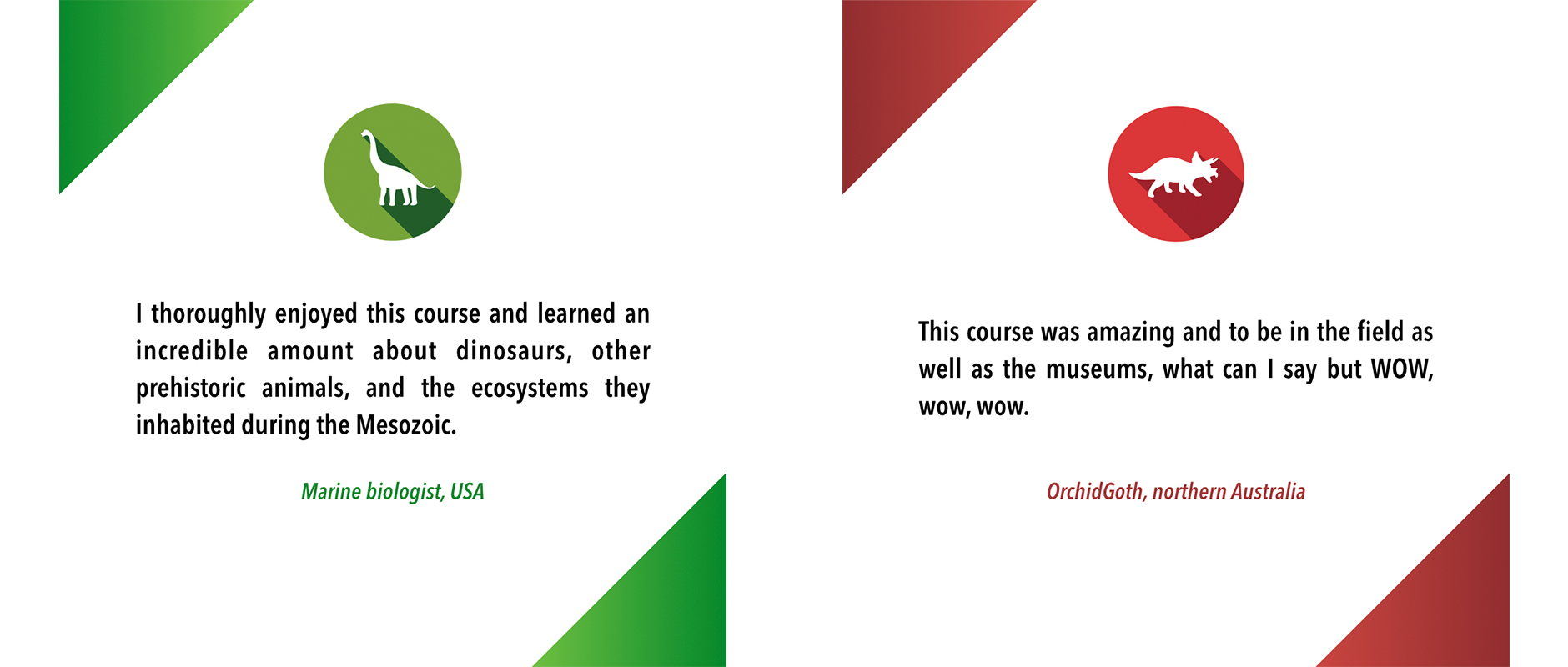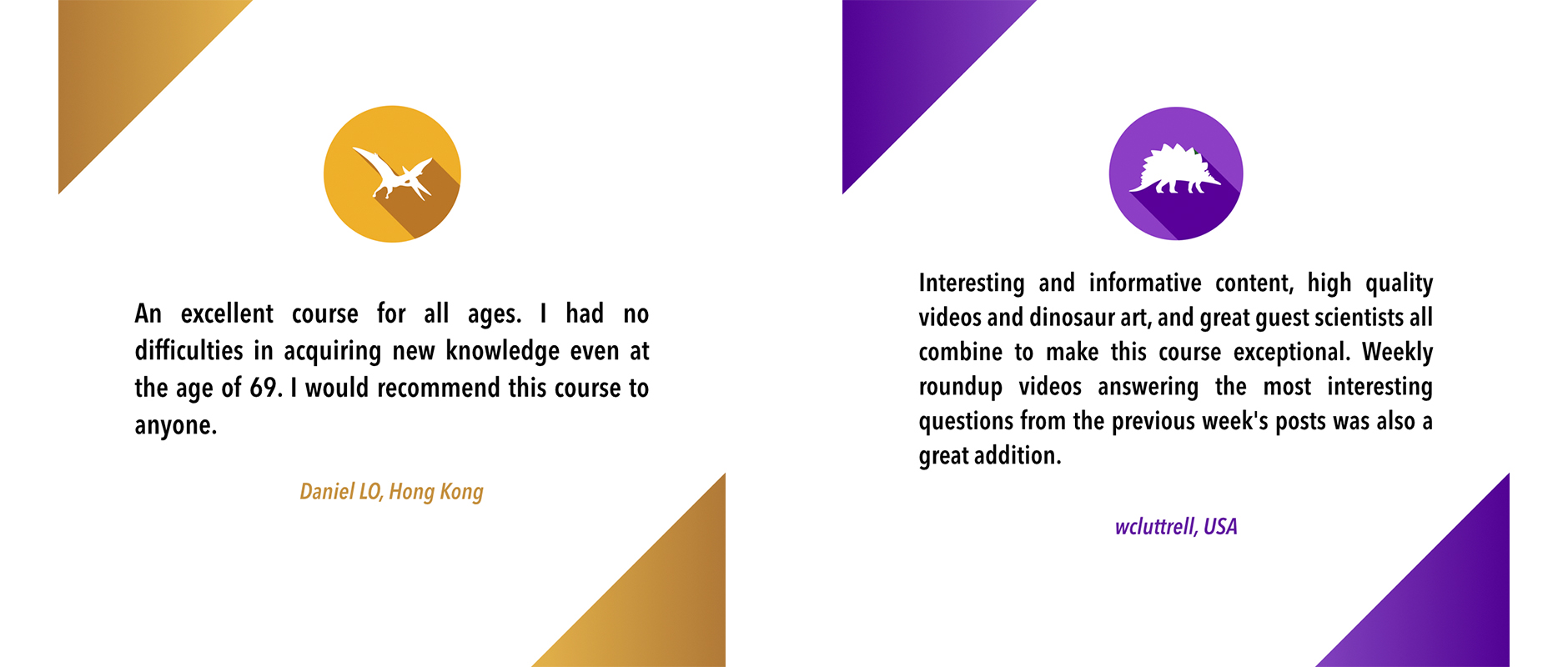 —-
Sharing Knowledge, Sharing Joy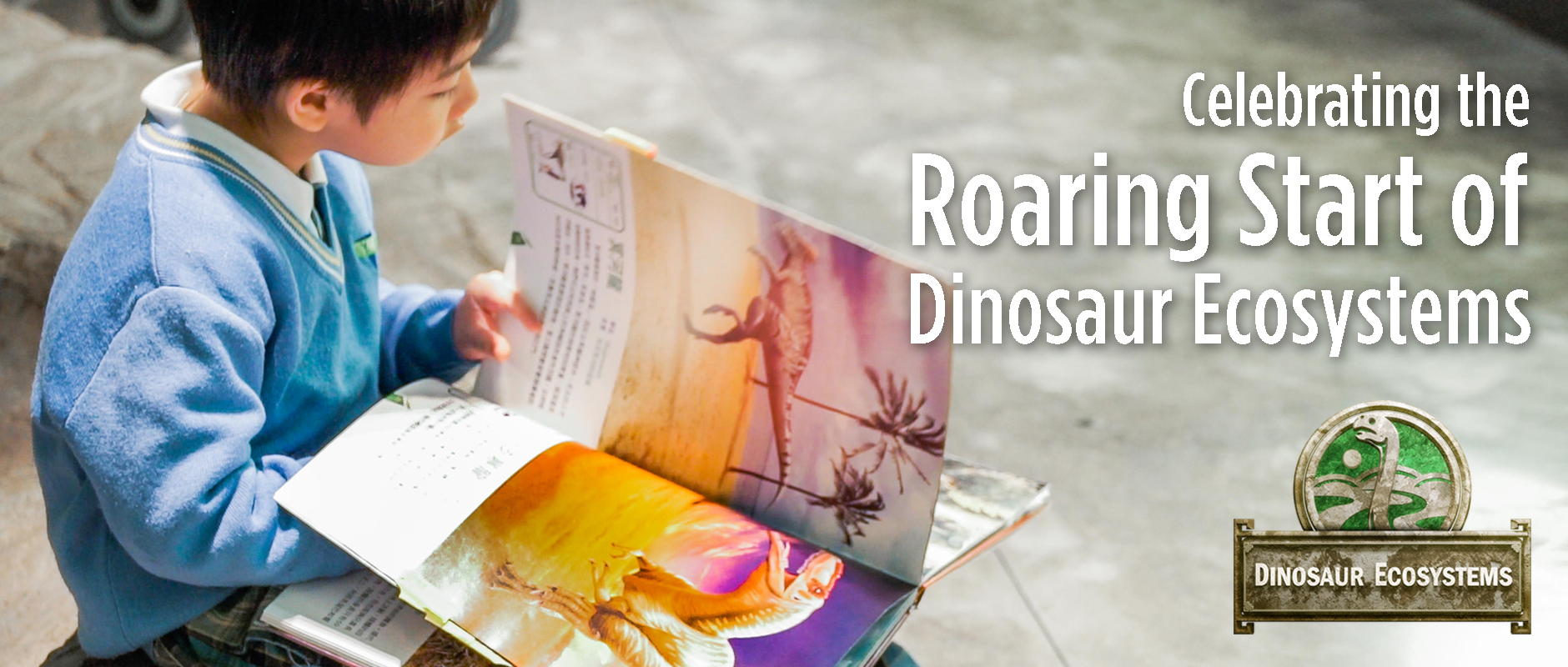 To celebrate the joyful success of our course, Dr. Pittman hosted a party on February 8th, 2017 with almost 50 HKU colleagues and members of the general public at Stephen Hui Geological Museum. More details here.
A fun drawing competition titled "The Year of the Dinosaur" was also organized to engage dinosaur lovers in the community. The following is a selection of fun dinosaur-themed Chinese New Year scenes designed by creative young minds: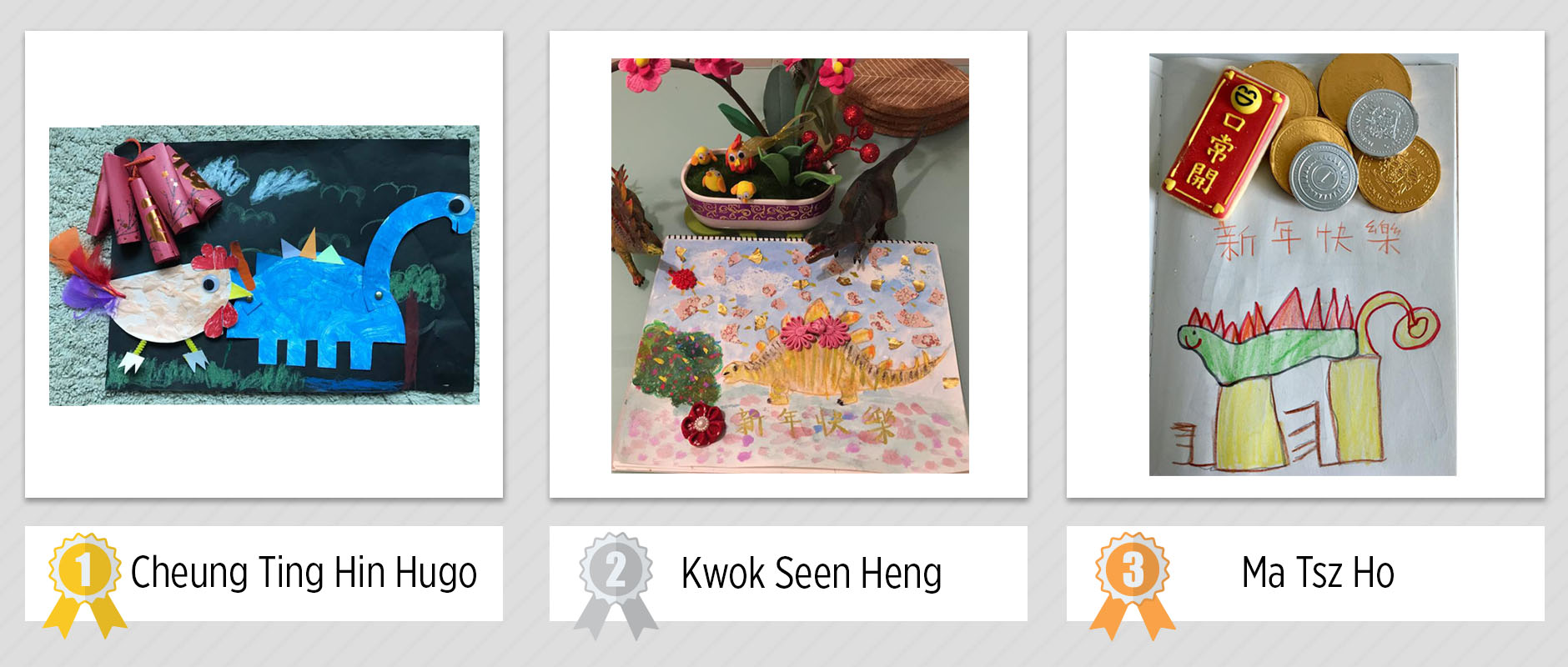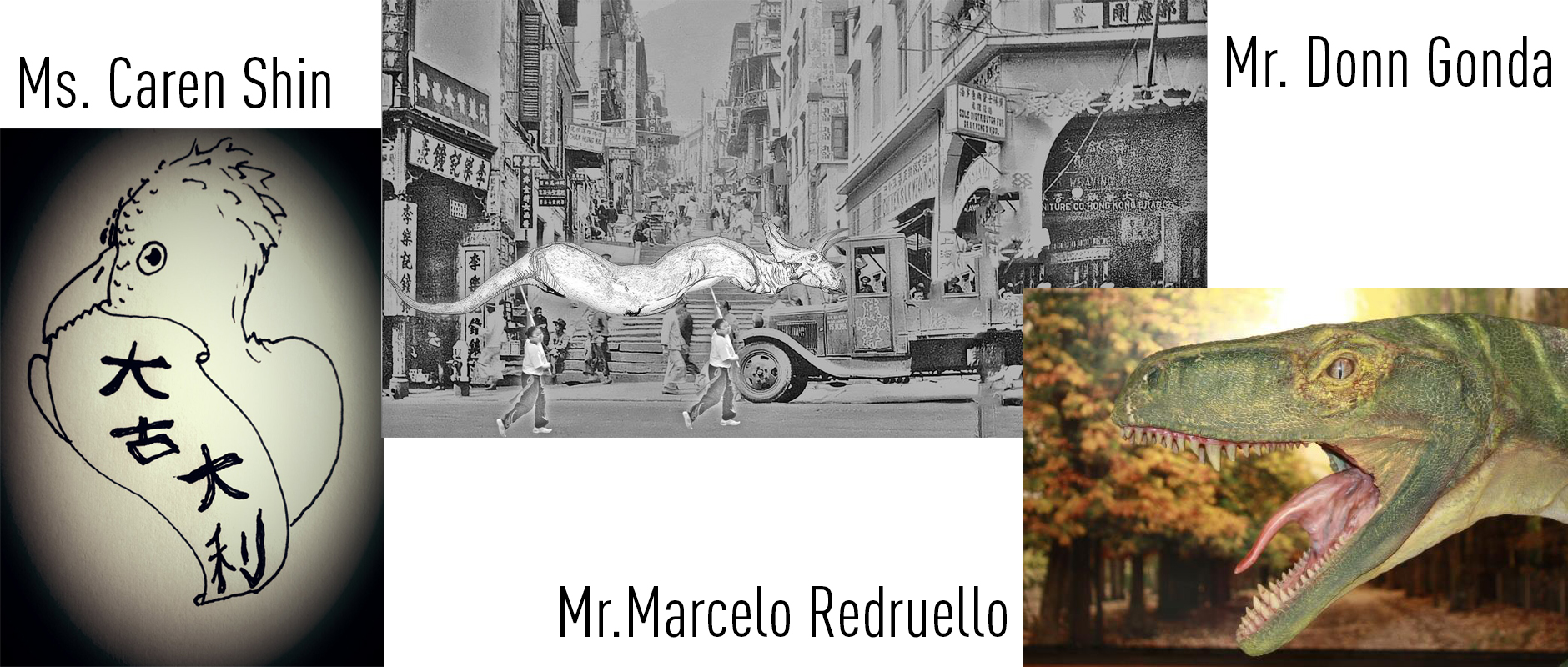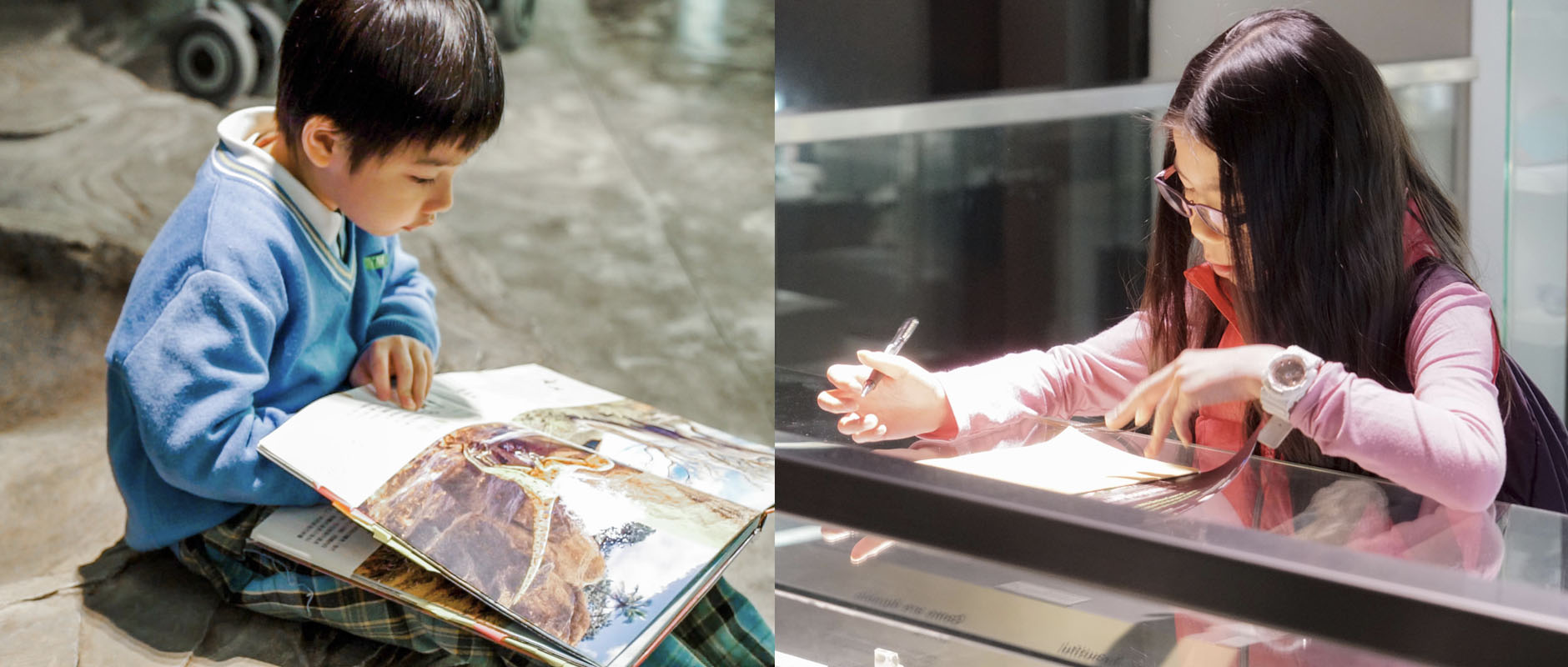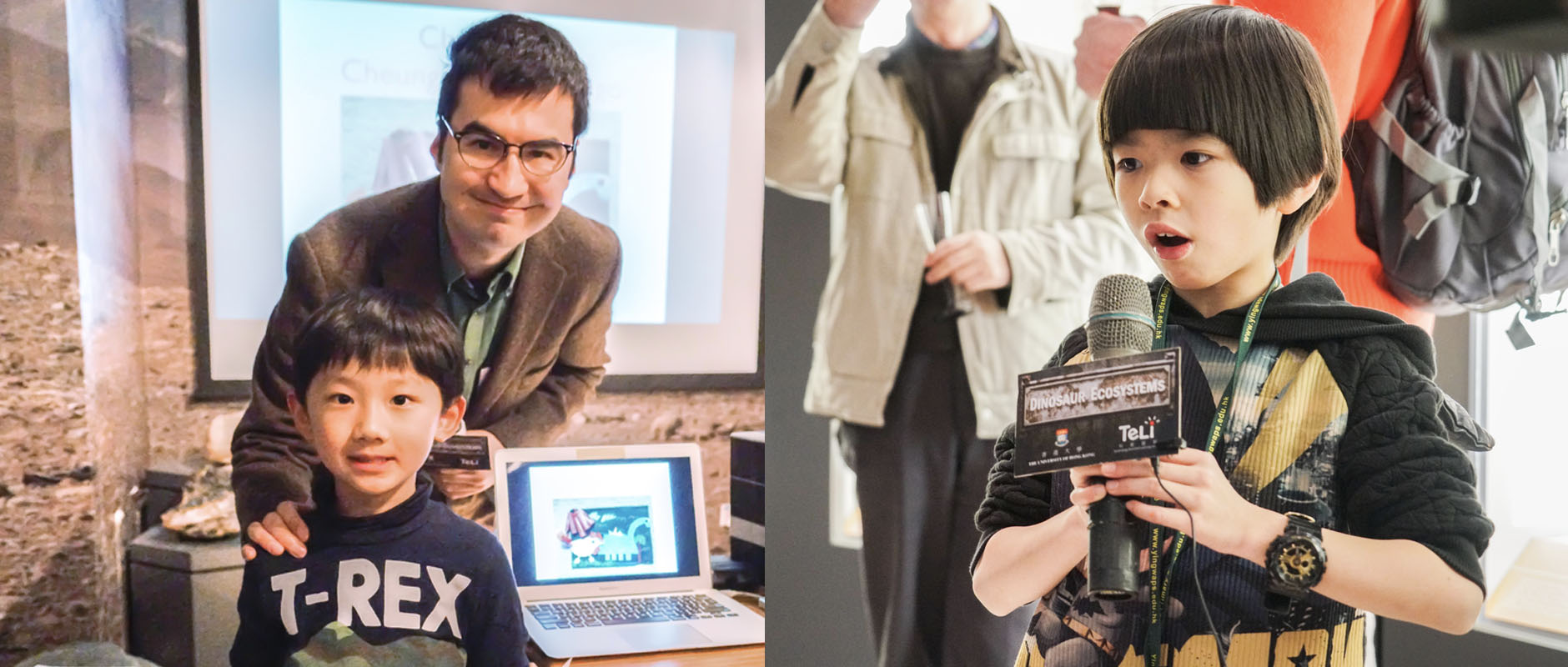 —-
Dinosaur Ecosystems @ Hong Kong Science Museum
To promote the course, we had set up, for the first time, a booth in the T. rex exhibition in Hong Kong Science Museum.
"T-Rex Revealed – The Augmented + Virtual Reality Experience" was a recent exhibition where you could interact with dinosaurs with Augmented Reality (AR) and Virtual Reality (VR) technologies. Our course instructor, Dr. Michael Pittman, was the advisor of the exhibition.
Dr. Pittman also brought along souvenirs of our course to Science Alive 2017 on March 4th and 5th at the Science Museum. He gave a lecture on "Dinosaur Appearance: New Discoveries" and set up an exhibition counter introducing his research and our MOOC to the general public.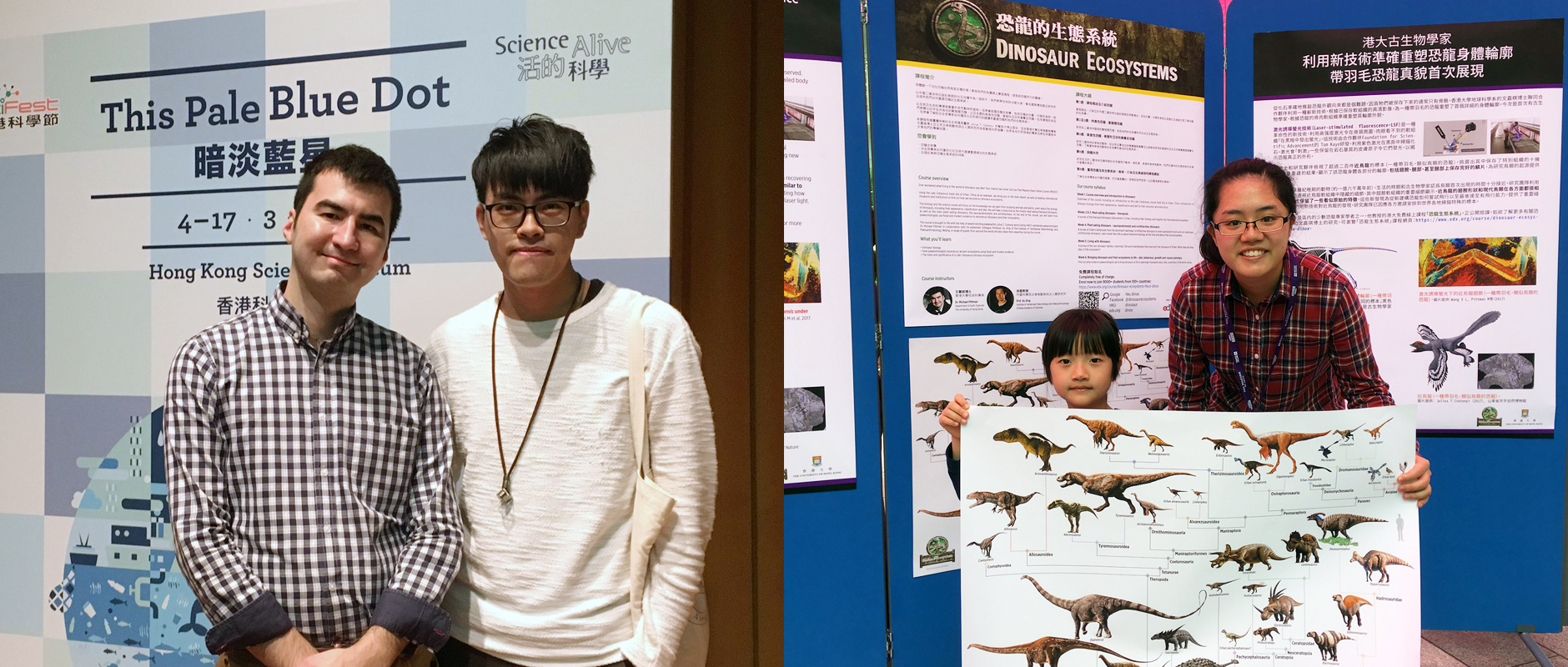 Left: One of our learners, Jason, travelled all the way from Macau (a 2 hour roundtrip) to meet Dr. Pittman!
Right: It was a delight to know that our young learners love our course poster!
For more photos, check out our Facebook photo album!
—-
New Discoveries: Reconstructing Dinosaurs with Lasers
These few months had been a busy time for Dr. Pittman, who had to simultaneously teach a huge class online and work on his research. In February 2017, he "and his collaborators reconstructed the first highly detailed body outline of a feathered dinosaur based on high-definition images of its preserved soft tissues". This important science discovery was published in Nature Communications and featured in various media outlets such as National Geographic and BBC News.
Dr. Pittman shared his discoveries in a press conference on March 1st, 2017.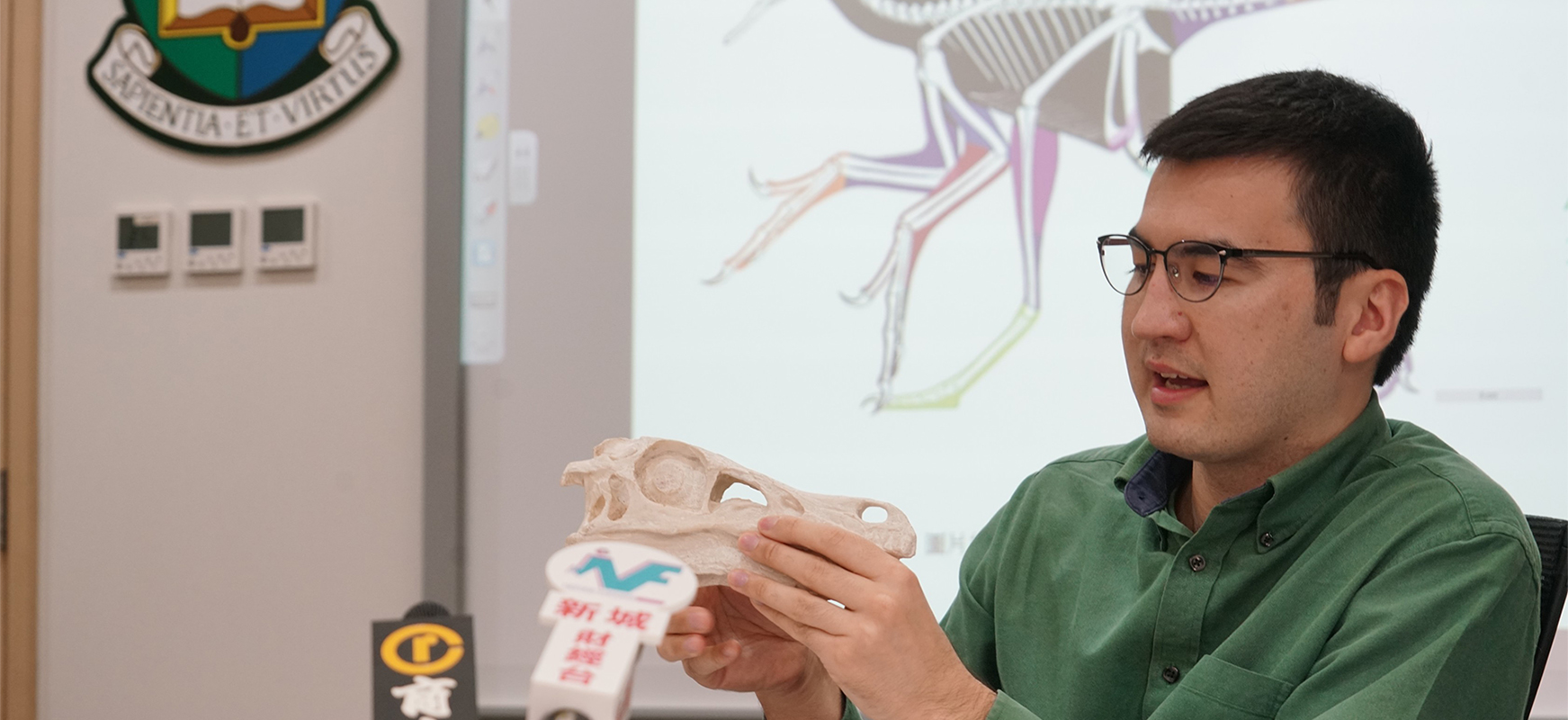 His discoveries were featured in the following websites:
—-
Dinosaurs on TV!
Dr. Pittman and his 3D dinosaur model even made it to TVB's Big Boys Club (兄弟幫) in April! In the two episodes titled "Unveiling the Secrets of Dinosaurs" (Part 1, Part 2), he shared fun facts about dinosaurs, his archeological experiences and how he uses lasers to reconstruct dinosaurs from fossils. In the latest episode titled "Precious Dinosaur Fossils", he brought along dinosaur eggs and teeth fossils and explained how fossils were formed.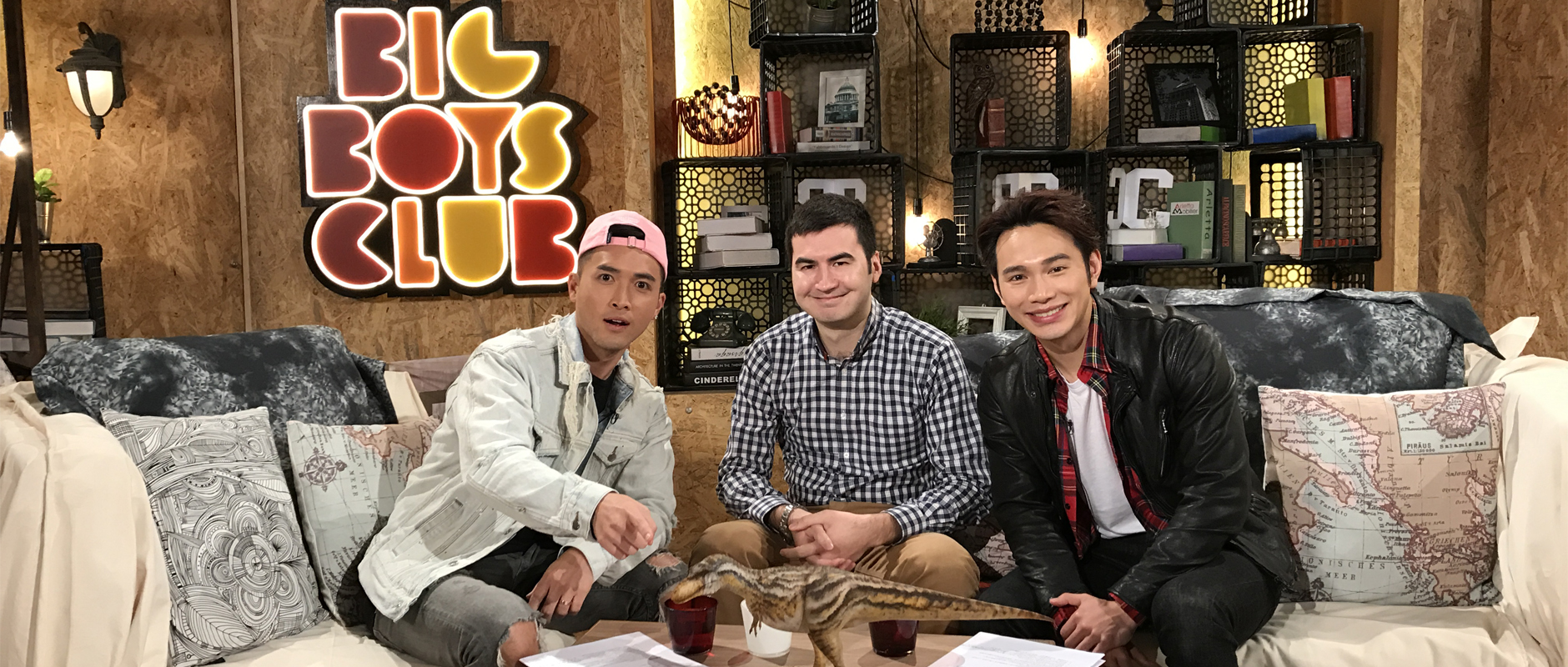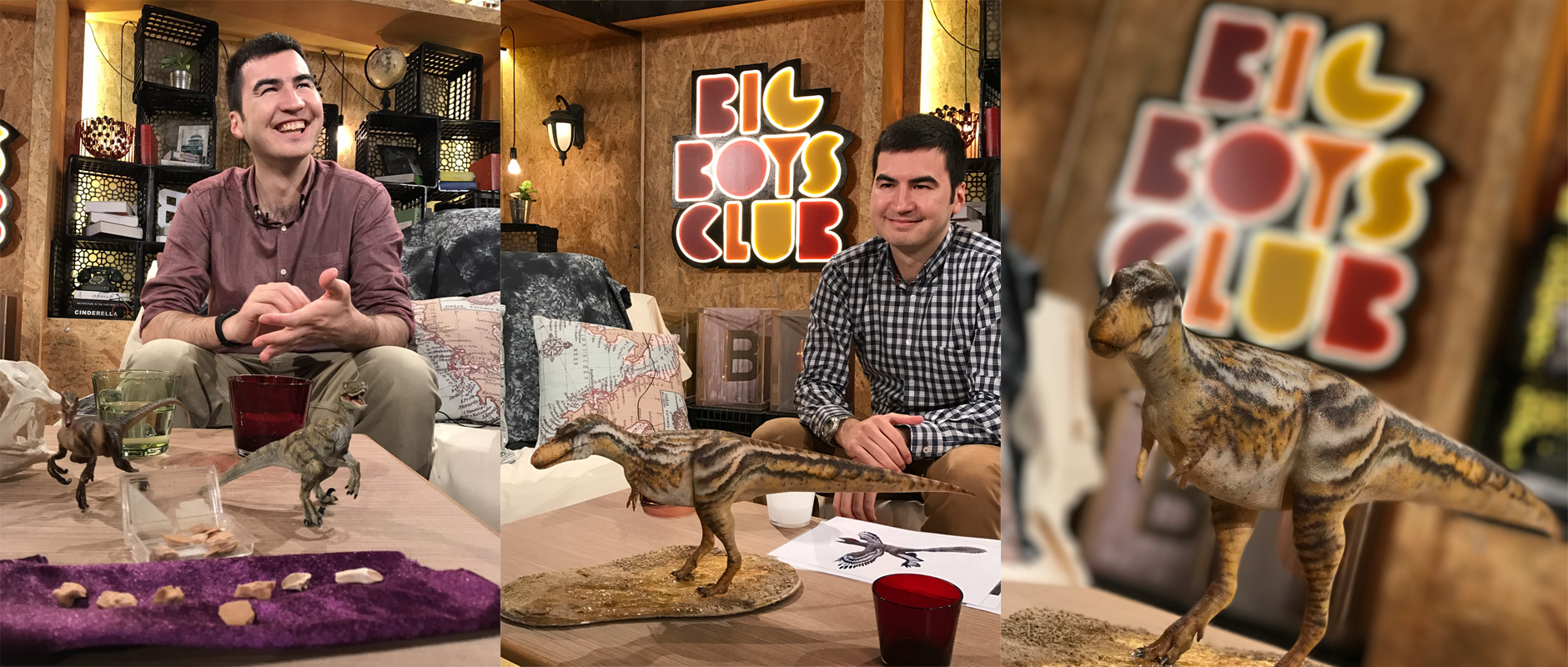 —-
Interested to learn more?
Check out this interview of Dr. Pittman where he explained the importance of studying dinosaurs and producing this course.
Don't forget to take a glimpse into the artistic process of crafting the MOOC.
This course is just the beginning of our exploration of dinosaurs. Stay in touch with us through our Facebook and Twitter!

Details:
Date : 22 January 2020 (Wednesday)
Time : 12:45pm – 2:00pm
Venue : CPD-1.24, Centennial Campus, The University of Hong Kong
Speaker : Dr Leon Lei, Ms Crystal Luo
Artificial Intelligence (AI) is the fastest-growing technology in various fields. The adoption of AI spans the global learning landscape and has been used in experiential learning, tutoring, language learning, and knowledge testing. In higher education, some educators have identified the affordances of AI and utilized this technology in making teaching and learning more effective. In particular, there is a high demand for teachers to provide meaningful and prompt feedback to students within and beyond the classroom. However, designing such an experience can be challenging as this requires a lot of teachers' time and attention to their students. Systems powered by AI can provide 24/7 support to teachers and multiple learners at the same time, with personalized support and guide them in an engaging way in the virtual environment. Some may worry that creating an AI tool from scratch requires complex computer programming skills but there are more and more AI-facilitated tools for teaching and learning.
In this seminar, we would like to discuss the potential and affordances of AI in education with some examples of AI tools for classroom engagement and assessment. Through the workshop, participants can reflect on better practices and design considerations in AI-facilitated teaching and learning.
Upon completion of this seminar, the participants will be able to:
Identify the opportunities and challenges of adopting AI tools in the classroom
Use the concept of AI learning technologies and learning analytics to facilitate classroom learning and assessment.

Dr. Chi-Un Lei, Leon is currently an e-Learning Technologist in the Technology-Enriched Learning Initiative (TELI), HKU. He received his B.Eng. (first class honors) and Ph.D. in Electrical and Electronics Engineering from HKU in 2006 and 2011, respectively. He is a HEA Fellow and an IEEE Senior Member. He is also the Vice Chairman of IEEE Hong Kong Section Education Chapter (2017-present). He was awarded with the HKU Professional Services Individual Award 2018, the Best Paper Award in IEEE TALE 2017, IEEE TALE 2013 and IAENG IMECS 2012, Best Student Paper Award in IAENG IMECS 2010 and IAENG IMECS 2007.
As an e-Learning technologist at HKU, my role is to support university teachers from various departments to adopt online/blended learning in their teaching. In the past three years, I have worked with instructional design colleagues to provide consultancy services and trainings to teachers at HKU, and supported them to develop e-Learning content based on their teaching subjects and needs. Our collaboration with various teachers and units is quite successful.
Providing E-Learning Consultancy Services to Teachers
Give advice on educational resources development
One of the services I provide is to evaluate the educational resources development process led by teachers and give advice on how they can develop more effectively. I often partner with teachers and provide regular assessment of their e-Learning content development. In the evaluation process, specific and easy to understand advice on the instructional design and technological considerations would be given to the teachers. Specifically, the goal of this evaluation process is to identify at-risk designs that may hinder learners' learning, and I will then provide specific revision suggestions to teachers. This service can help to minimize learning hurdles. For example, I recommend teachers to use Mayer's instructional multimedia principles in reviewing their instructional videos. This set of principles provides a guideline for teachers in learning how to reduce extraneous content and pinpoint essential learning content in their videos. Supporting teachers in creating an instructional video is not the last step. I also help teachers to analyse students' video watching behaviour by conducting a course-level exploratory analysis. Abnormal watching behaviour can be identified and those moments can then be revised for a more effective learning in the next cohort. This practice has been adopted in MOOC and blended learning development and proven to be effective for courseware improvement.
Additionally, I have also worked with colleagues and teachers to develop a chatbot tutor and explore different gamification mechanisms such as a badge system. In particular, the chatbot tutor we have built helps to provide 24/7 personalized feedback tools for supporting large-scale class feedback. Based on these experiences, I have developed an automated learning design verification mechanism for teachers to conduct quality assurance process on their side.
Develop guidelines for online/blended course development


Besides providing consultation sessions to individual teachers, I have also worked with colleagues to develop guidelines for online/blended course development on an institutional level. For instance, we have developed an easy-to-use flipped classroom teaching package for implementing a DIY flipped classroom (https://hku.to/flipping_menu). The first version of this teaching package was well received by teachers and teaching support practitioners within and beyond HKU. After the first version was published, I observed that some teachers would like to know what kinds of classroom activities can be implemented and how they can be implemented, as well as what probing questions can be raised for discussions. Therefore, my team and I have revamped the package again and included examples on classwork activities and online/blended learning cases at HKU for teachers' reference.
In addition, my colleagues and I have studied three different technological courses that adopted the flipped classroom approach for one semester in HKU, according to the "Seven Principles of Effective Teaching" framework. The guidelines of good practices gleaned from the cases would be a useful reference for teachers who are interested in conducting flipped classroom.
A Reflection on How I Support Two Teachers on a MOOC Production
My experience on partnering with two professors, who are both new to online course development, on a MOOC production can demonstrate how the consultancy service provided by my team and myself can support teachers at HKU to adopt online/blended learning in their teaching. In the production process of this MOOC, I first reviewed the professors' teaching slides and developed several pilot videos with different visualisation formats. Students were then invited to watch these pilot videos with different visualisation formats, and their watching behaviours were collected and analysed. This video prototyping process is a great way to increase teacher's involvement and improve the quality of the videos as we are able to identify better video design in the communication process.
After launching the first cohort of the MOOC, I helped to review the courseware again and found that social engagement and learners' sense of belonging to the learning groups in this MOOC can be improved. Using both the frameworks of First Principles of Instruction and Community of Inquiry in analysing the course, I suggested the teaching team to make two improvements: 1) to create more section-level forums for stimulating discussions among students, and 2) include hints and detailed solutions for every MCs (150+ MCs in total). The teaching team agreed on the revisions, and the results have shown that the enrolment and learning retention in the second and third cohorts have been significantly improved. In addition, this MOOC development project was used as an exemplar in the Faculty for initiating their new e-learning pedagogy development plan.
Getting Teachers Out of Their Comfort Zone
It is completely understandable for us to feel nervous of trying something new. One of the major challenges I face in e-Learning development is to motivate teachers to start participating and experimenting. It can be challenging as e-Learning development requires teachers to apply both pedagogical and technological skills at the same time. I have collected showcase examples from various fields so that teachers who are new to e-Learning can learn from relevant course development in his/her own discipline. I would also introduce easy-to-use e-Learning tools and technologies with guidelines, training videos, showcase videos and templates in my consultation sessions and training workshops. For teachers who are more experienced and confident in trying more complicated tools, I would provide advice on teaching development grants application for further e-Learning development to them.
Collaboration is the key to educational development. At the end of the consultation meetings/trainings, I would always include a learning design sharing session where teachers can form into groups and share their own stories and teaching needs with colleagues. The learning design discussion facilitates teachers to identify their own goals in their e-Learning development. They found the discussion very inspiring and some of them even worked together in a cross-team project. In these learning design sharing sessions, I was also able to learn from teachers and better understand their needs and ambitions; some teachers wanted a small-scale pilot development while some aimed for an award-winning sophisticated development. Reflecting on what I have learnt in these learning design sharing sessions, I have suggested different teaching-support solutions; the proposals range from DIY production training for teachers and teaching assistants to large-scale e-Learning deployments supported by internal/external teaching development grants.
What's Next?


My collaboration with teachers and units has inspired me to work on building copyright awareness at HKU. I have worked with teachers and various units on different institutional-level projects and produced videos on the topic of research data management and academic integrity. These videos have been used for educating teachers, staff and students on research integrity and academic honesty. These collaboration projects have led me to incubate a learning development project on copyright education. The aim of this project is to raise the awareness of fresh students and teaching staff on copyright issues encountered in their teaching and learning. If you are interested in learning more about this project, please see https://hku.to/Copyright_Classroom.
The TELI team and I will continue to provide support to teachers at HKU, including individual consultations and training sessions on various topics. For enquiries, please contact us at enquiry@teli.hku.hk.

The teaching enrichment cluster is an 'innovation powerhouse' comprised of teaching support colleagues from multiple units, including colleagues from Technology-Enriched Learning Initiative (TELI) and 4 colleagues from the Faculty of Education, Architecture and Law. The cluster support teachers in revamping teaching and learning with innovative strategies and technologies, and offer services including instructional design, technology adoption, system development and big data analytics. To be specific, we provide responsive pedagogical and technical consultancies as well as development services to the Faculties and teachers in developing and implementing e-learning, presence learning and blended learning. Colleagues strive to create quality-time (e.g. learning support beyond classroom) and quality-space (e.g. engaging in-class activities) for teachers and students with the help of technology.
In this blog post series, we will introduce colleagues' key initiatives in the 2018-2019 academic year in terms of pedagogical development and system development.
We Aim to Establish Strong Links to Stakeholders

We see the high value of partnerships in driving teaching innovations. We aim to facilitate inter-disciplinary and cross-Faculty collaboration on education development which can make a greater impact on student learning. We worked side-by-side with teachers from different disciplines, thereby spreading the enthusiasm, discovering new perspectives in teaching development, and cultivating a new T&L culture.
Facilitating Sharing of Contents and School Credits across Universities
In the past, there were limited chances to experiment with the cross-institutional credit transfer mechanism. Yet, colleagues in the cluster have worked hard in overcoming this challenge and initiated a UGC-funded cross-institutional project titled "The Responsive University: Appreciating Content Sharing in General Education" in collaboration with PolyU, CUHK and HKUST. In particular, colleagues have engaged teachers and stakeholders to develop cross-institutional General Education/Common Core courses with innovative blended curriculum. In the 2018-19 academic year, a total of 10 shared courses from four different Hong Kong institutions were offered, and a total of 127 students joined the project. In this joint project, the four universities have also entered into an Agreement for Collaboration, under which eligible students in the participating institutions can enrol in one of the selected courses offered by other partner institutions respectively.

Teaching-Development Partnership for Introducing Mobile-Friendly Learning and Community Outreach
More often than not, teachers are not familiar with technical specifications of the process of developing educational solutions that bring about unsuitable learning strategies. During the academic year 2018-2019, we have worked collaboratively with colleagues from the School of Nursing to share the innovative pedagogical and technological solutions and seek out the potentials for immersive learning and community outreach.
The use of virtual reality (VR) and extended reality (XR) technologies can create experiences that educate, engage, and excite learners. A VR-based app on dementia care was developed to cultivate nursing students' clinical reasoning and clinical judgement in flipped classes in the University, such that students can experience situations that simulate the actual environments for medical training. Instead of advising disciplinary knowledge, we focus on creating a learner-relevant, effective and immersive learning experience, leveraging our expertise on user experience (UX), media design, system architecture and technical development.
Besides teaching and learning inside the classroom, we worked together to develop technologies for promoting tobacco control, HPV vaccination, and alcohol control. For example, we worked with teachers to develop mobile apps, AI-enabled chatbots and ecological momentary assessments supporting smoking cessation through different interventions. We also developed a simulation game to promote HPV vaccination for secondary school students.
We Aim to Show Great Enthusiasm for Continuous Improvements

Talents are important resources for a sustainable cluster development. Cultivating talents is crucial to stay responsive to the fast-changing needs of the University. Colleagues in the cluster are of diverse backgrounds coming from different countries/cities (including Uzbekistan, Egypt, Indonesia, Pakistan, Malaysia, Taiwan, Mainland China and Hong Kong), and with different expertise (e.g. psychology, language, information technology, etc.). Therefore, we often organize activities to provide opportunities for colleagues to learn from each other, as well as to build up trust and team spirit for a more cohesive cluster. We continuously help colleagues to expand their capabilities and adopt data-informed/closed-loop development for delivering wider and better educational development services.
Cross-Disciplinary Hackathon
Colleagues from different fields teamed up and attended a half-day internal Hackathon. The event was for brainstorming proof-of-concept solutions to existing issues in e-learning within higher education (e.g. AI-powered teaching-student interaction app). At the end of the Hackathon, colleagues were required to give a presentation with a mock-up. Colleagues, coming from different fields and have not had worked together, now have the opportunity to collaborate closely and come up with effective solutions (e.g. EdTech apps).
Internal and External Professional Development Events
Colleagues are encouraged to attend technical and pedagogical training for mastering their skills that will accelerate their professional growth. For example, one of our colleagues had attended a one-week professional training at Harvard University, which aims to train educators in developing a design thinking mindset. She applied what she has learned in a mobile game app project for a Common Core course to further enhance the pedagogical value of the project. A couple of other colleagues have also been given the chance to attend an internal training course on teaching and learning in higher education. They have successfully completed the course and have a deeper understanding of in-class teaching and learning activities in the University. Besides attending external and internal training, there are also cross-disciplinary seminars. For example, multimedia colleagues were invited to introduce cutting-edge computer graphics and interactive technologies, and external researchers were also welcomed to talk about teaching development and evaluation practices. These seminars help to broaden colleagues' horizons and inspire new ways of implementing teaching and learning.
Adopting Data-Informed/Closed-Loop Development
We constantly review and revamp our solution and development process through conducting stakeholder surveys and focus group interviews in projects. In particular, the cluster evaluated the quality of various technology-enriched pedagogies used in on-campus blended courses and generated insights to develop better pedagogical practices. Based on the findings, colleagues provide continuous assistance to teachers on creating new educational videos, collaborative classwork and assessment as well as revamping the existing ones for more effective teaching. Besides redesigning pedagogical practices, we have studied students' motivations and expectations in participating in a cross-institutional teaching and learning initiative through qualitative and quantitative means. The findings of the study highlight some of the concerns and needs of students, and based on these, we have designed new posters and videos addressing their needs and concerns to promote this initiative. As a result, more students are aware of the initiative and more than 100 students are joining it now.