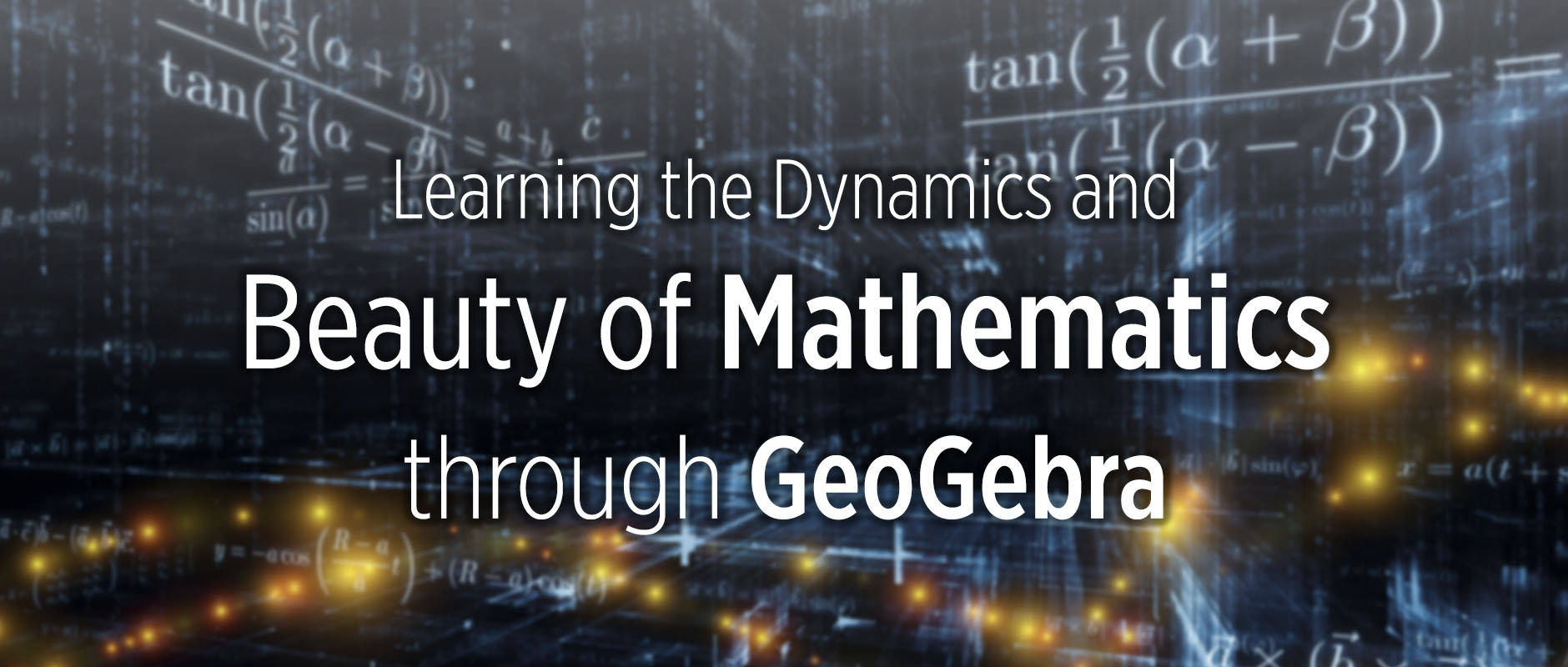 Guest blogger series: Dr. Yat Ming CHAN
Dr. Yat Ming CHAN
is a Lecturer at the Department of Mathematics, The University of Hong Kong. Chan specializes in differential geometry and is the developer of
HKU GeoGebra resources
. Check out this
blog post
to learn more about his teaching of mathematics.
The Department of Mathematics has been offering a range of courses to provide mathematics education to HKU students across faculties. We have designed courses specifically for students majoring in statistics, risk management, quantitative finance, actuarial science, engineering, business and economics. Almost all these courses involve the training of calculus at various levels. By means of introducing new dynamic and interactive instructional materials, it will be possible to improve students' motivation and provide them with extra incentives in learning the underlying abstract mathematical concepts. With the support of HKU Teaching Development Grant, we have introduced GeoGebra resources on HKU Open edX for introductory-level mathematics courses.
This platform provides a library of GeoGebra applets to support teaching and learning for introductory-level mathematics courses. GeoGebra is a free and open-source dynamic mathematics software that can construct elements with points, vectors, polynomials and functions. The use of GeoGebra allows visualizations of mathematical ideas and creation of interactive instructional materials. The applets made in the platform will be designed to (i) supplement the concepts developed in class and (ii) prompt students to explore mathematics according to the guidelines.
For each learning object, students can learn or review one to two concepts and will be given opportunities to perform investigatory tasks. Students can click on checkboxes and follow the guidelines to achieve a specific goal, drag the points and move the sliders to observe the change, and input their own functions to examine different cases. All these activities, as well as follow-up questions, can foster student-centered learning and mathematical explorations.
Due to the versatility of GeoGebra, we expect that the materials in this platform will improve teachers' capabilities to convey abstract and difficult mathematical concepts to students. Teachers and tutors can take advantage of this new resource to create complementary materials for their lectures and tutorials. We also expect that the use of GeoGebra applets in class will improve teacher-student interactions.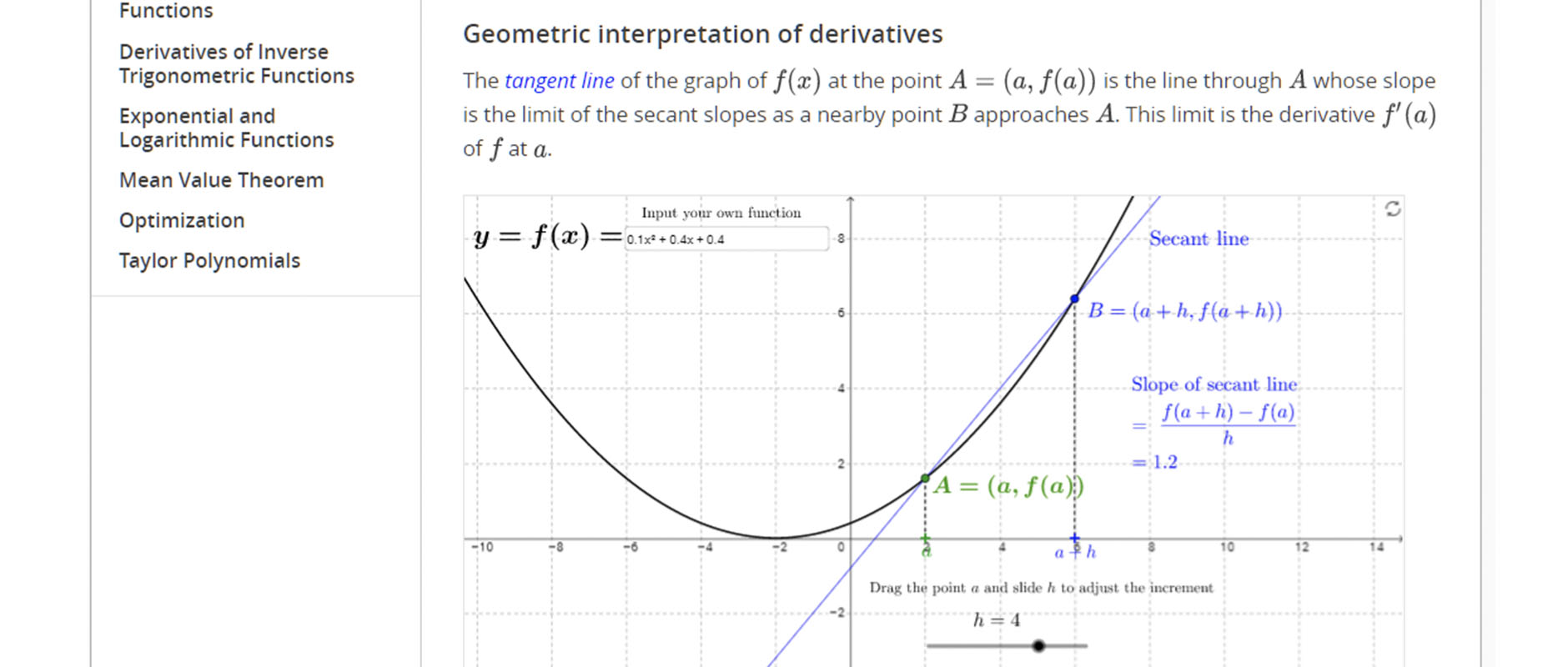 Students can drag the point and use the slider to adjust the increment to observe how the secant lines approach to the tangent line. They can also input different functions for further investigation.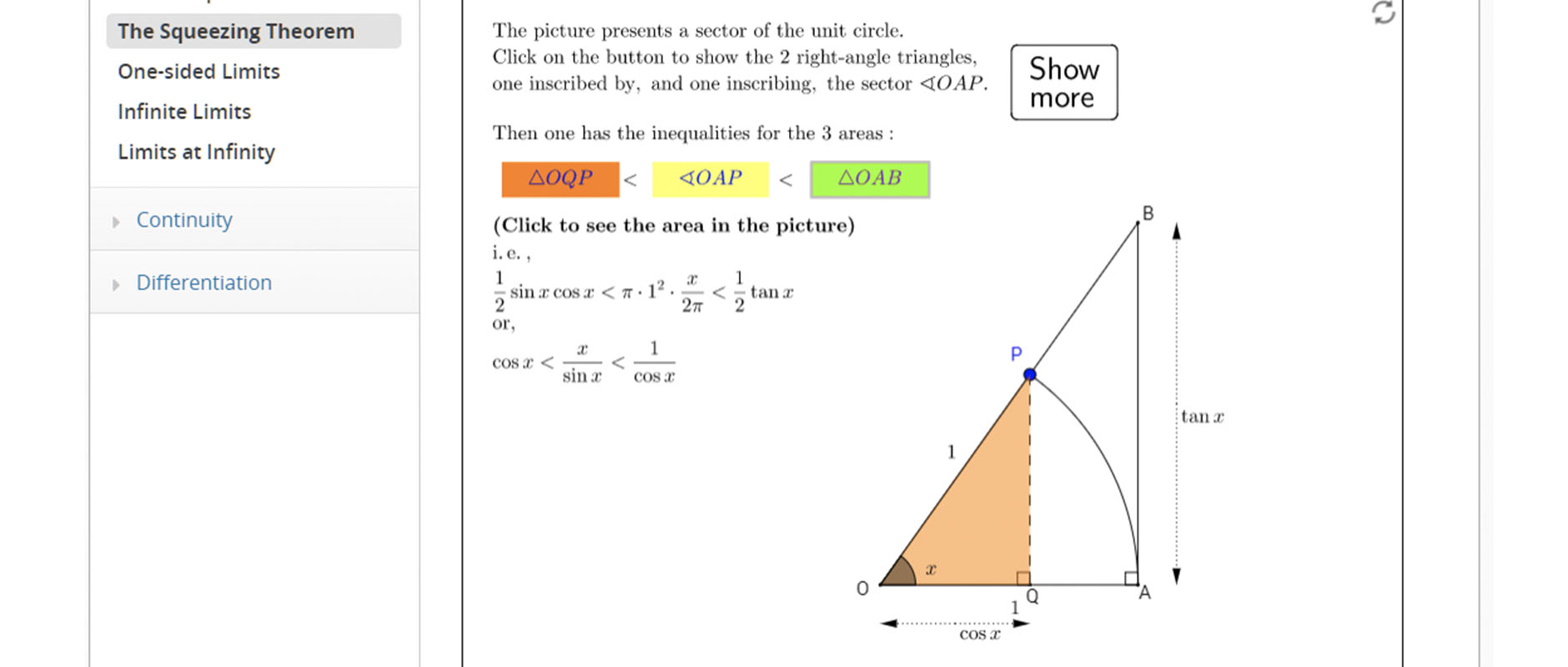 Students can press the "Show more" button to check the details. They can then click to see and compare the area in the picture.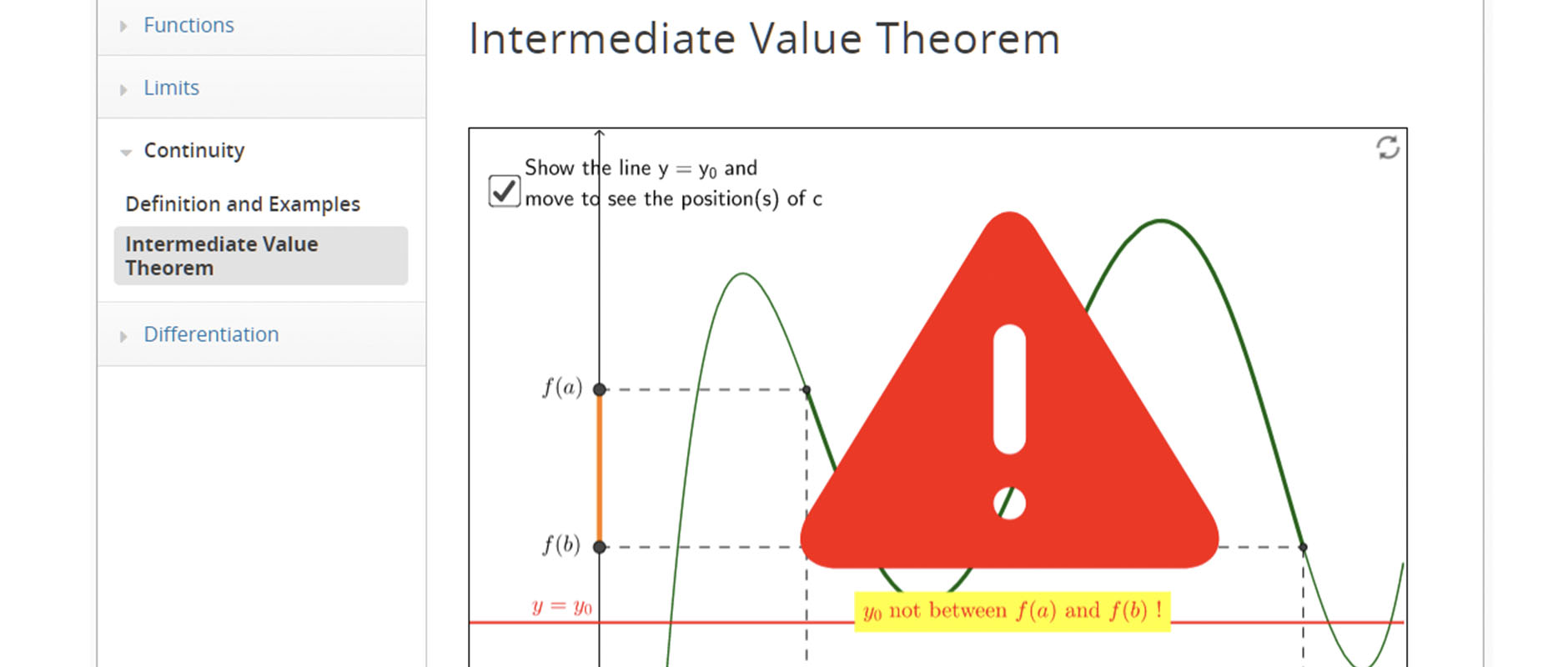 Students can click the checkbox and move the line to verify the theorem.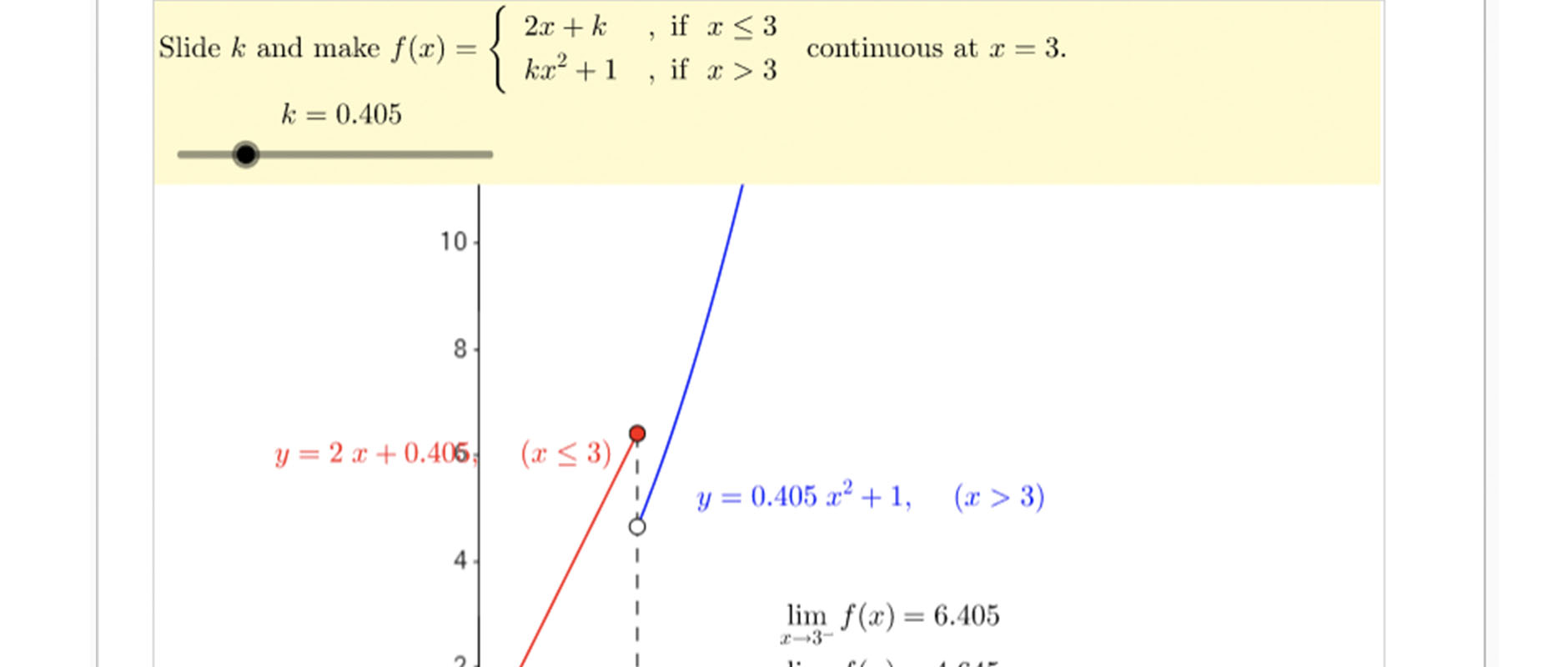 Using the slider students can change the value of k to obtain a continuous function.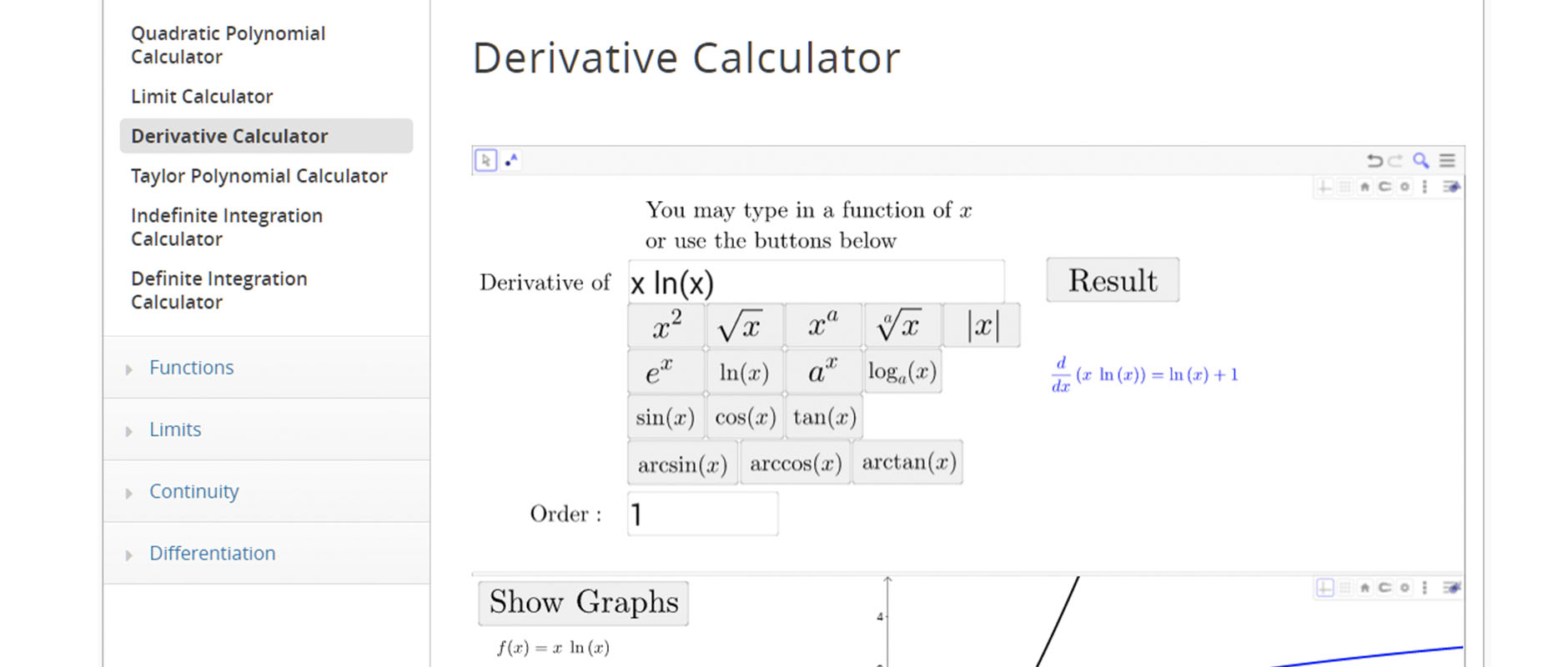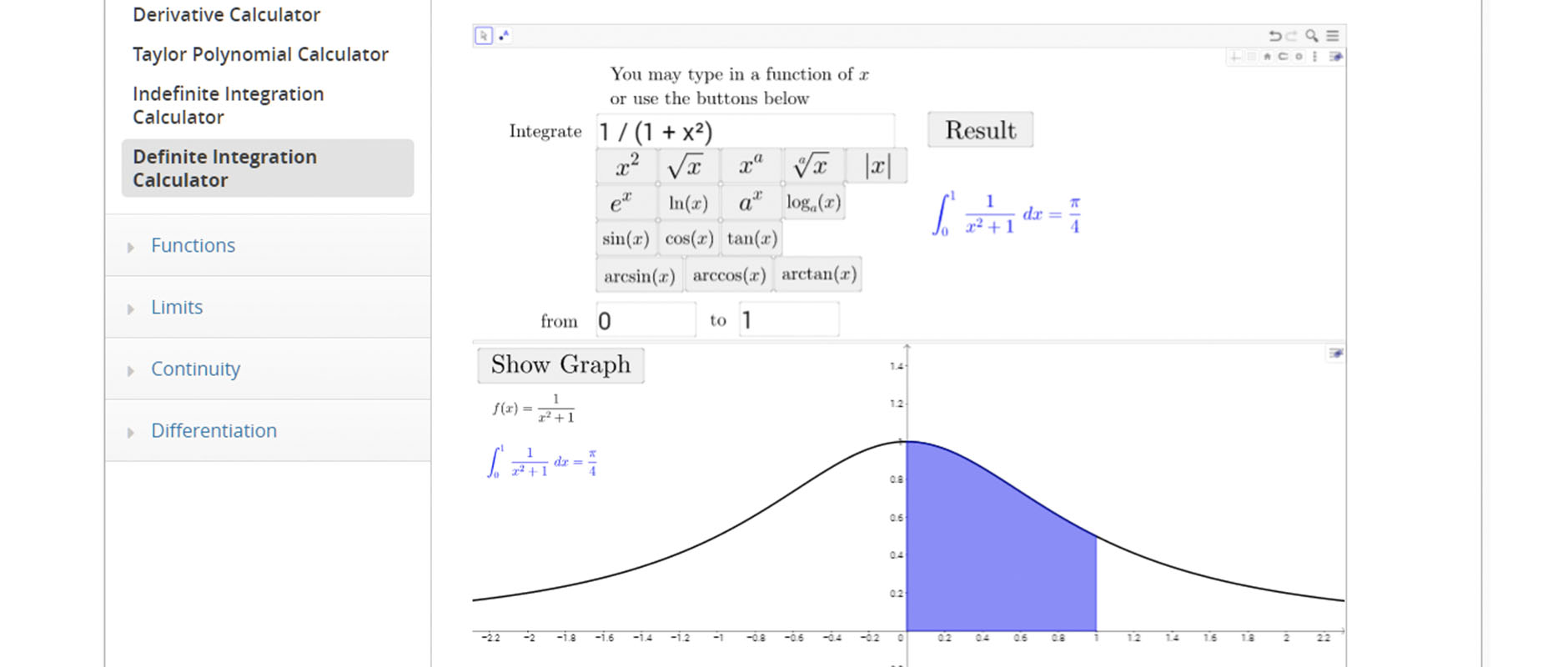 Our online calculators allow users to get straight to the answers with easy inputs. Graphs will also be provided for reference. Students can take advantage of these calculators for getting immediate answers and for verification of their solutions.
—
The entire platform can be used in virtually all courses that involve the teaching of calculus such as MATH1009 Basic Mathematics for Business and Economics, MATH1011 University Mathematics I, MATH1013 University Mathematics II, MATH1821 Mathematical Methods for Actuarial Science I and MATH1851 Calculus and Ordinary Differential Equations.
References
Click here if you cannot access Youtube
Click here if you cannot access Youtube

The world-class quality Implant Dentistry MOOC will be launching its re-run on 11 September 2017! During its first run in October 2016, over 7000 learners from 50+ countries enrolled. Launched by the HKU Faculty of Dentistry, ranked No.1 in the world in 2016, this MOOC is the 1st of the world in Implant Dentistry, offering an important supplement for dental professionals, practitioners and students.
Why study an Implant Dentistry MOOC?
According to the chief course instructor, Dr Niko Mattheos,
"Implant Dentistry is one of the most dynamic and rapidly developing areas within oral health care, but is still a rather new discipline in dental education and is not quite often taught in undergraduate dentistry curricula."
This MOOC, led by Dr. Mattheos, is taught by a stellar dream-team of almost 20 international experts in dental implants and reconstructions. Each week offers specialized knowledge and evidence-based practices for learners to engage with.
What are the contents covered in the course?
The MOOC includes 5 modules and runs over a period of 5 weeks. We will begin the journey of Implant Dentistry by exploring how discoveries in biology and technological developments lead to the current practice of dental implants. Then, we will examine clinical cases, diagnose our patients' needs and expectations and learn the principles of treatment planning. We will learn step-by-step surgical procedures for placing implants and various restorative techniques, directed by current evidence and best practices. Finally, we will investigate major threats and complications of implant procedures and ways to ensure successful treatments and long serving implants.
International Impact
The first run created ripples of impacts to international communities, at not only universities and dental schools, but professional communities alike. Passionate learners in the Arabic community even formed a Facebook group, with over 900 members, where members shared notes with peers and translated the materials to Arabic. We also had a large proportion of Chinese learners, as professional organizations in mainland China spread our MOOC.
This impact continues even after the end of the first run – where there are currently three volunteer groups translating the entire course into Chinese (supplementary materials), Russian and Arabic.
Seminars and Events
Colgate seminar on peri-implant tissues in health and disease (October 2016)
Community event in Bangkok (November 2016), conducted by two of the instructors, Dr. Chatchai Kunavisarut, Mahidol University, and Dr. Nikos Mattheos
The event was broadcast through Facebook live: Part 1, Part 2, Part 3, Part 4
Learner Feedback
Here are some testimonies from the learners: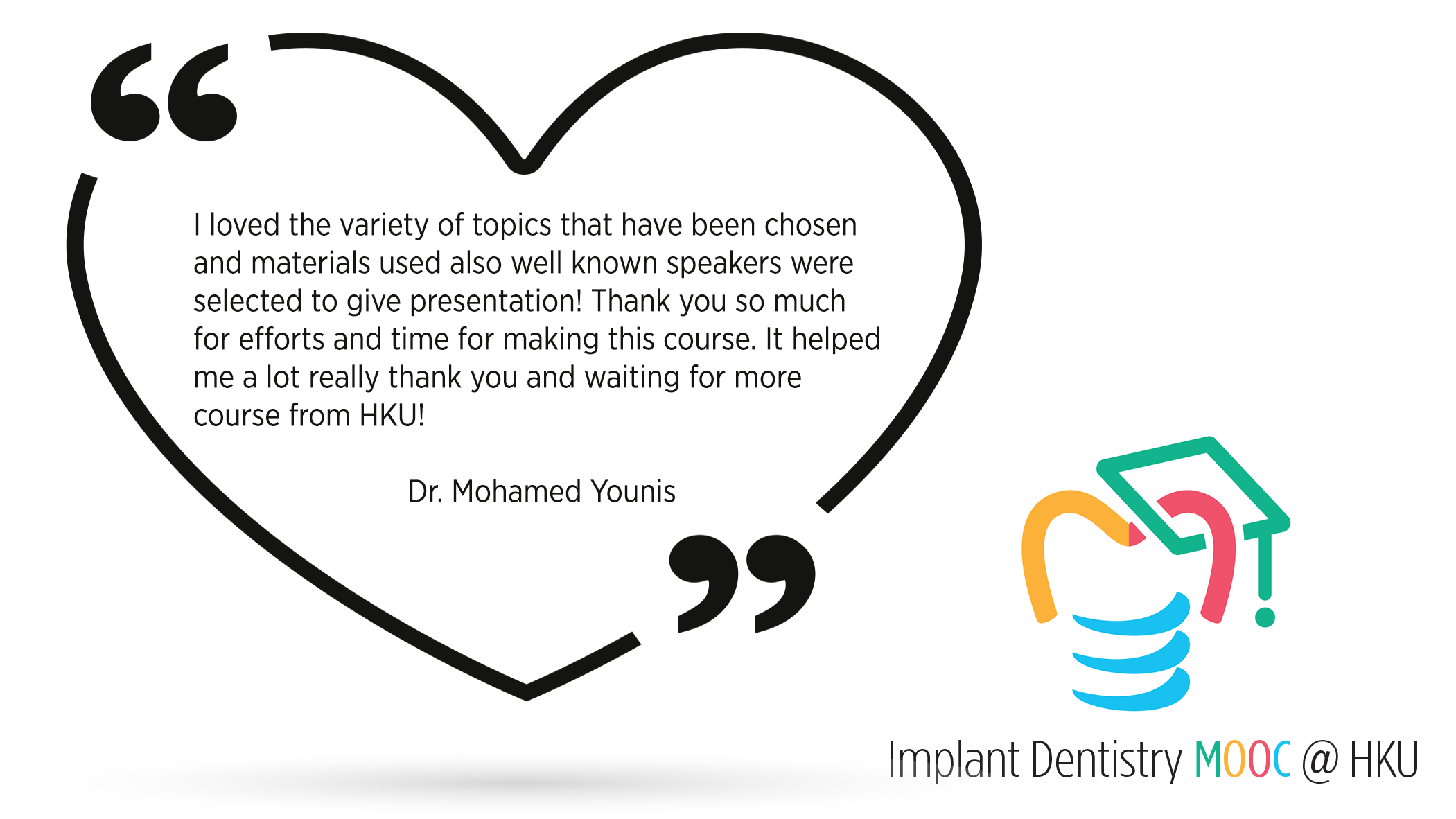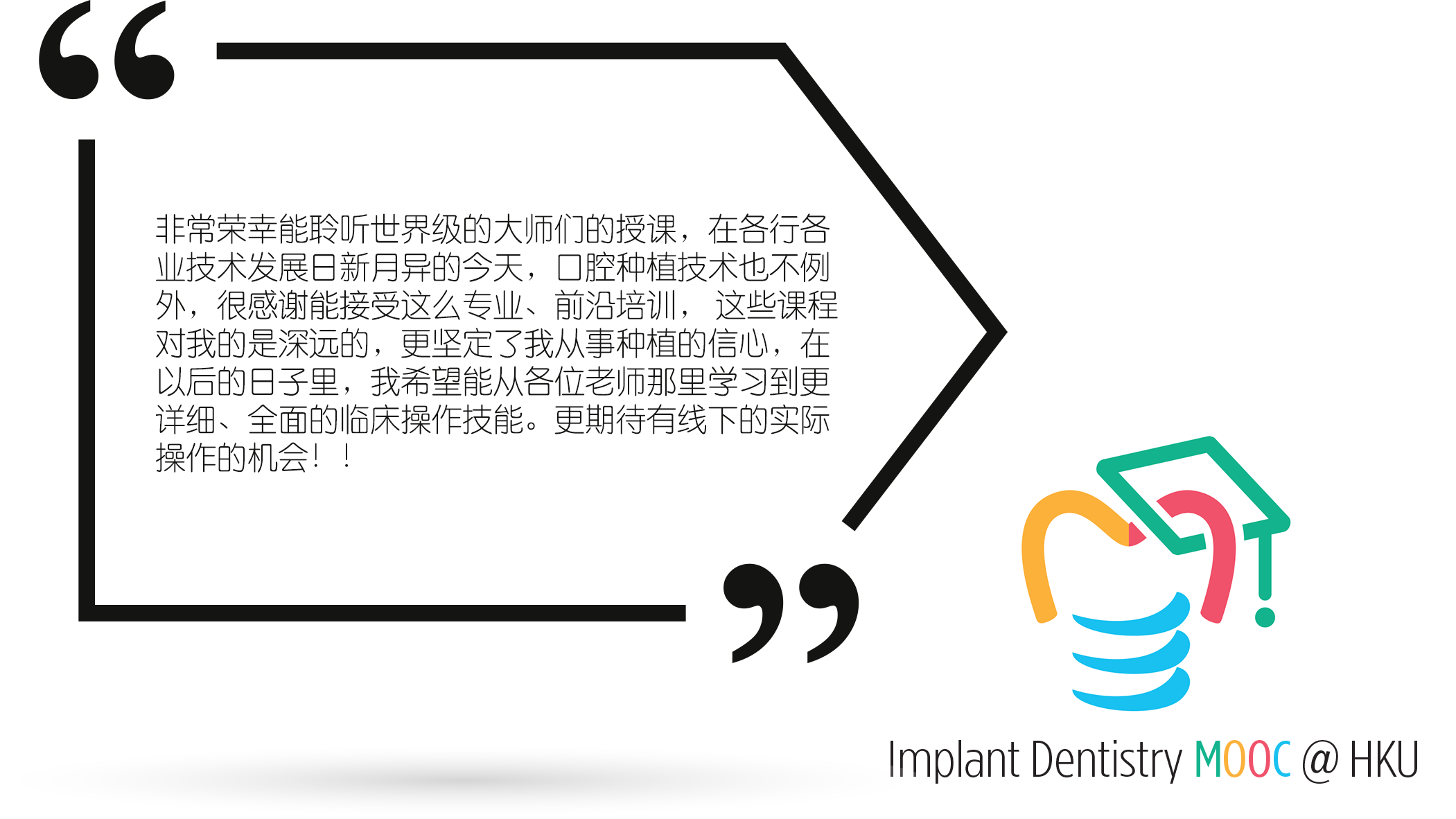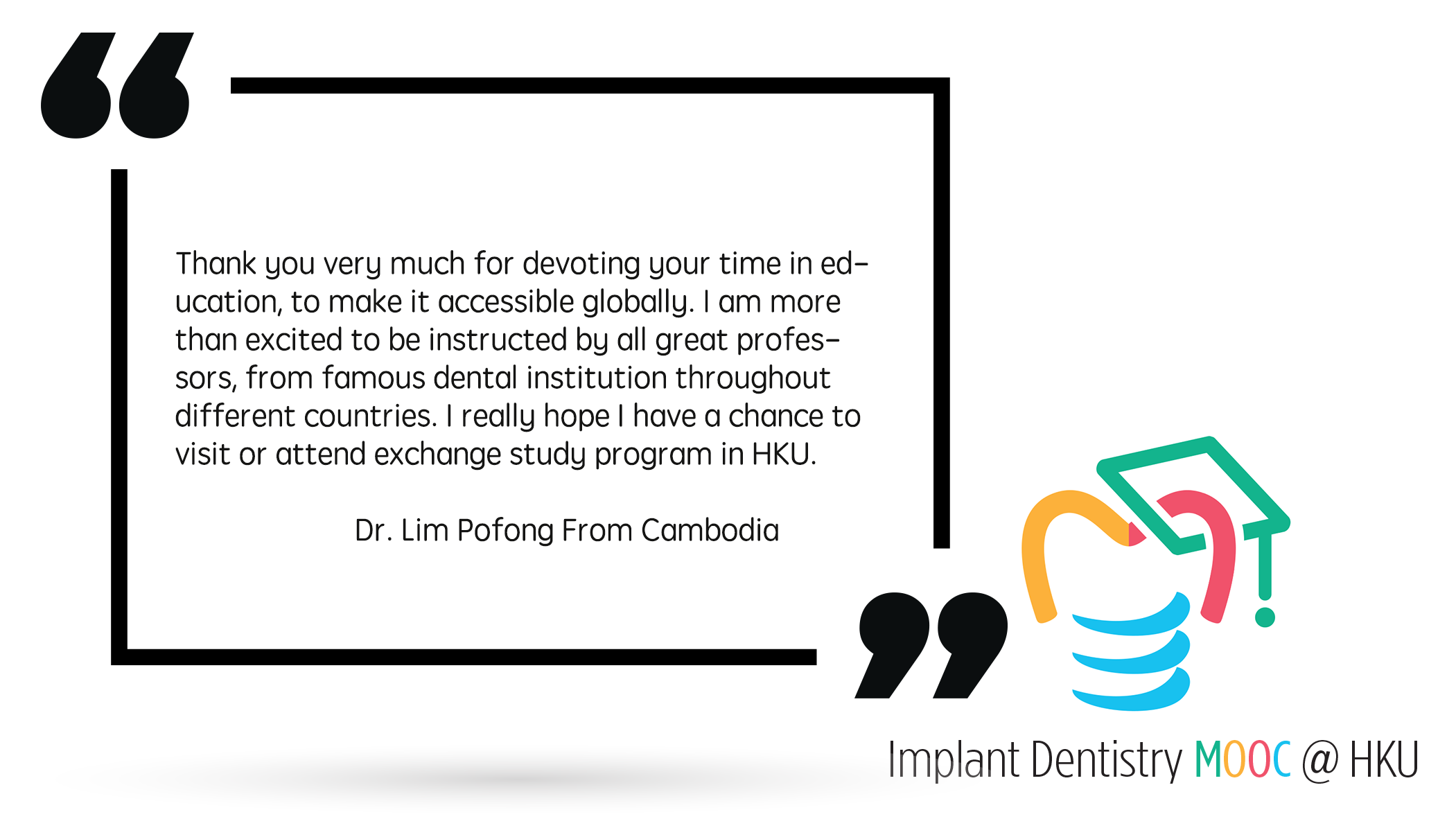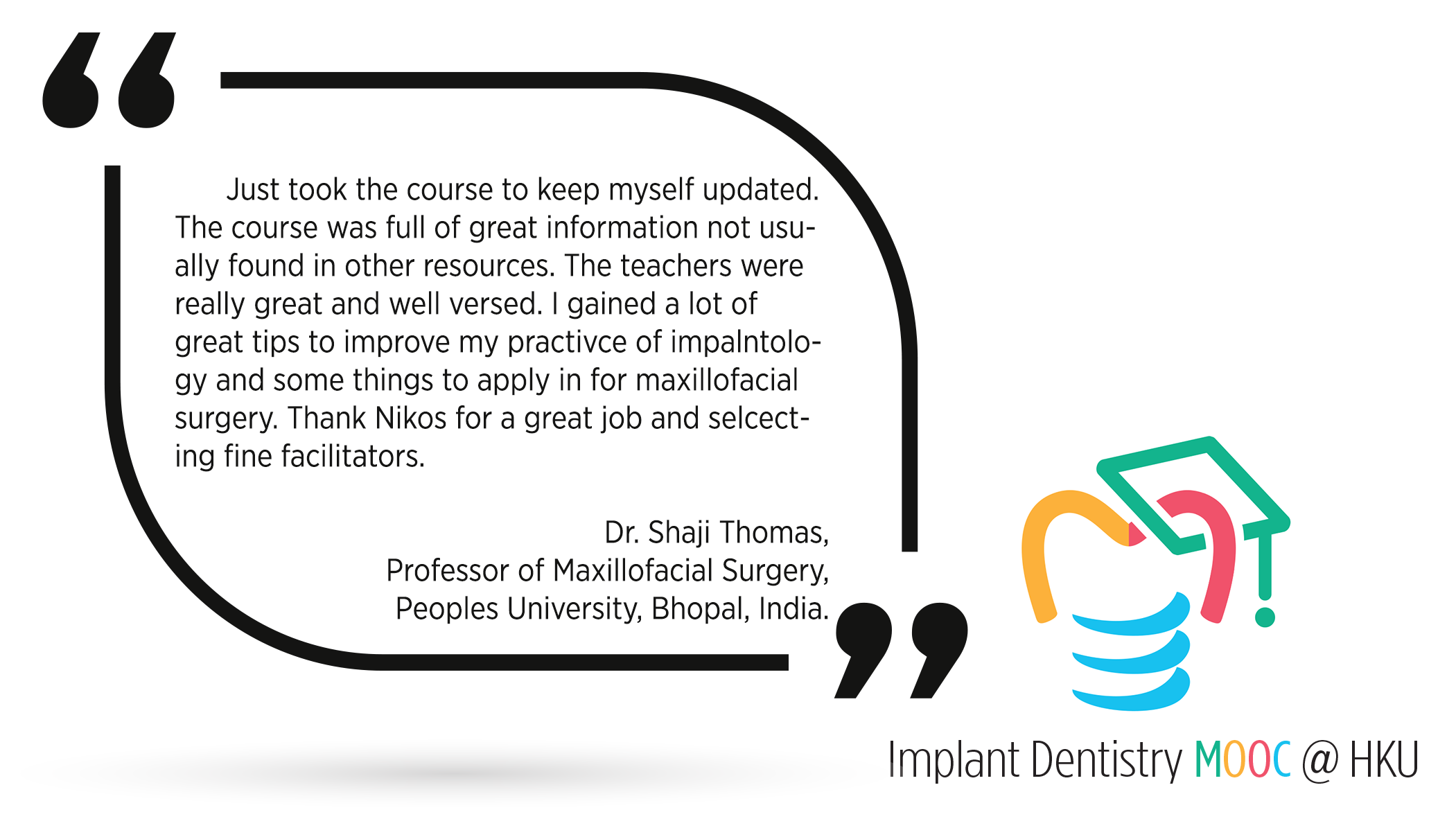 Listen to our students and find out how they like our course!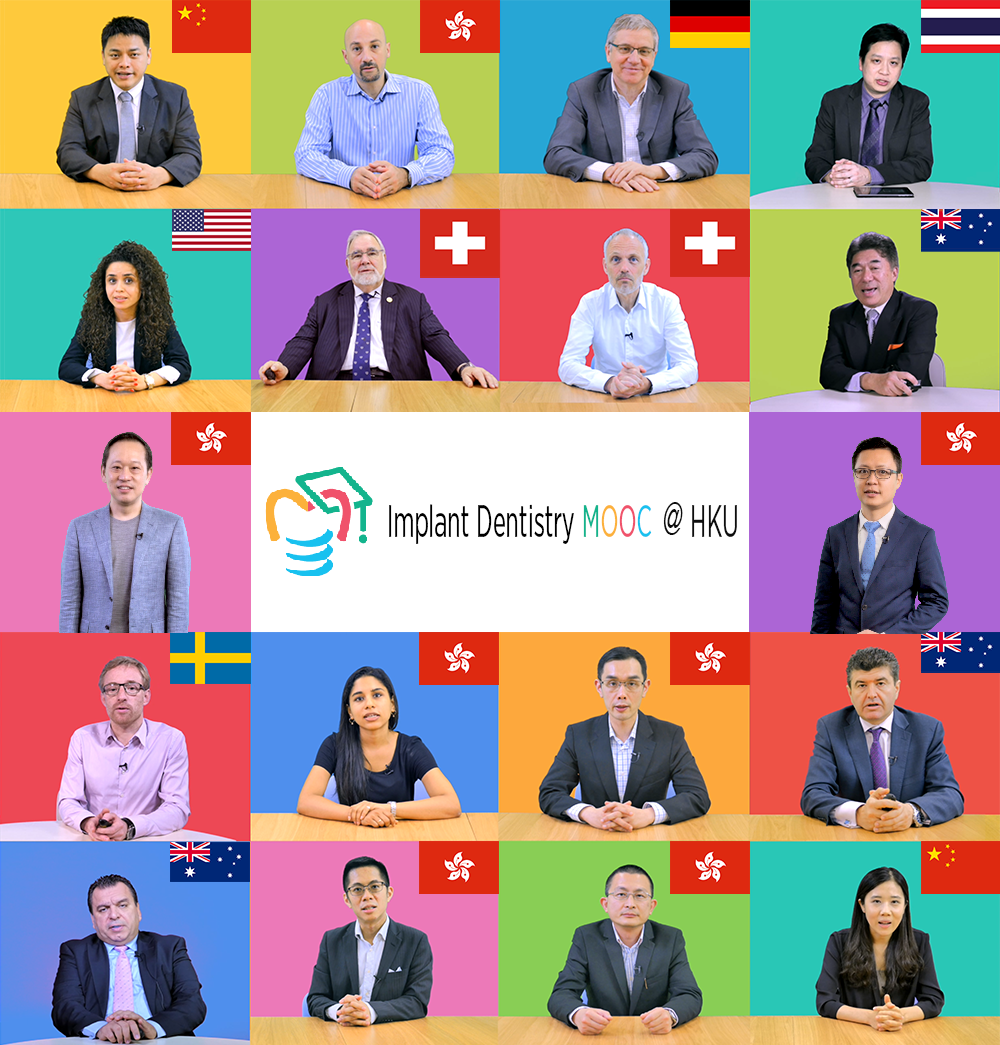 Sneak Previews
Below are some teasers of what you may expect in the course:
| | | |
| --- | --- | --- |
| How to become an Implant dentist | Minimally Invasive Surgery | Micro Surgery Instruments |
| The 3 main pathways | Suture Techniques | Implant Supported Provisional Restorations |
Register today to experience world-class Implant Dentistry education! Re-run begins on 11 September 2017.
Follow us on Facebook and Twitter to get the latest updates!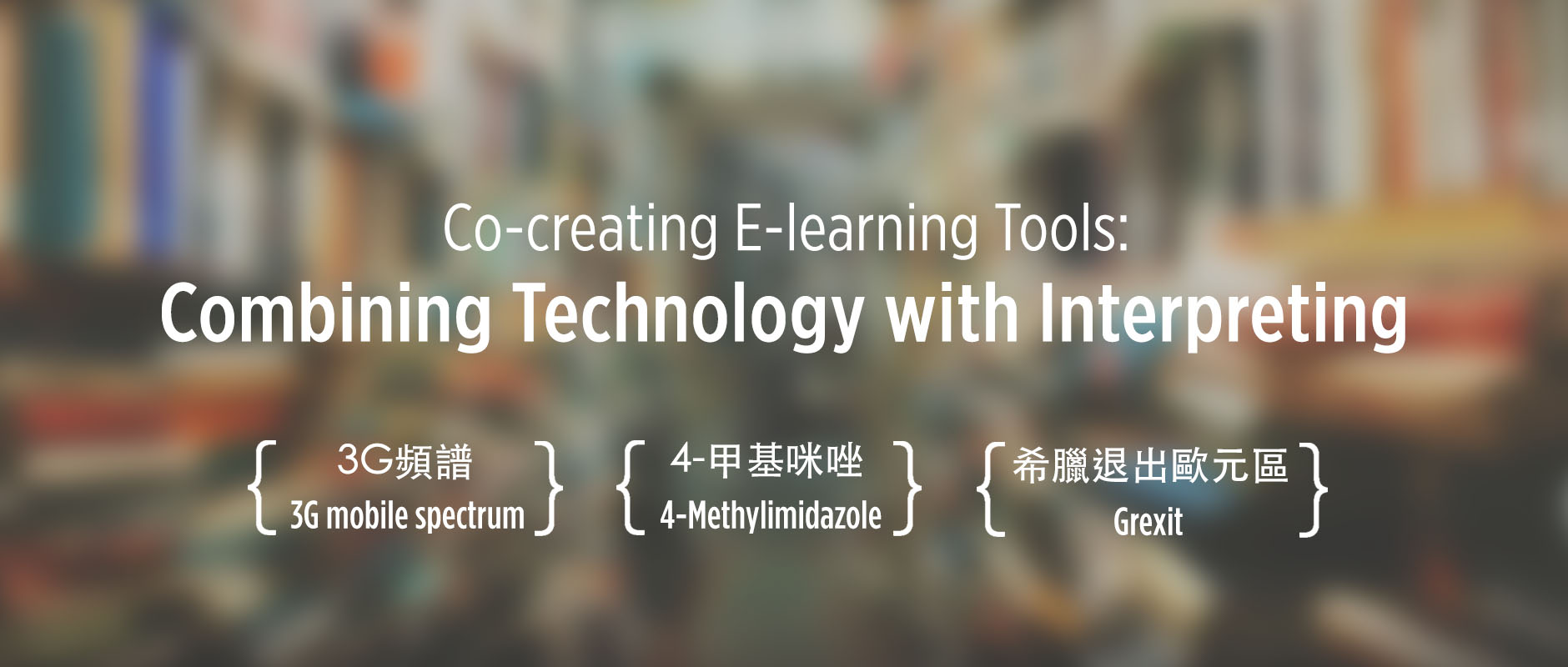 We build. We innovate. We share. It is our team's mission to support teachers in building useful learning resources and sharing knowledge with technology. One recent project is the enhancement of the Resources for Interpreting website (傳譯資源網), and the development of a mobile app "Newssary" instigated by Dr Eva Ng from the Translation Programme of the School of Chinese, Faculty of Arts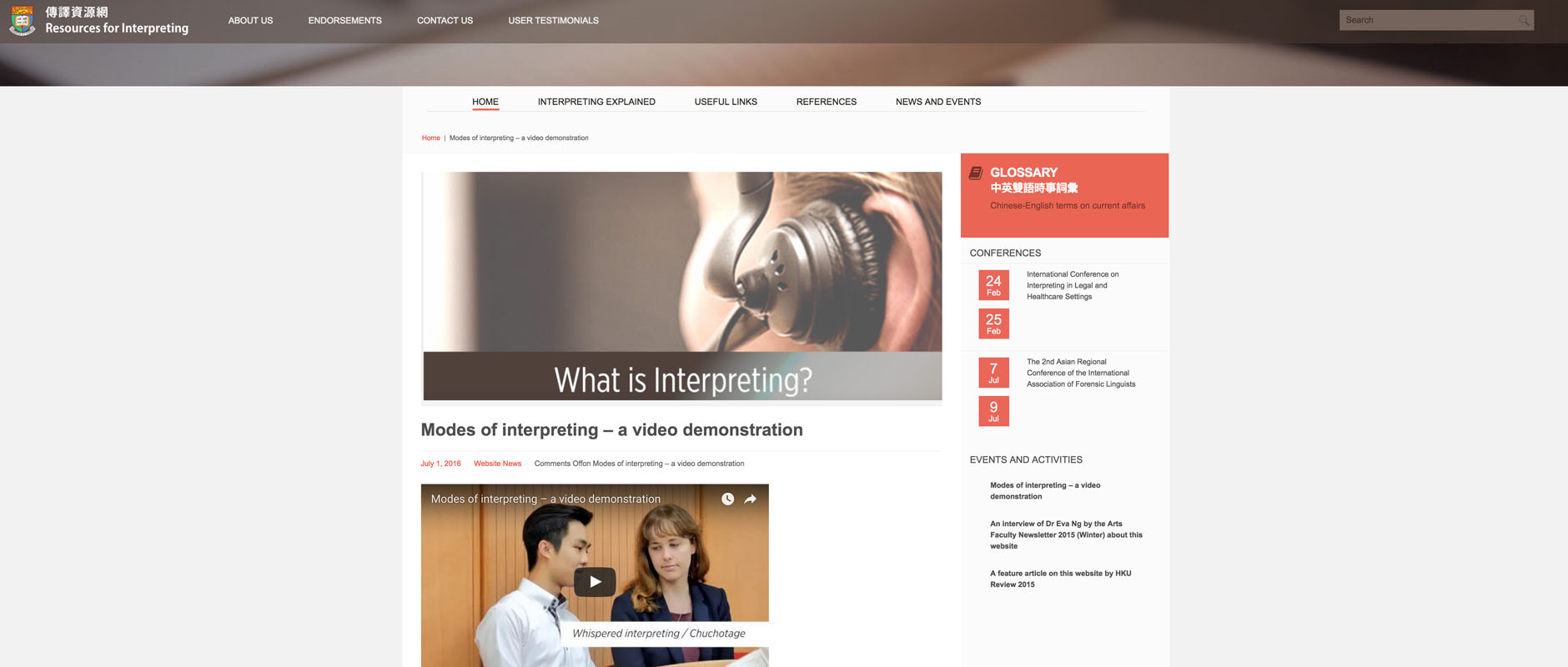 The Interpreting Website
Funded by the Knowledge Exchange (KE) Office of HKU, this website provides free learning and training resources for anyone interested in interpreting. One star feature of the website is a glossary of bilingual Chinese-English terms on current affairs. It is a constantly udpated database of thousands of entries collected by students from the news over many years. This database is not only useful for professional interpreters, but also anyone interested in learning buzzwords in the news.
Website Enhancement
For all glossaries and databases, a user-friendly searching function is indispensable. The database now supports searching by Traditional Chinese and Simplified Chinese. An intelligent search function has also been added recently. For example, if you input "appr h" in the search bar, it will prompt you with "Appreciate Hong Kong". In other words, even if the input information does not correspond exactly with the entries in the database, you will still be prompted with possible matching items and related terms.

Our team further enriched the website by producing a video on what is interpreting. We also set up a server and advised Dr Ng's team on website architecture and theme development.




Achievement
The website received an overwhelmingly positive response from its users, ranging from academics, PhD candidates and members of the general public:
"[The website] has everything that an interpreter, or anyone who teaches interpreting, or anyone who wants to use it for client education would want." – Professor Holly Mikkelson, Middlebury Institute of International Studies at Monterey, USA
"It's a wonderful contribution for today's students and practitioners of interpreting and translation." – Professor Claudia Angelelli, Heriot-Watt University, UK
In recognition for her contribution to the interpreting community, Dr Ng was awarded the Faculty Knowledge Exchange (KE) Awards in 2016.

The Mobile App
Furthering our effort in revolutionizing the website, we have successfully transformed the glossary into an app, "Newssary", to increase the accessibility of this useful learning resource. One key feature of the app is game-based learning – it is not just a dictionary, but made interactive for users to learn new vocabulary items through games.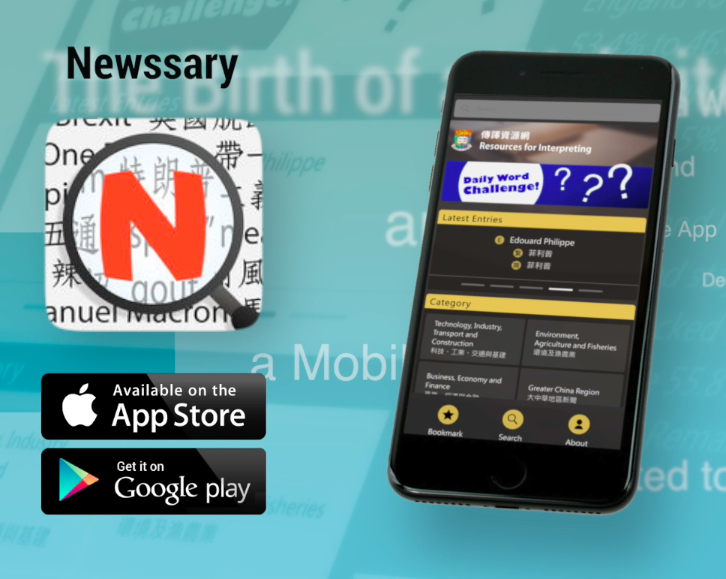 The app is now available on Apple Store and Google Play for FREE!
It is TELI's mission to collaborate with teachers to create innovative e-learning resources. Interested? Contact us.
Further Reading
Teachers nowadays are expected to serve well across a variety of contexts – inside and outside the classroom, at different geographical locations, or even online. They need to be more adaptive and versatile. With this vision in mind, the Faculty of Education is trying to expand their students' competencies through Experiential Learning (EL) courses.
From the video, you will notice that students needed to apply theories that they learnt in settings unfamiliar to them. In the process, they often had to expand their "repertoire" in terms of subject matter knowledge as well as professional skills (e.g., classroom management and digital literacies). Working in groups provided students with the opportunities to contribute collaboratively to a creative process. The Faculty also organized many activities to support the reflection of experience, namely show-and-tell through multimedia sources such as videos and photos. In fact, part of the footage used in the video above was contributed by a Year 1 EL participant (see her original work here: https://uvision.hku.hk/playvideo.php?mid=20957).
EL courses can be seen as quite intense, but they are also rewarding. During the production of the video, TELI heard many stories of breakthroughs from students. Here are two that we'd like to share with you:
A Year 3 English major student learned the importance of building trust and relationship with students through the EL course "Ocean Park Experiential Learning Project". During the guided tour in Ocean Park, she encountered a kid who was uninterested by the tour and refused to follow the group. Despite her extra effort in engaging the kid, he was still unwilling to follow through the demonstration. However, she was amazed by how the kid turned calm and quiet when a helper from his organization approached, took his hand and walked back to the group. This has framed her mindset as a future teacher that discipline does not come from authority or control. It's built from relationship.
One of the Year 1 participants picked up new ideas of "time" after her EL course. In her "professional self", she framed time as the school timetable, the scheduled duration of a lesson, and also empty space in her daily life that does not yield productive work. After joining the EL course "Curriculum Design in Cambodia," she learnt that the concept of time has an emotional component – students need to feel motivated and happy to find the time well spent in learning. This insight has created an impact on how she spends her own time, and also how she is going to design her lessons in future.
To know more about how students learn through practice, please visit http://el.edu.hku.hk/.