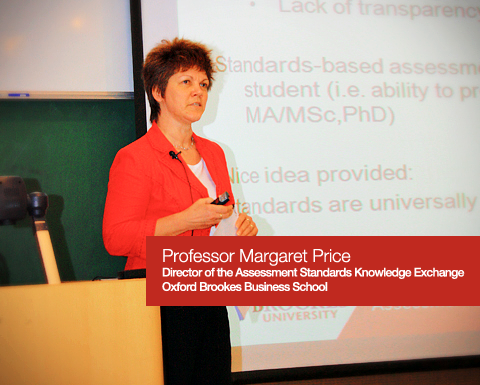 As part of the Curriculum Reform Seminar Series jointly organized by the Steering Committee on 4-Year Undergraduate Curriculum and Centre for the Enhancement of Teaching and Learning (CETL), a seminar entitled "Standards Based Assessment: Nice Idea But What About The Practice?" was given by Professor Margaret Price on April 8, 2011. Professor Price is the Director of the Assessment Standards Knowledge Exchange, Oxford Brookes University Business School.
The seminar looked at issues relating to the implementation of standards based assessment, including the translation of theories into practice for the following major topics:
Standards and complex learning
Standards and consistency
Standards and accreditation of learning
By taking a holistic view to standards based assessment, Professor Price suggested key points to observe in the production of learning outcomes, criteria, level descriptors, and in the process of bringing meaning to these items. It is important to ensure teachers and students actively use standards and discuss their understandings and application of them.
Click here to access the presentation slides used by Professor Margaret Price at the seminar. (HKU portal login required)