Speaker:
Professor Douglas Roscoe
Director of General Education and Associate Professor of Political Science
University of Massachusetts Dartmouth

Date: November 15, 2012 (Thursday)
Time: 12:45 pm – 2 pm
Venue: Room 321, Run Run Shaw Building, HKU
Abstract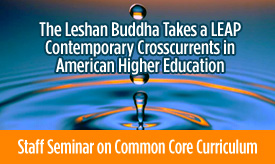 In the latter years of the 20th Century, several major crosscurrents in American higher education created a sense of discontent and a corresponding desire to reform undergraduate curricula.  Out of this period, a new model of general education emerged that has become broadly embraced throughout the US.  What is this new model and how does it differ from those of the past?  Has it, like the Leshan Buddha, managed to calm the waters?  What lessons can institutions promoting liberal education take away from the American reform experience?
About the Speaker
Douglas Roscoe is the Director of General Education and Associate Professor of Political Science at the University of Massachusetts Dartmouth.  Professor Roscoe's academic interests center upon Congress, the president, interest groups, and political parties. He is especially interested in the dynamics of the electoral process, and how interest groups and parties shape lawmaking and public policy through electoral politics. His research has been published in the Journal of Politics, Legislative Studies Quarterly, Social Science Quarterly, the American Review of Politics, and the Journal of Applied Social Psychology.  His most recent work, "Comparing Outcomes in Blended and Face-to-Face Courses," appears in the Journal of Political Science Education.  In 2011 Professor Roscoe was a Fulbright Scholar at Lingnan University.
All are welcome.
For registration, please visit
http://hkuems1.hku.hk/hkuems/ec_hdetail.aspx?ueid=20447.
Enquiries can be made with Ms Emily Chan at 2219 4790 or chiting@hku.hk.