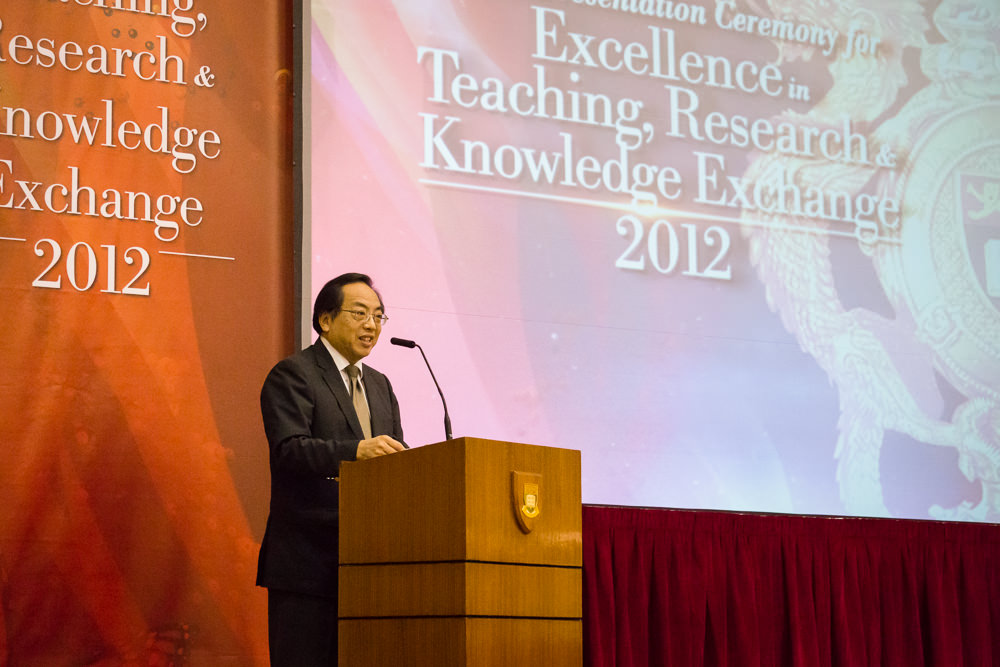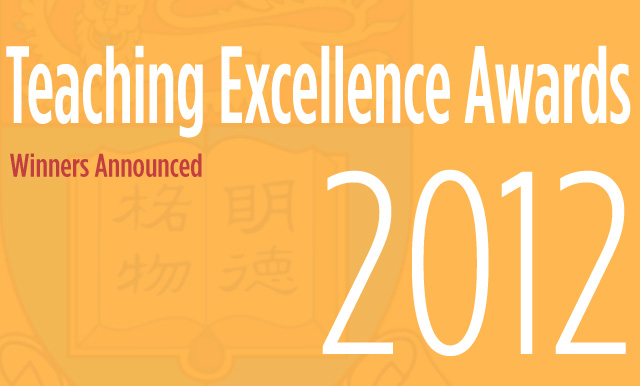 I am very pleased to announce the winners of the Outstanding Teaching Award (OTA) of the Teaching Excellence Award Scheme for 2012:
Individual Award
Dr CHAN Lap Ki, Institute of Medical and Health Sciences Education & Department of Anatomy, Li Ka Shing Faculty of Medicine
Dr Gary James HARFITT, Faculty of Education
Dr LAM Shui Fong, Department of Psychology, Faculty of Social Sciences
Miss Alice LEE Suet Ching, Department of Law, Faculty of Law
Dr Robert Shannan PECKHAM, School of Humanities (History), Faculty of Arts
Mr Mathew Robert PRYOR, Department of Architecture, Faculty of Architecture
Team Award
Dr Susan Margaret BRIDGES (Leader), Professor Cynthia YIU Kar Yung, Dr Michael George BOTELHO, :Professor Edward LO Chin Man, Dr Peter TSANG Chiu Shun, Dr Rory Munro WATT, Dr YANG Yanqi and Miss Jessica WONG Wai of the Faculty of Dentistry for the PBL 2.0: E-learning for problem-based learning (PBL) at the Faculty of Dentistry
Dr Hayden SO Kwok Hay (Leader), Dr Edmund LAM Yin Mun and Dr Kenneth WONG Kin Yip of the Department of Electrical and Electronic Engineering, Faculty of Engineering for the Design Thinking, Problem Solving, and Team Building: Reshaping the First Course in the EEE Curriculum
The Selection Panel was deeply impressed by the awardees' dedication to their students, their tireless and creative efforts to make learning enjoyable and challenging, and the impact that they have made on their students' learning.
The awardees will be honoured at the upcoming award presentation ceremony for excellence in teaching, research and knowledge exchange, which has been scheduled for Wednesday, March 27, 2013; and their names will be posted for a period of five years on the Teaching Excellence Awards Honour Board in the Main Library. Many congratulations!
I would like to thank our external assessor Professor Michele D. Marincovich (Associate Vice Provost for Undergraduate Education and Director of the Center for Teaching and Learning at Stanford University) providing us with her expert advice in situ during the final selection process. I would also like to thank Professor Amy B.M. Tsui (Pro Vice-Chancellor and Vice-President, Teaching and Learning), Professor George Tham, Dr. Gayle E. Morris and Mr. Ernest C.H. Cheung (student representative) for their assistance in this important exercise.
Last but not least, I wish to express my deep appreciation and gratitude to all the other nominees for the teaching excellence awards for their devotion and sustained contribution to promoting excellence in teaching at this University.
I look forward to seeing you all at the ceremony on March 27, 2013.
Professor Lap-Chee Tsui, Vice-Chancellor
Chairman, Selection Panel for Teaching Excellence Awards 2012