Note: This seminar is a repeat of the one held on 15th January, 2013 (Tuesday).
Abstract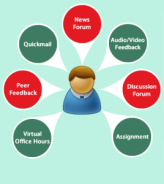 The e-learning Pedagogical Support Unit is offering a seminar looking at the pedagogical and logistical features of Moodle that can be leveraged to facilitate the feedback process and ultimately improve the quality of student learning.
The seminar will present seven techniques, using Moodle and related technologies. Techniques will range from those that are quick and easy to implement to those which are more complex but result in deeper and more complete feedback.
Speaker: Mr Darren Harbutt, CETL
Date: 15th April, 2013 (Monday)
Time: 12:45 pm – 2:00 pm
Venue: Room 321, Run Run Shaw Building, HKU
For details and online registration, please go to:
http://www.cetl.hku.hk/seminar130415/
For enquiries, please contact Ms Ivy Lai by email at laichun2@hku.hk.