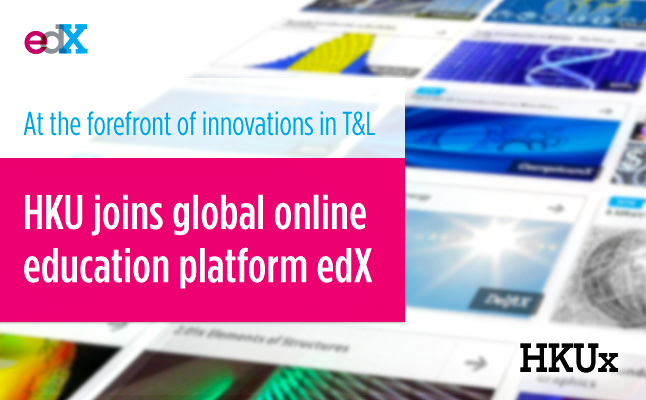 Message from Pro-Vice-Chancellor (Teaching and Learning) Professor Amy B M Tsui
Dear colleagues, students, alumni and friends,
Many of you will know how important it is for HKU to be both internationally engaged and at the forefront of innovations in teaching and learning.
As part of our continuing endeavours in this area, I am pleased to announce that the University has joined edX, a non-profit online education platform founded by Harvard University and the Massachusetts Institute of Technology (MIT) which provides a platform for massive open online courses (MOOCs). HKU is among the few Asian universities which have become new members of the "X universities".
MOOCs, through the use of a quality and effective learning platform – which includes web environments, interactive video, online discussion, social/cohort interaction etc. to support teaching and learning – access to knowledge would be enhanced and a large group of people could be benefited.
MOOCs are an educational innovation that will bring about a seismic change in the higher education landscape that has yet to be understood. The opportunity to witness and contribute to this change cannot be missed.
At this stage, HKU will provide a series of HKUx courses that are specially designed for edX, including "vernacular heritage in Asia", "law, economy and society", "Chinese and Western philosophy" and "infectious disease and public health". These courses will be taught by professors of Architecture, Economics, Philosophy and Public Health.
The University will continue to call on professors with a track record of excellence in teaching to offer HKUx courses so that not only HKU students but also students from around the world can benefit from our online programmes.
HKU is delighted to be part of this consortium of world class universities and I look forward to seeing how the HKU community can work with the consortium to fully leverage technology to make quality higher education more accessible to all.
Professor Amy B M Tsui
Pro-Vice-Chancellor (Teaching and Learning)
Note: More details can be found at
http://www.hku.hk/press/press-releases/detail/9721.html
http://www.hku.hk/press/all/
and https://www.edx.org/