New Teachers Using Moodle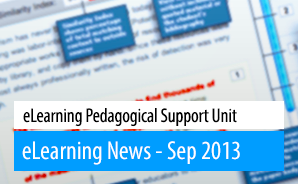 If you are new to HKU and are thinking about using Moodle in your teaching, please visit the EPSU website. EPSU provides a range of pedagogical support services for staff including one-on-one consultations, course development support and multimedia programming. Get in touch with Dr. Iain Doherty – if you would like to meet with us.
Save One Third of Your Marking Time
EPSU in conjunction with ITS and Library has been awarded a TDG to implement GradeMark. GradeMark works in combination with Turnitin to provide a timesaving solution for marking and providing feedback to students. Details about GradeMark can be found at http://turnitin.com/en_us/features/grademark. GradeMark will be implemented for Semester One 2013 and the EPSU will be providing workshops on how to use GradeMark. If you would like us to provide tailored workshops for your Faculty / Department etc. Please get in touch with Dr. Iain Doherty.
Professional Learning Events
The EPSU will be jointly presenting a series of Moodle workshops with ITS in September. This joint approach will provide staff with a technical (ITS) and pedagogical (EPSU) perspective on using Moodle in teaching and learning. Following on from a recent Google Apps for Education Seminar, the EPSU is responding to requests to conduct a "hands on" workshop on Google Apps for Education workshop. The workshop will be conducted in September.
Massive Open Online Courses (MOOCs)
Many of you will have seen the University announcement concerning The University of Hong Kong joining edX. The EPSU is currently working with three Professors to deliver MOOC courses commencing September 2014. This is an exciting time for HKU and an opportunity for the University to showcase its teaching to the world.
Have Your Say With Moodle
The University e-learning Enhancement Task Force (EETF) has continued to manage the process around requests to enhance Moodle so that the system meets the specific needs of Faculties. If you want to see changes to Moodle you can make a request by self-enrolling in the EETF Moodle Site. To self-enroll follow the following procedure:
Go to http://moodle.hku.hk
Click on "Courses" in the navigation menu on the left hand side of the page.
Scroll to the bottom of the page and type "elearning" in the search box.
The search results will include "EETF e-learning Enhancement Task Force [2012]"
Click on the course title.
You will be asked to log in to the HKU Portal.
You can then self-enroll in the course.
New Moodle Features and Enhancements
Along with the Moodle upgrade is its new capability to automatically detect a user's device type and render a suitable theme layout for viewing through the user's smartphones or tablets via a browser. Turnitin plugin has also been updated to the newer release to achieve better integration with Moodle. Moreover, the following new features were added as well in the summer:
Course Content Block
Course Menu Block
Portfolio
Outcome
Upload file in Wiki
Allow theme changes in URL
DragMath
PDF submission
PDF feedback
Participation Map
Moodle Upgraded to Version 2.4.4
The University's Moodle system was successfully upgraded to version 2.4.4 on 4 August 2013. The new version comes with a collection of system fixes and improvements over the previous version 2.3.1. The release note has more details: http://docs.moodle.org/dev/Moodle_2.4.4_release_notes.
Panopto and Moodle Hands-on Training Courses for Staff
The newly introduced Panopto and Moodle hands-on training courses conducted by IT Services in Jul are now open for registration. Registration and details can be found at http://moodle-support.hku.hk/cms/?q=training/cc-schedule/Sep2013