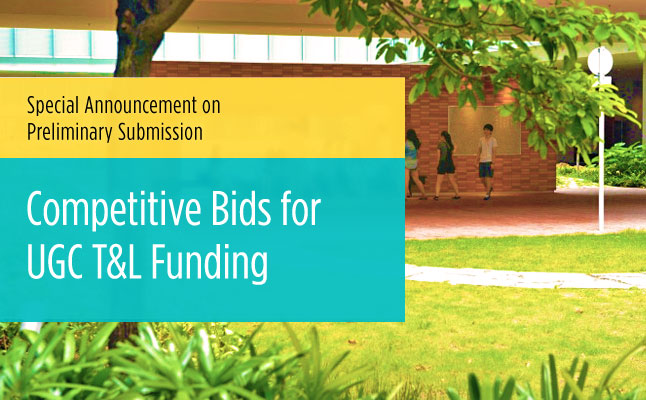 Message from Academic Development and Quality Assurance Section of the Registry
Further to the circular dated September 5, 2013 from the Pro-Vice-Chancellor (Teaching and Learning) inviting T&L proposals for consideration of submission to the UGC, this is to inform colleagues that they may submit a preliminary proposal, outlining the objectives, the collaborative partners, the proposed budget (and the arrangement among partners) together with the expected outcomes and impact, by November 1, 2013 (Friday) to seek initial feedback from the Review Group.  The Review Group will mainly look at whether the proposal has addressed the strategic needs for T&L enhancement in the sector, and give suggestions on how it can be strengthened before the final submission by the internal deadline of November 25, 2013.  Preliminary proposals should be submitted to Ms. Synthia Chau, Academic Development and Quality Assurance Section of the Registry.
The preliminary round of submission is entirely optional, which aims to help colleagues focus their proposals on addressing key strategic issues relating to T&L in the sector.  Colleagues may also submit a full proposal directly without going through the preliminary proposal process.
As a reminder, colleagues are encouraged to consult Professor Grahame Bilbow, Director of the Centre for the Enhancement of Teaching and Learning, during the development of the proposal.