Message from Institute of Medical and Health Sciences Education
You are cordially invited to attend the following seminar organized by the Institute of Medical and Health Sciences Education (IMHSE):
Date: Tuesday, October 22, 2013
Time: 1:00 – 2:00 pm (Sandwiched will be provided)
Venue: LG1/F, Room LLG-S5, Laboratory Block, Faculty of Medicine Building
Speaker
Mr Wojtek Dolkowsk, co-founder and CEO, MEDtube online platform (http://medtube.net)
Abstract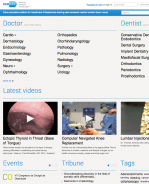 Background
Medical education differs from education in other fields. It is more regulated, vulnerable and has not changed too much over ages. It is more traditional and based on books, printed journals, lectures plus typically provided by more conservative teachers. Nowadays the multitude of technologies and availability of new formats as well as the need for improving efficiency are challenging the traditional education system. In 2010 two surgeons from Poland initiated the MEDtube project to improve physician education and communication between professionals globally.
Results
MEDtube platform was launched in mid-2011 and grew to the position of the largest video-centric social network for healthcare professionals worldwide. From the very beginning its founders shared the same philosophy and values. MEDtube ment to be open and for free (after registration) in opposition to traditional sources like expensive journals, books, programs (often unavailable, especially in poor countries). It was possible because MEDtube is based on user-generated content. Open Access is becoming essential to stimulate innovation and eliminate barriers that are blocking (or slowing down) improvement. There is a lot of room and need for new communication tools in healthcare. Aspirations of MEDtube founders are high – to be the largest platform for education and communication of professionals, recognized on all continents. The ambition is to revolutionize the way education is provided and communication between healthcare professionals is happening. There are over 13,000 videos available in all medical specialties (surgical videos, patient examination, lectures, animations, cases, webinars), all peer-reviewed. The MEDtube audience is exceeding 120,000 professionals each month.
Conclusions
Medical education needs to adapt to the changing environment as well as growing expectations of new generations of learners. MEDtube aspires to participate and to foster this evolution. In order to improve medical education and facilitate professional communication MEDtube needs allies – leaders all over the world who understand and share the same views.
ALL ARE WELCOME!
For inquiries, please contact us at imhse@hku.hk
Online registration: