Message from Faculty of Education (Research Office)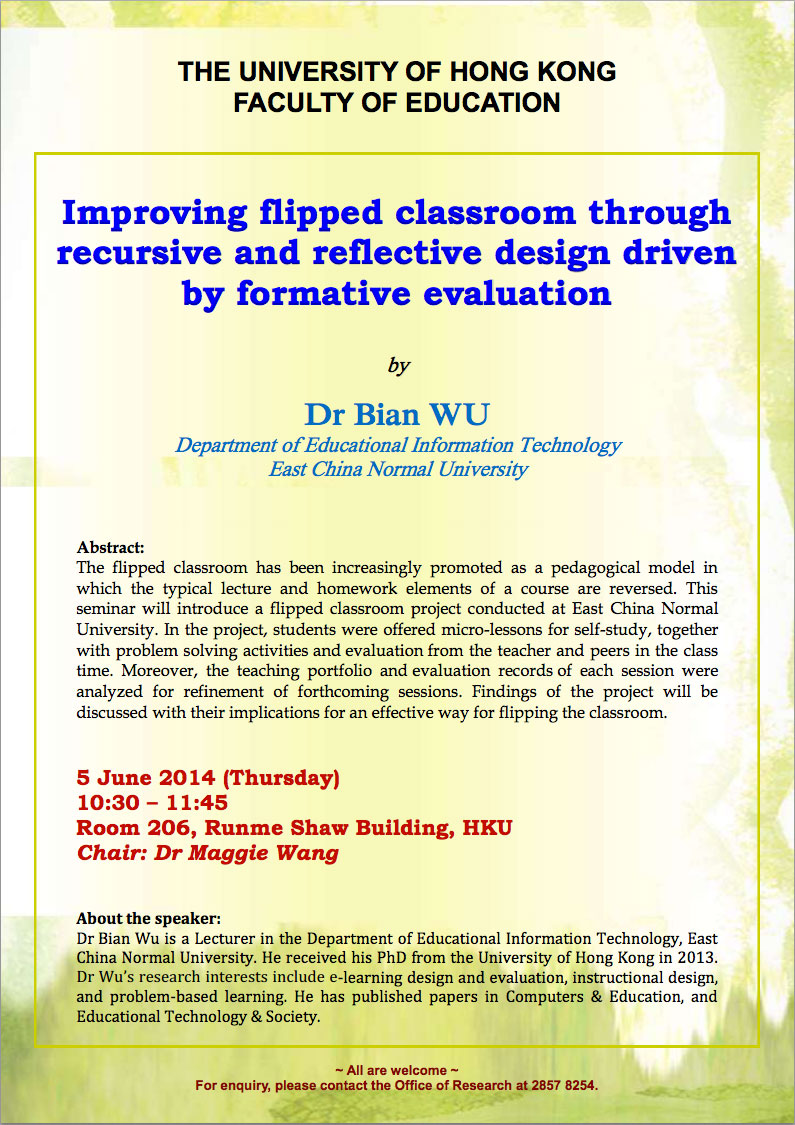 Improving flipped classroom through recursive and reflective design driven by formative evaluation
by
Dr Bian Wu
Department of Educational Information Technology
East China Normal University
5 June 2014 (Thursday)
12:45 – 14:00
Room 206, Runme Shaw Building, HKU
Chair: Dr Maggie Wang
Abstract:
The flipped classroom has been increasingly promoted as a pedagogical model in which the typical lecture and homework elements of a course are reversed. This seminar will introduce a flipped classroom project conducted at East Normal China University. In the project, students were offered micro-lessons for self-study, together with problem solving activities and evaluation from the teacher and peers in the class time. Moreover, the teaching portfolio and evaluation records of each session were analyzed for refinement of forthcoming sessions. Findings of the project will be discussed with their implications for an effective way for flipping the classroom.
About the speaker:
Dr Bian Wu is a Lecturer in the Department of Educational Information Technology, East China Normal University. He received his PhD from the University of Hong Kong in 2013. Dr Wu's research interests include e-learning design and evaluation, instructional design, and problem-based learning. He has published papers in Computers & Education, and Educational Technology & Society.
~ All are welcome ~
For enquiry, please contact the Office of Research at 2857 8254.