Message from Faculty of Education (Research Office)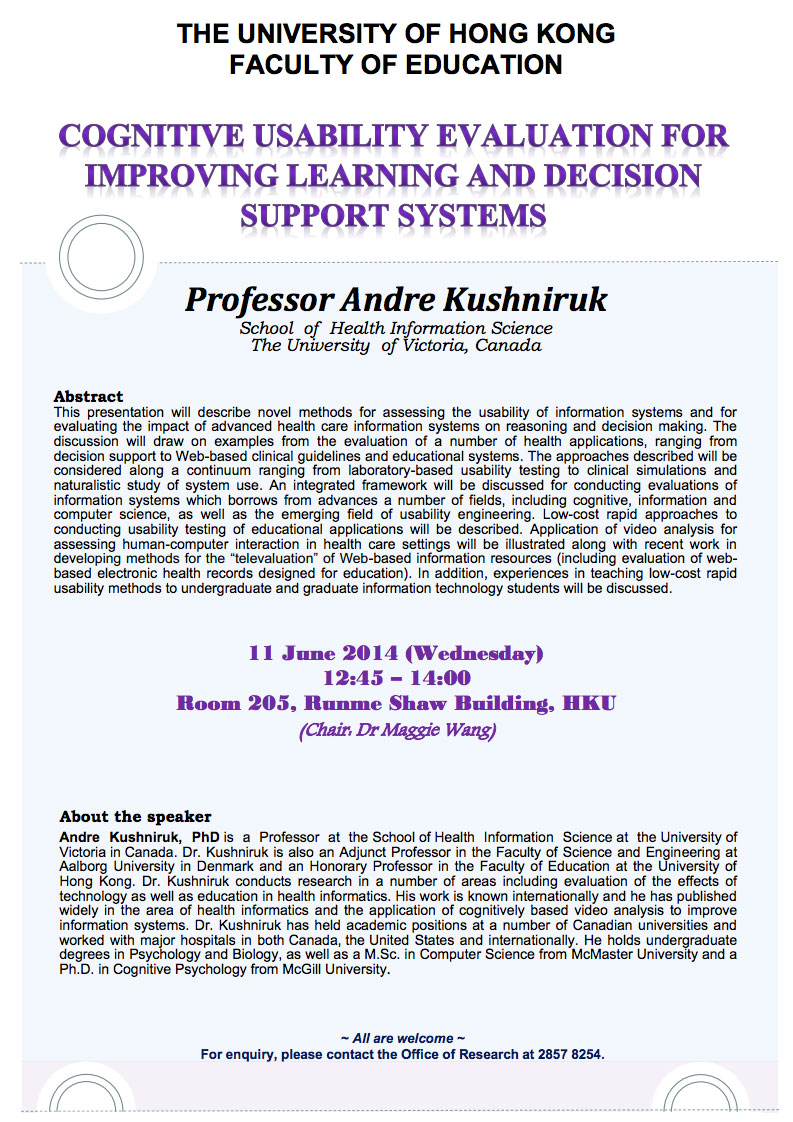 COGNITIVE USABILITY EVALUATION FOR IMPROVING LEARNING AND DECISION SUPPORT SYSTEMS
by
Professor Andre Kushniruk
School of Health Information Science
The University of Victoria, Canada
11 June 2014 (Wednesday)
12:45 – 14:00
Room 205, Runme Shaw Building, HKU
(Chair: Dr Maggie Wang)
Abstract:
This presentation will describe novel methods for assessing the usability of information systems and for evaluating the impact of advanced health care information systems on reasoning and decision making. The discussion will draw on examples from the evaluation of a number of health applications, ranging from decision support to Web-based clinical guidelines and educational systems. The approaches described will be considered along a continuum ranging from laboratory-based usability testing to clinical simulations and naturalistic study of system use. An integrated framework will be discussed for conducting evaluations of information systems which borrows from advances a number of fields, including cognitive, information and computer science, as well as the emerging field of usability engineering. Low-cost rapid approaches to conducting usability testing of educational applications will be described. Application of video analysis for assessing human-computer interaction in health care settings will be illustrated along with recent work in developing methods for the "televaluation" of Web-based information resources (including evaluation of web-based electronic health records designed for education). In addition, experiences in teaching low-cost rapid usability methods to undergraduate and graduate information technology students will be discussed.
About the speaker:
Andre Kushniruk, PhD is a Professor at the School of Health Information Science at the University of Victoria in Canada. Dr. Kushniruk is also an Adjunct Professor in the Faculty of Science and Engineering at Aalborg University in Denmark and an Honorary Professor in the Faculty of Education at the University of Hong Kong. Dr. Kushniruk conducts research in a number of areas including evaluation of the effects of technology as well as education in health informatics. His work is known internationally and he has published widely in the area of health informatics and the application of cognitively based video analysis to improve information systems. Dr. Kushniruk has held academic positions at a number of Canadian universities and worked with major hospitals in both Canada, the United States and internationally. He holds undergraduate degrees in Psychology and Biology, as well as a M.Sc. in Computer Science from McMaster University and a Ph.D. in Cognitive Psychology from McGill University.
~ All are welcome ~
For enquiry, please contact the Office of Research at 2857 8254.