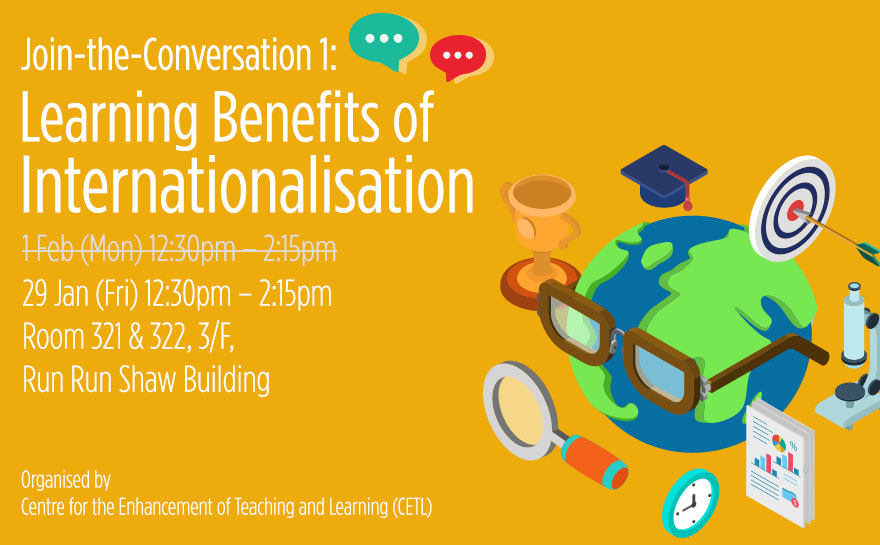 Organized by Centre for the Enhancement of Teaching and Learning
Date: 29 January, 2016 (Friday)
Time: 12:30pm – 2:15pm
Venue: Room 321 & 322, 3/F, Run Run Shaw Building
Hot lunch will be provided from 12:30pm
Contributors:
Professor Grahame Bilbow, Director, Centre for the Enhancement of Teaching and Learning, HKU
Professor Dai Hounsell, Professor Emeritus of Higher Education, University of Edinburgh
Professor Gerard Postiglione, Associate Dean (Research), Chair of Higher Education, Faculty of Education, HKU
Dr. Wilton Fok, Principal Lecturer and Assistant Dean, Faculty of Engineering, HKU
Ms. Miranda Legg, Senior Lecturer, Centre for Applied English Studies, HKU
Dr. Tracy Zou – Assistant Professor, Centre for the Enhancement of Teaching and Learning, HKU
Abstract:
In common with other leading universities, HKU is seeking to enhance the internationalisation of its curricula and its teaching. But what will this mean for student learning? How can internationalisation enrich what our students learn in their studies at HKU, while also having benefits that extend far beyond graduation?
Internationalisation of teaching and learning is the main focus of the UGC-funded "Communities of Practice" project this academic year. This Join-the-Conversation event is the first in a CETL series of events exploring various aspects of internationalisation. Drawing on ideas and perspectives from universities across the world, as well as experiences at HKU, it will open the debate by highlighting key learning challenges and opportunities, and invite you to consider their relevance to your own role and responsibilities. The ensuing discussions will help shape the themes, resources and interactions that the CETL project team will be collaborating on over the coming months.
---
For information on registration, please contact Ms Janice Leung by email janiceleung331@hku.hk.