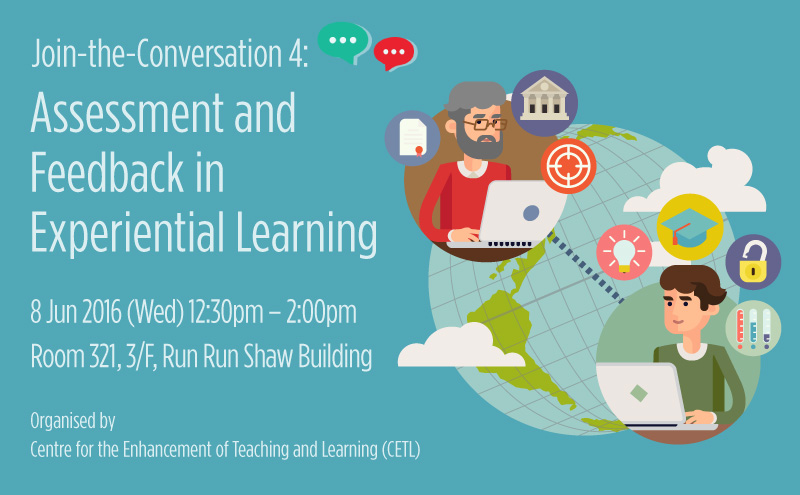 Organised by Centre for the Enhancement of Teaching and Learning (CETL)
Details of the workshop:
Panellists : Dr Julie Chen, Dr. Wilton Fok, Ms. Francesca Sin
Discussants : Prof. Grahame Bilbow, Prof. David Carless, Dr. Tracy Zou
Date : June 8 (Wednesday), 2016
Time : 12:30 p.m. – 2:00 p.m.
Venue : Room 321, 3/F, Run Run Shaw Building (Main Campus), HKU
Hot dishes will be provided.
Abstract
In the University of Hong Kong, experiential learning is a distinctive component in the undergraduate curriculum. The University is also committed to providing a wide range of international and Mainland learning experiences for students under the HKU Horizons framework.
Designing assessment and providing feedback in experiential learning is never an easy task, and the great variety of student experiences involved in experiential learning, including community engagement, has often been associated with challenges in assessment. However, if we can accommodate for and make use of the diversity and authenticity embedded in experiential learning, there is the opportunity to turn these challenges into great learning opportunities.
In this Join-the-Conversation event, we will briefly share our findings from an earlier small-scale study involving interviews with nine teachers and two students at HKU. A panel-led discussion will then follow. Our panellists will outline assessment and feedback practices in their experiential learning programmes and address questions from the audience. The event will be closed by Prof. David Carless, a world renowned expert in assessment and feedback, who will round off by providing comments on the discussion and highlighting some key take-away messages.
About the Panellists
Dr. Julie Chen is an Assistant Professor jointly appointed by the Department of Family Medicine and Primary Care and the Bau Institute of Medical and Health Sciences Education. She has been leading the Professionalism in Practice (PIP) programme, which links a student with the same primary care preceptor over three years to experience what professionalism looks like in real life. Julie is a family physician engaged in the development, implementation and evaluation of new initiatives in the medical curriculum to encourage early learning of professionalism and humanism in medicine. For this work, she has been recognized with a Faculty Teaching Medal and Teaching Excellence Award (Team).
Dr. Wilton Fok is a Principal Lecturer and Assistant Dean in the Faculty of Engineering. He has been leading experiential learning programmes for students from engineering and other disciplines since 2009. He started with a service learning trip after the Sichuan earthquake and has now extended learning experiences to other locations, such as Tianjin, Shanghai and Guangxi. Wilton will also share how his students made use of smartphones to collect artifacts for e-portfolio production in a recent mission to Sichuan.
Ms. Francesca Sin is Assistant Director (Experiential Learning) in the Faculty of Social Sciences. She leads the Social Innovation Global Citizenship Programme in the Faculty. Francesca read Economics at the University of Sydney for her undergraduate degree. She also received a Master of Business Administration, Postgraduate Diploma in Education and Master of Education from The University of Hong Kong and a Certificate of Entrepreneurial Management for Social Enterprises from Education-for-Good / St James' Settlement. Apart from teaching, Francesca is also heavily involved in many education-related programmes with NGOs and social enterprises throughout Hong Kong, China and developing countries on a voluntary basis. She is currently a candidate of Doctorate of Education in Organisational Leadership from the Meridian University in the States, focusing on Transformative Education.
About the Discussants
Prof. Grahame Bilbow, Director, Centre for the Enhancement of Teaching and Learning, HKU
Prof. David Carless, Associate Dean (Learning & Teaching), Faculty of Education, HKU
Dr. Tracy Zou, Assistant Professor, Centre for the Enhancement of Teaching and Learning, HKU
For information, please contact:
Ms. Noranda Zhang , CETL
Phone: 3917 4729; Email: noranda@hku.hk​