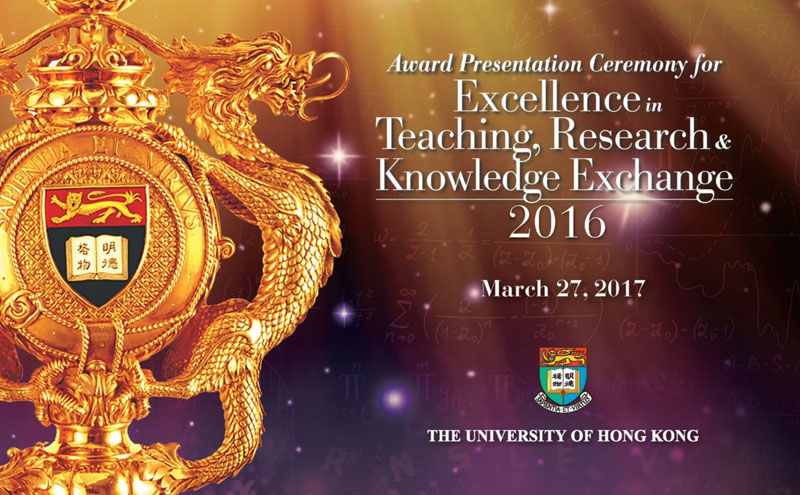 Invitation to the 2016 Ceremony

The President and Vice-Chancellor of The University of Hong Kong requests the pleasure of your company at the Award Presentation Ceremony for Excellence in Teaching, Research and Knowledge Exchange
Monday, March 27, 2017
Plaque Unveiling , 4:30 p.m.
Plaque of Honour, LG/F (opposite Grove Café & The Jockey Club Tower entrance), Centennial Campus
Award Presentation Ceremony , 5:00 p.m.
Grand Hall, Lee Shau Kee Lecture Centre, LG/F, Centennial Campus
Dr the Honourable Sir David LI Kwok Po, Pro-Chancellor will be the Guest of Honour at the Ceremony
---


Outstanding Teaching Award for
Excellence in Teaching & Research 2016 Presentation Video by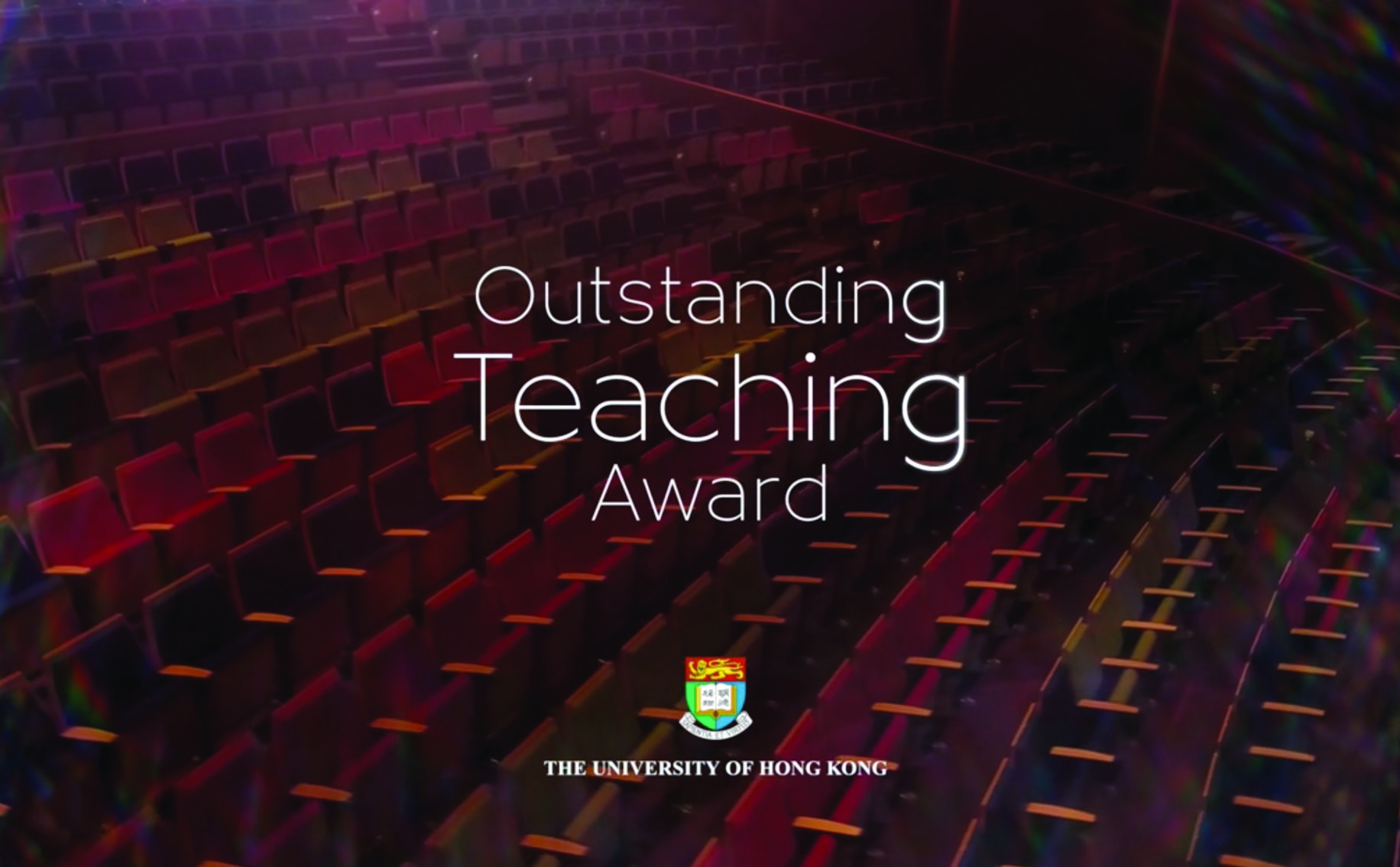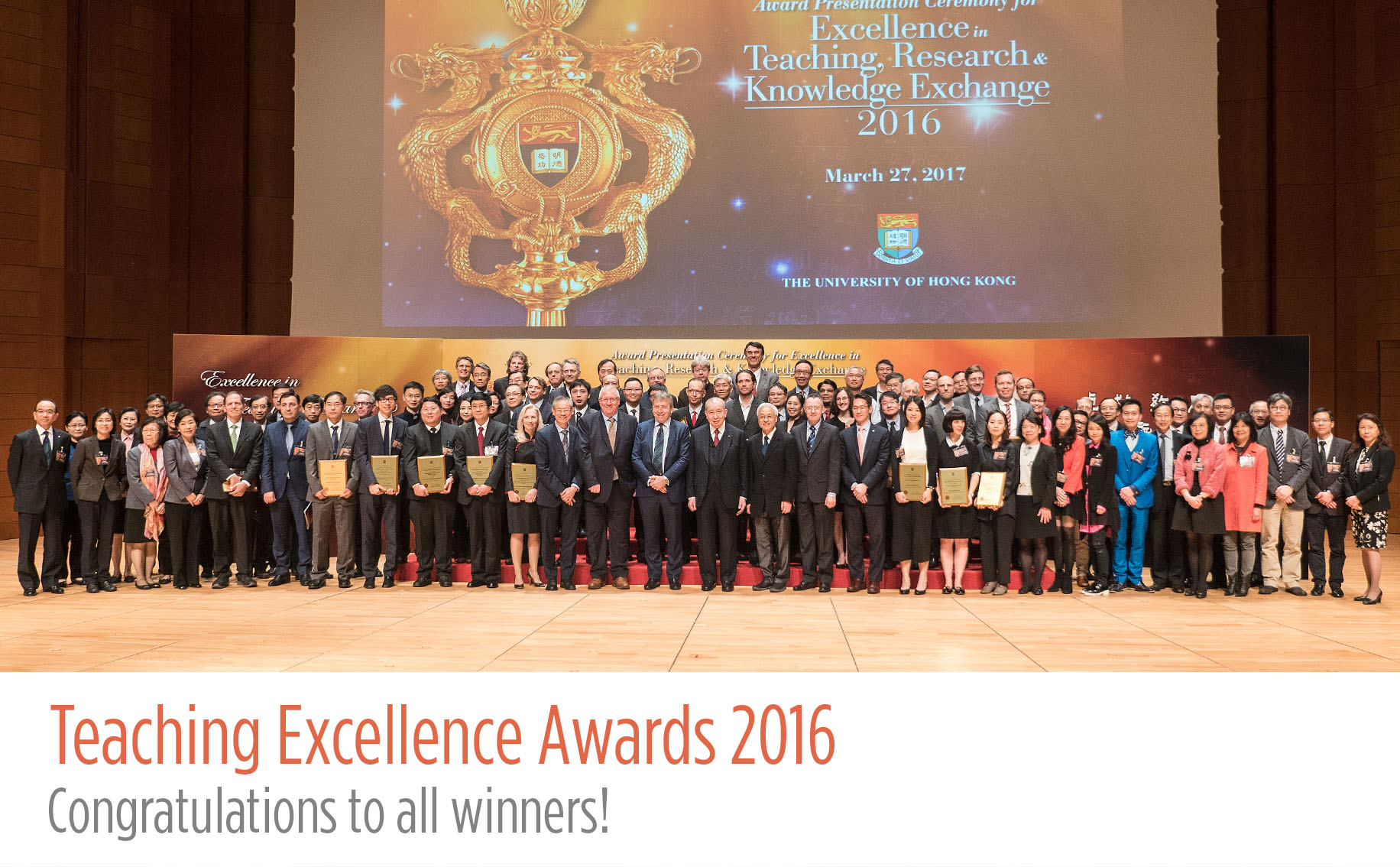 Message from President and Vice-Chancellor
Dear Colleagues and Students,
I am very pleased to announce the award recipients of the University's Teaching Excellence Awards this year. The Selection Panel was deeply impressed with the awardees' dedication to teaching, their tireless and creative efforts to make learning enjoyable and challenging, and the impact that they have made on their students' learning. Awardees this year fall into three categories of awards, viz. Outstanding Teaching Award, Early Career Teaching Award and Teaching Innovation Award. The Early Career Teaching Award was introduced this year to recognise the outstanding contributions and commitment of our colleagues who are at an early stage of their teaching career.
Outstanding Teaching Award
Mr. David L. Bishop, School of Business, Faculty of Business and Economics
Professor David R. Carless, Faculty of Education
Dr. Julie Y. Chen, Department of Family Medicine and Primary Care and Bau Institute of Medical and Health Sciences Education, LKS Faculty of Medicine
Dr. Katherine N. Cummer, Department of Real Estate and Construction, Faculty of Architecture
Dr. Wilton W.T. Fok, Department of Electrical and Electronic Engineering, Faculty of Engineering
Early Career Teaching Award
Ms. Jody K.P. Chu, Department of Pharmacology and Pharmacy, LKS Faculty of Medicine
Dr. Courtney J. Fung, Department of Politics and Public Administration, Faculty of Social Sciences
Dr. Sara Kim, School of Business, Faculty of Business and Economics
Teaching Innovation Award
Mr. Ivan A. Valin and Mr. Scott J. Melbourne of the Department of Architecture, Faculty of Architecture
The awardees will be honoured at a presentation ceremony on Monday March 27, 2017. Please do join us for that if you can.
I would like to thank our external assessor Professor Huang Hoon Chng (Associate Provost (Undergraduate Education) of the National University of Singapore) for providing us with expert advice in situ during the final selection process. I would also like to thank the other Panel members, Professor Ian Holliday, Professor Grahame Bilbow, Ms. Katherine Lynch and Mr. Alasdair Kan (student representative), for their assistance in this important exercise.
Many congratulations to all the awardees – I hope you will attend the presentation ceremony!
Professor Peter Mathieson, President
Chairman
Selection Panel for Teaching Excellence Awards 2016