This blog post is part of the 'Flipped Classroom Professional Development Series'.
A flipped classroom constitutes of two components – learning online and learning in face-to-face (F2F) sessions. In this blog post, we will discuss the steps and considerations in preparing in-class activities, especially group activities, in a flipped class, with reference to ideas from academic literature. We will also introduce good practices of in-class activity design shared by practitioners in the Flipped Classroom Learning Symposium – Sharing of Pedagogies and Practices.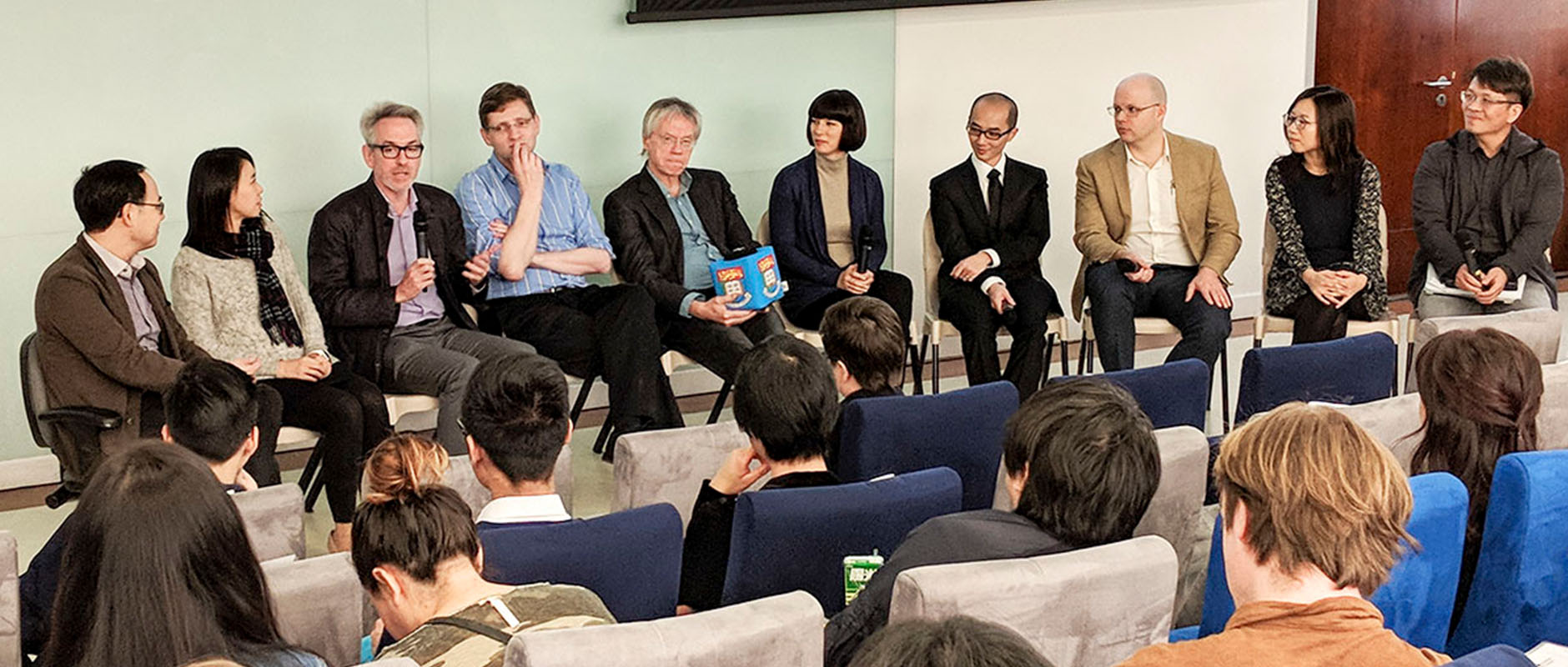 The Flipped Classroom Learning Symposium – Sharing of Pedagogies and Practices on December 6, 2017
The steps to preparing in-class activities are as follows:
Designing the activities
Setting up the activities:

How to form groups
Preparation before class
What should be done in class
Useful tools to support the activities
How to set up infrastructure to support the activities
Step 1: Designing in-class activities
Throughout your 13-week course, it is ideal to blend different modes of learning and include diversified in-class activities to constantly stimulate your students. Here are some examples of in-class activity design shared by our practitioners:
In-class collaborative writing – a case shared by the Centre for Applied English Studies (CAES)

In the pre-class stage, students have to access readings on Moodle, process the text, and make thorough notes on the readings.
In the in-class stage, the instructors will look for proof of notes. Only students with notes will be allowed to participate in the in-class activities. They will form groups of 3 or 4 and collaboratively draft a 300-500 word text based on the readings. They will have one hour of lesson-time to discuss how to produce the text.

Weekly mass workshop sessions – a case in Mr. Mathew Pryor's CCHU9001 Designs on the Future

In the pre-class stage, students need to watch a series of online videos.
In the in-class stage, students are expected to apply the content of online videos in problem-based activities and produce textual and visual responses. Examples of activities include:

Student-led discussions: Students are prompted to think about sustainability issues when given scenarios, or when given a role to emulate different stakeholders' view on the same issue. They are sometimes instructed to research on cases at home and bring it to class, then discuss with their peers to identify common themes or make a collective argument.
Video making: Students provide individual and group response on their views on sustainability topics in form of a short documentary-like video. They are expected to pick up skills of basic storyboarding and cinematography, guided by mock exercises before producing graded work.
Gallery review and presentation: Students are invited to stick their coursework on walls, walk around, look at each other's work and vote.

A gallery review of infographics designed by students.

Features of Mr. Pryor's activities:

Short (20 mins max): This is to ensure that there is a constant, strong dynamic in class.
Physically dynamic: Activities are designed in a way that require students to keep moving, post things on the board, and interact with their peers.
Many activities and output are internet-based. For example, in one activity, students are asked to sort a pile of words into categories based on a scenario prompt, take a photo of their sorting and upload it to an online forum. They will then compare their work in classroom discussions. Sometimes, students' coursework will be posted online anonymously to encourage peer learning and discussion.

Mr. Pryor prompts students to post a photo of their sorting activity results online, and immediately discusses with the whole class.


Advanced negotiations simulation – an activity designed by Dr. Courtney Fung, Faculty of Social Sciences, for teaching International Relations

In this activity, students are expected to simulate real-world political negotiations. Individual groups assume roles of different nations, construct arguments from the perspectives of antagonizing stakeholders, and understand the constraints of international politics.
Features of this activity:

Problem-based: The materials selected for the students in the course are ongoing real-world crises, such as the North Korean nuclear dilemma, and UN's intervention in the South Sudan famine.
The activity design ensures all students have a role to play in class.

Dr. Fung's received the HKU Early Career Teaching Award in 2016 for her success in teaching. Learn more about her teaching approach here: video, PDF (Pg 26).
By designing activities of different nature, we can ensure students receive multiple stimulus and varied learning experience throughout the course.
Step 2: Setting up the activities
How to form a group (group-size, group roles)
How do you group students in in-class activities? What is the optimal group size? These questions may be difficult for many.If there are too many students in one group, some unmotivated ones may free-ride, piggy-back on groupmates' effort and make minimal contribution; while a group too small would make the workload of individual students too heavy. The group size is critical in the design of in-class activities.


While there is no "magic number" regarding group size in designing activities, it is optimal for students' learning if there are fewer than 6 in a group, according to Mr. Patrick Desloge from CAES and Mr. Pryor. In CAES' course, students form groups of 3 or 4 during collaborative writing activities. In Mr. Pryor's weekly workshops, he arranges students into small, mixed groups – 3 in one group, 6 in one table.3 in a group allows room for each student to contribute their ideas without overburdening them.

The rule of thumb is that we need to make sure each student in the group has his or her distinct role and own task(s) in the activity. This arrangement ensures that all group members are actively engaged and have their own contributions to make. Students will not be idle and bored, hence minimizing the chance of free-riding. Moreover, the workload for all students will be more balanced. It is also ideal to arrange students with different cultural or academic backgrounds into groups, giving them a chance to learn from each other.

Apart from allocating roles and tasks for members within a group, teachers can also assign specific roles and tasks to individual groups. For instance, in  Dr. Fung's negotiations simulation exercise, all students are assigned into group teams. Each group assumes the role of a particular nation. Within each group, students identify individual roles. As all students have a role to play, they can make unique contributions to the discussion.

Preparation before class
Learning aids
Apart from forming groups, what should teachers do before class? Most of the speakers prepared learning materials such as worksheets to be used in class. This is to check and reinforce students' understanding of content delivered in pre-class materials, support in-class activities, and improve students' engagement during class. In worksheet design, most of the presenters chose to use problem-oriented or case-based content to structure the materials. These worksheets can also be used after class as homework.

Reminders before class
Another preparation that needs to be done in advance is to send out reminders to students to go through the pre-class materials in preparation for the in-class activities. Check out this article for more tips on how to prompt students to prepare for class.

What should be done in class?
The basic structure of in-class activities usually involves three stages:

The input stage, where teachers brief students of the background information,
The processing stage, where students process information and construct ideas, and
The output stage, where students present their work and obtain feedback.

Briefing
Teachers should introduce the topic and provide background information of the learning activities through a short briefing. In Dr. Fung's negotiations simulation activity, all students receive a one-page brief and a 10-minute presentation by Dr. Fung on the background of the scenario before they start working on their tasks.
Building ideas
After the briefing stage, students should be ready to process the information, explore the topic and generate ideas, in groups or individually. Examples of activities are case analysis, brainstorming, discussion, peer teaching, co-writing, and co-creating projects. This part should be led by students themselves, with teachers acting as facilitators and/or monitors. Teachers should take an active role in communicating with students from time to time, in order to provide timely support and suggestions.

Dr. William Man Yin Cheung, Faculty of Science, offering support to students in group discussions.

Presentation and feedback
Lastly, students are encouraged to present their work for feedback and suggestions from peers and teachers. The presentation can be conducted in class or online. The following are some examples showcased in the symposium:

In Mr. Pryor's course, students post their work on walls, transforming the classroom into a gallery. Students responded positively towards this approach – they enjoyed this activity as they were inspired by others' work in an intuitive way.


Reading each other's work and commenting using post-its and stickers.

Professor Ricky Kwok suggested that game elements can be included in this stage to excite students, such as competition among groups as "that is where learning happens". Find out how students learn in Professor Kwok's class in this video: https://youtu.be/pm-W_0f-bkE
Check also this article on the 4Cs principles proposed by Professor Kwok in creating engaging in-class activities.

Tools to facilitate in-class group activities
Our speakers recommended the following online tools to facilitate cooperation and collaboration among learners, as well as communication between teachers and students:

Google Docs or Google Drive: In CAES' in-class collaborative writing activity, students co-compose their work using Google Doc. This tool allows several students to work together simultaneously and to share individual input with teammates in real time.In Mr. Pryor's course, Google Drive folders and Google Docs are created as portfolios for each group. Students are instructed to post their coursework using these tools. This practice allows students to review their peers' work conveniently on one single platform and give honest feedback to each other.
Mentimeter: This is an easy-to-use, visual tool useful for assessment and presenting results. For example, it allows teachers to set Multiple Choice Questions (MCQ) and students to respond using their mobile devices. The results of students' choices will be shown to teachers immediately, so that teachers can know students' understanding of the learning contents and offer timely support and clarification. Teachers can also choose to display students' choices in real time to the whole class, prompting further discussions based on the presentation.

Mentimeter
Using Mentimeter in a large scale flipped class.

Setting up infrastructure to support in-class group activities
Most presenters in the symposium, including Professor Kwok, Dr. Fung, Mr. Pryor, Dr. Ming-Yen Ng, Dr. Michael Botelho and Professor Rick Glofcheski mentioned that the physical setting of the classroom is essential in providing a better flipped classroom experience for students. An ideal setting would be a cafe-style classroom, i.e., a flat classroom with movable furniture, and the classroom should also be adaptable for a workshop format. As there are a lot of group activities in a flipped class, such a setting allow greater flexibility in grouping students. Also, seat arrangement planned in advance is greatly helpful for classes with a large number of students, as in Professor Glofcheski's flipped Tort Law classroom with more than 200 students.
These are just some of the many possibilities of what you can do in class. Be creative and design your very own in-class activities. Contact us if you are interested in bringing technology into your classroom.
This blog post is part of the Flipped Classroom Professional Development Series. More articles from the series:
Designing In-class Activities for Flipped Classroom: A Step-by-step Guide