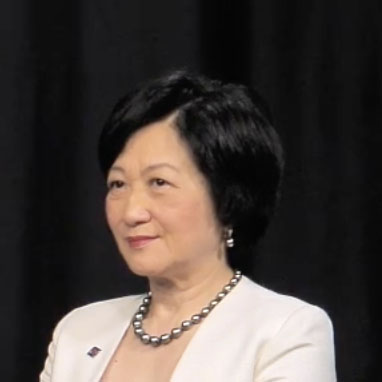 "We couldn't build a campus in every city, so if we could export our educational services through the online model, I think it would be warmly welcomed." Regina Ip
We are happy to have Hon Regina Ip to chat with Professor Douglas Arner and Professor Ricky Kwok at TELI-vision. Regina is a member of the Executive Council of the Hong Kong Special Administrative Region and the Chairperson and founder of the Savantas Policy Institute. She is also someone who completed HKU's Introduction to FinTech MOOC (Massive Open Online Course) and is here to share her online learning experience and her views on the opportunities and challenges in the new FinTech era for Hong Kong's future. Let's first look at some highlights from the interview.
---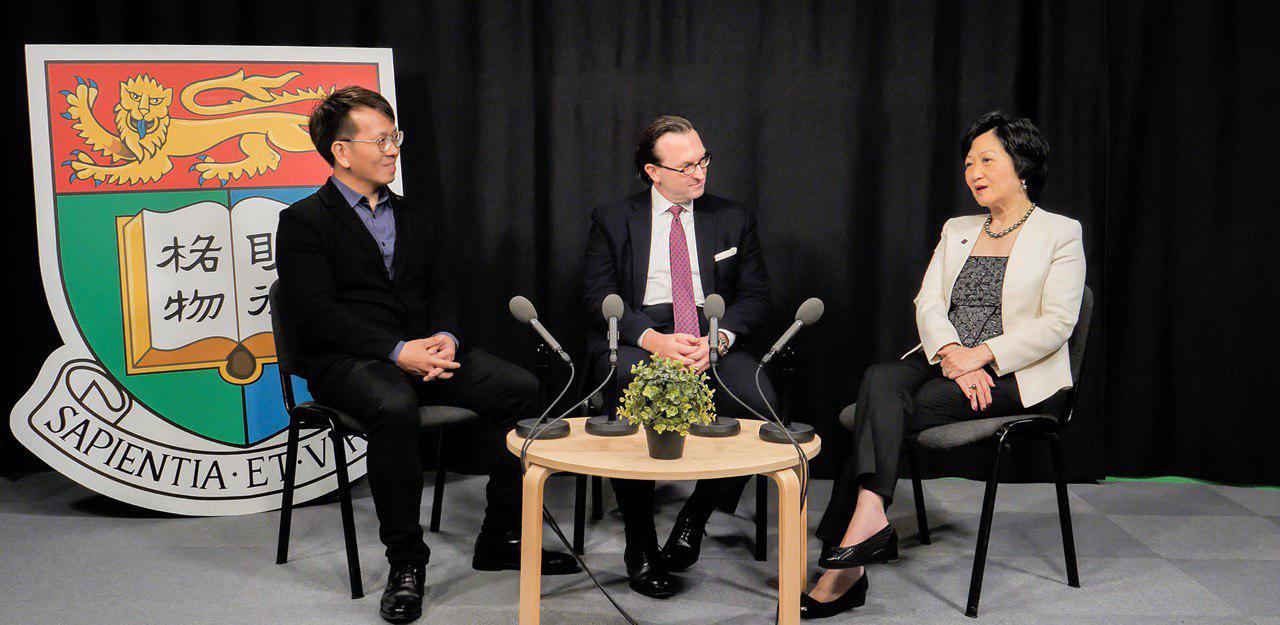 | | |
| --- | --- |
| Douglas: | What made you decide to do the course? And was this the first online course you have done? |
| Regina: | I have heard a lot about FinTech, but I did not really know what FinTech is all about, i.e. what sort of technologies are involved and what sort of new products, new business. Yes, this was first online course and I was very excited about it. |
| Douglas: | In terms of your experience with the course, what did you like? What worked? Were there things about the course that we could change or improve? |
| Regina: | The FinTech course was highly comprehensive, with lectures by you. I think your lectures were one of the most lucid. Because you are a professor, I think you have a practice or a habit of speaking clearly to students, and you brought in experts from different backgrounds, lawyers and entrepreneurs, etc. to the course. There were also interesting used cases, which helped me to gain insights into what's really happening. The beauty of this sort of course is that every module is not too long, about half an hour in length. So for part-time learners like myself, at the end of a long day, I can do one or two modules at my own pace. I think I paid maybe $100 US for a Certificate, but that's purely for fun. I wasn't going for grades, that sort of thing. |
| Ricky: | I'd like to know about how you find the interaction with the courseware. |
| Regina: | There were quizzes and there was an end-of-course survey. I did all of that. I thought those were useful. The quizzes were not that challenging. The surveys were interesting, and the used cases were very interesting. And to help myself, I jotted down notes during every module, and I kept my FinTech notes, to make sure I don't lose the knowledge. |
| Ricky: | Do you think we should also try to further promote Hong Kong based MOOCs to the mainland, or to the Greater Bay Area? |
| Regina: | I think that is a very good idea. Education is definitely one area for cooperation within the Greater Bay Area, 9 + 1. The mainland authorities think very highly of our top universities. They are highly ranked, i.e. University of Hong Kong is highly ranked and highly international. We can't build a campus in every city, so if we could export our educational services through the online model, I think it would be warmly welcomed. |
| Douglas: | Thinking about this particular course, one of our objectives, was to highlight to the world what HKU and Hong Kong are doing in the area of FinTech. What sorts of opportunities, what sorts of challenges do you see with this new FinTech era for Hong Kong's future? |
| Regina: | Hong Kong is one of the world's top three international financial centres, innovating from our rule of law foundation, our convergence with international compliance systems, but basically our strengths are in banking, wealth management and stock markets. Because we are a mature market, we have been lagging behind in innovation. The HKMA set up a FinTech facilitation office two years ago, and they've been catching up. They introduced a faster payment system and have recently introduced Open API for banking… Catching up, we have to, otherwise we'll be left behind. |
| Douglas: | One last question from me, and that is, if we look at Hong Kong's innovation ecosystem, what are some of the things that you would like to see universities doing to further support Hong Kong's innovation ecosystem? |
| Regina: | Support entrepreneurship. I think you should help create, foster, this climate, this ecology of entrepreneuring in technology. |
| Ricky: | I completely agree with you about a entrepreneurship spirit. But to me, entrepreneurship is a mindset. It's something that you have to instil into our younger people earlier in the education process. We should try to use these online courses as a vehicle to help them to build this kind of mindset, because taking an online course, like what you did, is already an entrepreneurial behaviour because you're trying to find a resource, you're trying to step outside of your comfort zone. Late at night you're studying, you post something. It's a very entrepreneurial … It's not planned, it's not structured. |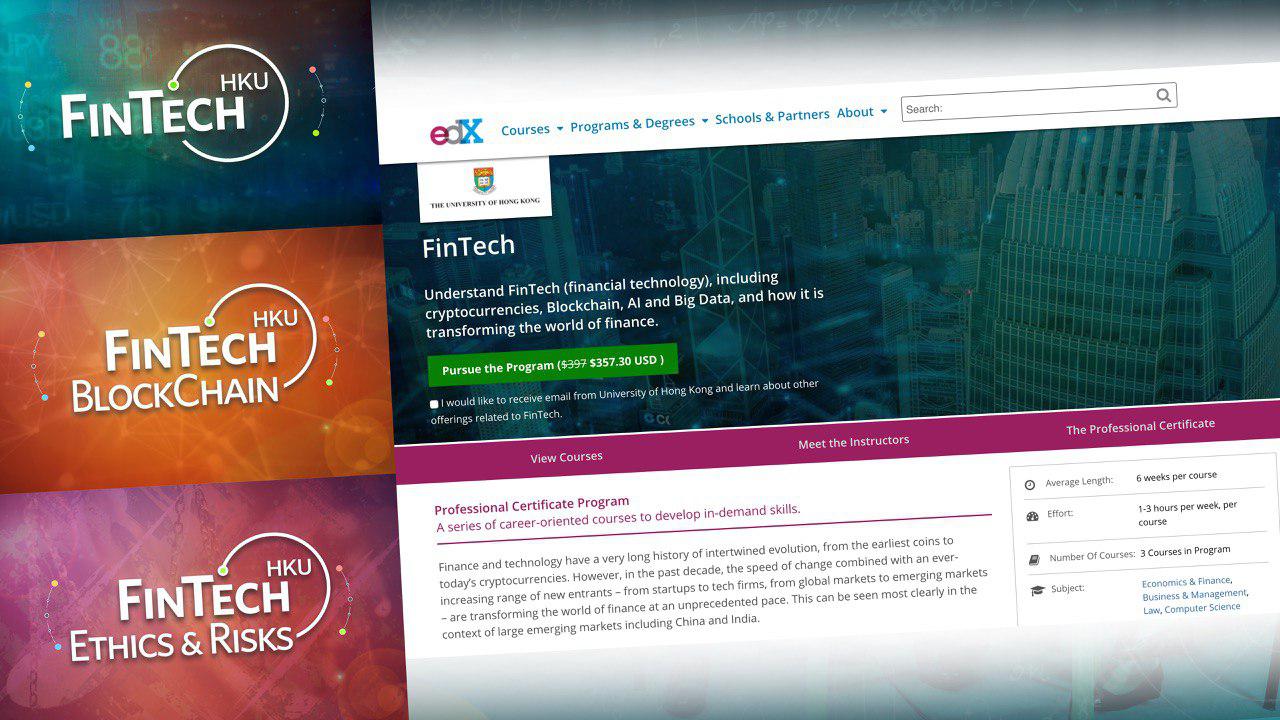 Ricky:
We will have a blockchain course to instil the entrepreneurial spirit. It's pitched at introductory level. You'll know enough to understand how blockchain actually works and what are the potential applications, and why they can be applied in those scenarios. Plus there will be a third course about ethics in applying FinTech or other technologies in your finance. These three courses come as a bundle, and if you complete all three of them, you will get a professional certificate.
Regina:
I can't wait to enrol in these courses myself. Because I believe in continuous learning, and it's something well worth promoting in Hong Kong, if we really want to become a knowledge-based society.
---
Thank you Regina! Like you said, though we couldn't build a campus in every city, we would certainly try our best to export our educational services through the online model to reach students locally, regionally and globally!
To learn more about the FinTech discussion at TELI-vision from our special guest Regina Ip with Professor Douglas Arner and Professor Ricky Kwok, please click the following links to view the videos.
Regina Ip – FinTech MOOC Online Learning Experience Sharing 1/3
Regina Ip – FinTech MOOC Online Learning Experience Sharing 2/3
Regina Ip – FinTech MOOC Online Learning Experience Sharing 3/3