Message from Information Technology Services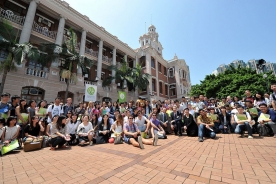 In order to provide new University staff with useful information about the wide range of services offered by Information Technology Services (ITS), we will have a series of orientation activities running between late August and mid September:
ITS Orientation Seminars
ITS Orientation Trails
Exhibition Booths
---
1. ITS Orientation Seminars
New colleagues are encouraged to join an ITS Orientation seminar on one of the following dates:
August 29, 2013 (Thu) 10:30 am – 12:45 pm
August 30, 2013 (Fri) 10:30 am – 12:45 pm
September 4, 2013 (Wed) 2:30 pm – 4:35 pm
Each seminar will include a one-hour "Introduction to Information Technology Services (ITS)" which gives an overview of the comprehensive range of central IT and network services offered by ITS.  In addition to the introductory session, a short presentation will also be given by Dr Iain Doherty about the role of the EPSU in supporting teachers who want to innovate in their courses through the use of e-learning.  Colleagues can also attend the 3 parallel sessions through which we will introduce:
– Moodle Learning Management System
– Panopto Lecture Capture System
– Research supporting environment and High Performance Computing (HPC) facilities
Please register NOW and check out the seminar details at http://www.its.hku.hk/documentation/handbook/its-guide/2013-2014/orientation-seminars-staff#schedule.
---
2. ITS Orientation Trails
In addition to the Orientation seminar, Orientation Trails will also be arranged during the first week of the semester (September 2-6, 2013) at the Learning Commons and centrally timetabled classrooms.  The trails will familiarize new University members with the University's learning environments and give practical demonstrations on the use of the IT/AV facilities. Classroom facilities at the Centennial Campus and Main Campus will be introduced during the orientation trails for staff.
Chi Wah Learning Commons at 11:30 am and 2:30 pm on September 2-6, 2013  (Assembly point: Main Entrance, Ground Floor by the water feature)
The Oval on 1/F, Knowles Building at 2:30 pm on September 2-6, 2013 (Assembly point: Ground Floor reception area, Knowles Building)
Just walk-in and no registration is required for joining the trails.
---
3. Exhibition Booths
A joint exhibition together with the University Libraries will be held in the first two weeks of the first semester.
During the exhibition, there will be display boards showing the core IT services, in particular the support for teaching and learning, and research, in the University.  Staff will be there during designated timeslots to answer questions.
Details of the exhibition are tabulated below:
G/F, Main Library, September 2 (12:00 noon) – September 9 (5:00 pm)
G/F, Chi Wah Learning Commons, September 2 (12:00 noon) – September 13 (5:00 pm)
All new University members are welcome to join the above orientation activities.