Message from Professor Amy B.M. Tsui, Pro-Vice-Chancellor (Teaching & Learning) and Vice-President
Dear Colleagues,
Director of Common Core Curriculum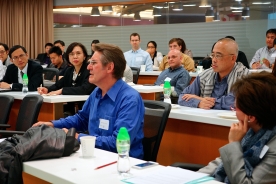 As some of you may know already, Mr Gwyn Edwards, Director of Common Core Curriculum, will step down from the Directorship at the end of December 2013, having served in that capacity since its inception. Mr Edwards has played an important role in the conceptualization of the Common Core Curriculum as well as its implementation. His very broad knowledge base, deep insights into profound issues confronting human societies, and collegial intellectual engagement with colleagues have inspired many to contribute their best to the Common Core Curriculum. I wish to express my deep gratitude to Mr Edwards for taking on a highly complex and onerous task and making it a success.
An international recruitment for a new Director has been underway. In the interim, Professor Gina Marchetti, Professor of Comparative Literature in the Faculty of Arts and Convenor for Global Issues Area of Inquiry, has kindly agreed to serve as the Acting Director from December 23, 2013. To facilitate the transition, Mr Edwards has kindly agreed to serve as Deputy Director on a part-time basis from mid-February 2014. I wish to thank both Professor Marchetti and Mr Edwards for their commitment to making a difference to undergraduate education at this University.
Amy B.M. Tsui
Pro-Vice-Chancellor (Teaching & Learning) and Vice-President
Chair of Language and Education