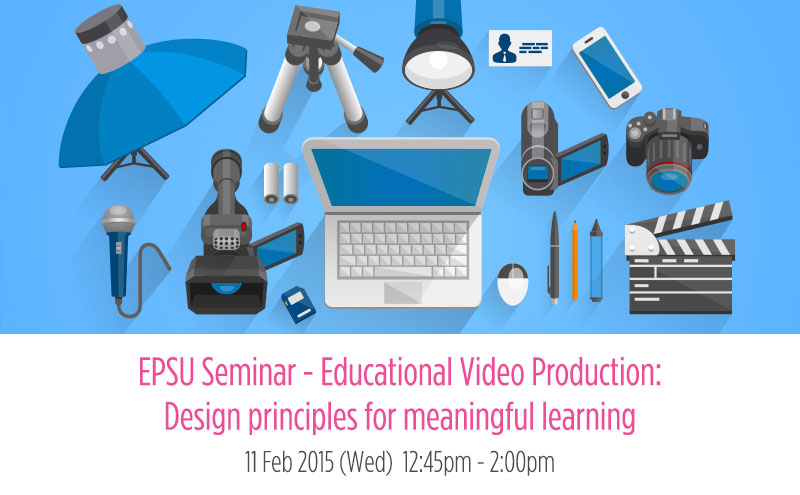 Organized by e-learning Pedagogical Support Unit, CETL
Speakers: Mr Steve Roberts (Instructional Designer, CETL, HKU)
Date : 11th February, 2015 (Wednesday)
Time : 12:45pm – 2:00pm
Venue : Room 321, Run Run Shaw Building
It would take an individual over 5 million years to watch the amount of video that will cross global internet networks each month in 2018, with video consisting of 79% of all consumer internet traffic in 2018 (Cisco, 2014). Whilst this vast access and consumption of video by no means implies viewers are engaging with or learning from high-quality content, it does indicate that video is a dominant online modality for information 'chunking' and broadcasting. In light of this ubiquity of video, the ease in which technology can be leveraged to create viewing environments, and its potential as a medium to provide input, higher education (HE) has been integrating video into teaching and learning at a rapidly growing rate. Flipped classrooms, Massive Open Online Courses (MOOCs), blended-learning classrooms and distance courses are a few of the many contexts in which video is employed as a tool for learning.
But, given this huge uptake, perhaps it is worth pausing to consider the nature of the videos which are being produced. Are we sufficiently reflecting on questions such as: What is the difference between video for education and entertainment? What is the impact of visuals and audio, and the relationship between these modalities, on student cognition and learning? Does adding graphics to spoken words help students' learning? Is talking over PowerPoint slides more or less effective than a talking head alone? Does adding on-screen written text, which parallels spoken text, support or hinder learning?
If you are curious about the answers to these questions, join this seminar where we will discuss approaches to multimedia design; explore foundational ideas on cognitive load and working memory; collaboratively analyse multimedia design principles to aid cognition and learning by looking at several examples; and finally reflect on the relevance of these theories and approaches to our own contexts.
About the Speakers:
Steve Roberts has experience in a range of local and international contexts as a teacher, teacher trainer and courseware designer. He is currently working as part of the EPSU team to develop Massive Open Online Courses (MOOCs) and provide pedagogical support to faculties integrating technology into their teaching and learning environments. His research interests include the potential role of digital technologies for communication and education in international development.
Sandwiches will be served with coffee and tea.
---
For information on registration, please contact:
Ms Ivy Lai , CETL
Phone: 3917 8996; Email: 
laichun2@hku.hk
.