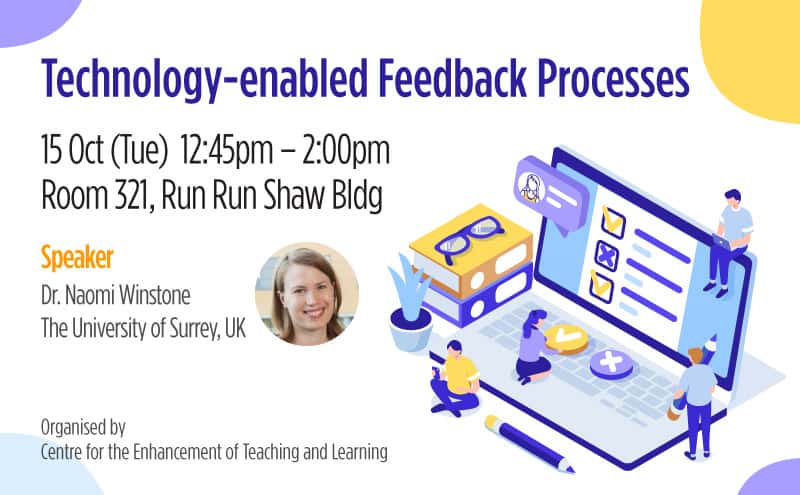 Organised by Centre for the Enhancement of Teaching and Learning (CETL)
Details of the workshop:
Date : 15 October 2019 (Tuesday)
Time : 12:45pm – 2:00pm
Venue : RR321, Run Run Shaw Building, Main Campus
Speaker : Dr. Naomi Winstone, Head of the Department of Higher Education, The University of Surrey, UK
Discussant : Prof. David Carless, Faculty of Education, HKU
Facilitator : Dr. Tracy Zou, Assistant Professor, Centre for the Enhancement of Teaching and Learning, HKU
Abstract
In the domain of assessment and feedback, technology has the potential to streamline the process or facilitate practices not possible without the use of technology. Technology is less effective, however, if it replicates transmission-focused feedback modes through a different medium, and it is important to consider how the use of technology adds further educational value. In this talk, I argue that technology can facilitate effective feedback processes, if built upon a strong pedagogic rationale. I draw upon a systematic review of the literature (Winstone et al., 2017) and student perceptions of educational technology (Parker & Winstone, 2017) to evaluate different approaches to technology-enabled feedback processes. I then discuss examples of practice as presented in Winstone and Carless (2019) that demonstrate the affordance of technology in feedback processes. The main aim of the talk is to stimulate the adoption of effective ways of using technology to enable productive feedback processes.
About the Speaker
Dr Naomi Winstone is a cognitive psychologist specialising in learning behaviour and engagement with education, particularly the processing and implementation of feedback. Naomi is a Reader in Higher Education, and Head of the Department of Higher Education at the University of Surrey, UK. Naomi is a Senior Fellow of the Higher Education Academy, and a National Teaching Fellow. Her recently published book, co-authored with David Carless, is entitled Designing effective feedback processes in higher education.
---
HKU staff and invited guests only.
Contact Information
For information, please contact:
Mr. Thomas Lau , CETL
Phone: 3917 4807; Email: kanclau@hku.hk​