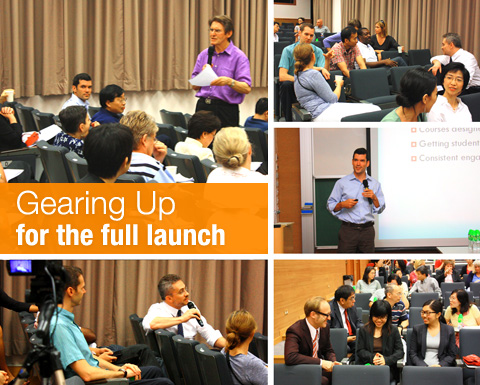 In preparation for the full launch of the Common Core (CC) Curriculum in September 2012, more than 80 course co-ordinators, teachers and tutors convened at a half-day forum on May 31, 2012 to share good practices of teaching, and to discuss issues encountered in this academic year.
Mr Gwyn Edwards, Director of CC Curriculum, opened the forum by sharing some of the major findings from the Student Evaluation of Teaching and Learning (SETL) survey. Overall, there was improvement in all aspects, namely course effectiveness, teacher effectiveness and tutorial effectiveness. Students mostly regarded CC courses as "interesting", and gave very positive comments on the quality of tutorials. However, many students also felt that the courses could be improved in terms of workload and assessment.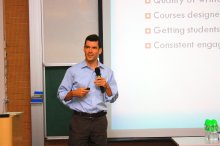 Two innovative approaches to engage students in dealing with "big questions" to humankind were showcased at the forum. In the first presentation, Dr Chad Lykins and Dr Maria Manzon spoke on their experience in using the Challenge Project and the Active Planning Journal to help students achieve an in-depth understanding of poverty and to take concrete actions to alleviate associated problems.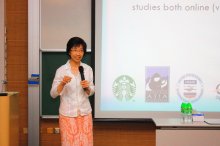 In the second session, Dr Charles Schencking explained how primary texts and visual sources were used in class to help students investigate natural disasters as researchers. The last part of the forum involved an open discussion on issues and possible challenges in further enhancing the CC Curriculum.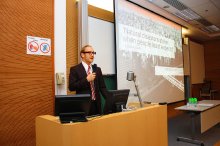 In her concluding remarks, Professor Amy B.M. Tsui, Pro-Vice-Chancellor (Teaching and Learning), thanked teachers and tutors for their tireless efforts in ensuring excellent delivery of CC Courses. She also re-affirmed that the CC Curriculum is not on the periphery but at the centre of the students' academic experience at HKU.
---
Date: Thursday May 31, 2012 (2 – 5 pm)
Venue: Hui Oi Chow Science Building LG-06

Rundown and PowerPoint Presentations
HKU Portal Authentication Required
Presentation: Review of Common Core Courses 2011 and Preparation for 2012 (Mr Gwyn Edwards)
Presentation Download
Sharing Session 1: Innovative Practices of Teaching and Assessing Common Core Courses (I)
Sharing Session 2: Innovative Practices of Teaching and Assessing Common Core Courses (II)
Sharing Session 3: Problem-sharing: Issues Arising in the Teaching and Assessment of Common Core Courses (Mr Gwyn Edwards)
Summing Up and Way Forward (Prof Amy Tsui)