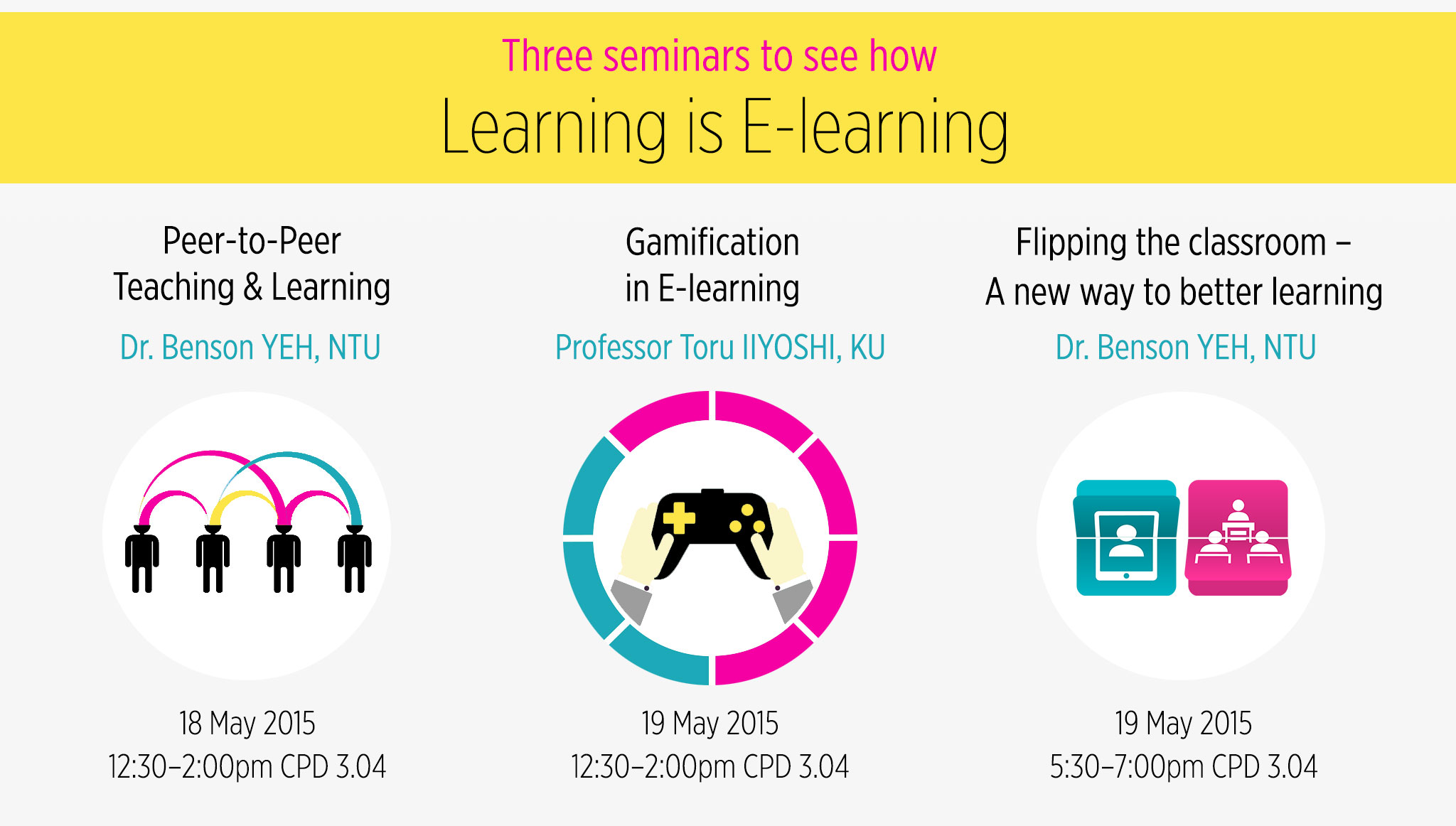 Seminar: Peer-to-Peer Teaching & Learning
Dr. Benson YEH, National Taiwan University
Venue & Time: CPD 3.04, 18 May 2015 12:30pm – 2:00pm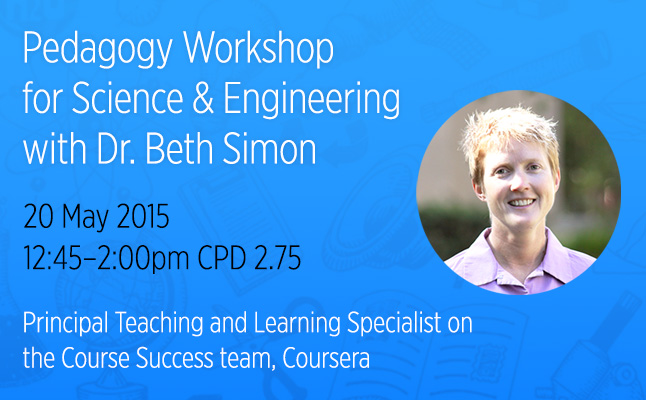 How can we keep students engaged in class? How can we make our students motivated to learn? These are the most challenging questions for teachers nowadays. Dr. Yeh developed a series of Peer-to-Peer teaching and learning schemes following his unique teaching teaching philosophy: "For the student! By the student! Of the student!". In this talk, Dr. Yeh will explain how his schemes work and show the amazing results from his students' course work.
Seminar: Gamification in E-learning
Professor Toru IIYOSHI, Kyoto University
Venue & Time: CPD 3.04, 19 May 2015 12:30pm – 2:00pm
Although gamification in education is not a new idea, the evolution of increasingly media rich, open, social, and intelligent learning tools, environments, and educational approaches—enabled and enhanced by information and communications technology (ICT)—is rapidly transforming the landscape of learning and teaching. This seminar delves into some of the critical pedagogical, cognitive, motivational, and emotional aspects of technology-supported gamification in education by reviewing and examining the past and present practice as well as foreseeing some of the future possibilities that will help further advance individual and collective capacity development and education systems in the 21st century society.
Public Seminar: Flipping the classroom – A new way to better learning
Dr. Benson YEH, National Taiwan University
Venue & Time: CPD 3.04, 19 May 2015 5:30pm – 7:00pm
Flipped classroom has attracted attention in recent years. However, how to conduct flipped classroom effectively remains a question to many teachers. How should a teacher motivate students to watch videos in advance? How can a teacher teach well without giving any homework? There are many doubts about flipped classroom for teachers without the experience.
Dr. Yeh is one of the most renowned teaching innovators in Taiwan. He developed a total solution "BTS Flipping" for flipped classroom. He has been invited to give more than 200 talks last year on "BTS Flipping". Dr. Yeh's talks have motivated tens of thousands of teachers in Taiwan to start flipping their classes.
---
About Dr. Benson YEH, National Taiwan University
Dr. Yeh has pioneered many educational experiments and designs:
He is the first to win the Overall Award and E-Learning Award in Wharton-QS 2014 Stars Awards: Reimagine Education, the "Oscars" of innovations in higher education.
He is the first to teach a MOOC course in Chinese with 48,000+ students.
He is the first in the world to design a MOOC-based multi-student social game to enhance the learning experience of MOOC students.
He is the first to design various experiential learning schemes that enable college students to be graded by elementary school students on their presentation skills.
He is the first to create and promote the style of designing mathematical problems with creative literary writing.
Since 2010, Dr. Yeh has been the strong advocator of his teaching philosophy: "For the students, By the students, Of the students". It states that students can be motivated to learn if teachers can share more responsibility with them (e.g., by letting students design their own homework problems. Dr. Yeh's speeches have motivated many teachers to start thinking differently in teaching. His new book on education, "Teach for the future" has been one of the bestsellers in Taiwan.
About Professor Toru IIYOSHI, Kyoto University
Toru Iiyoshi is Director and a professor at the Center for the Promotion of Excellence in Higher Education (CPEHE) of Kyoto University where he also serves as Deputy Vice President for Education. Previously, he was a senior scholar and Director of the Knowledge Media Laboratory at the Carnegie Foundation for the Advancement of Teaching, a visiting professor at the Graduate School of Interdisciplinary Information Studies of the University of Tokyo, and Senior Strategist in the Office of Educational Innovation and Technology at Massachusetts Institute of Technology.
Prof. Iiyoshi's current areas of research and development include educational innovation and technology, open education, technology-enhanced scholarship of teaching and learning, and future of higher education systems. He works with various national and international initiatives, projects, and organizations in an advisory role to provide vision and leadership in the development and distribution of innovative educational technology. Prof. Iiyoshi is the co-editor of the Carnegie Foundation book, "Opening Up Education: The Collective Advancement of Education through Open Technology, Open Content, and Open Knowledge" (MIT Press, 2008).