Inter-professional team-based learning (IPTBL) is an innovative teaching approach initiated by the Li Ka Shing Faculty of Medicine in the University of Hong Kong (HKU). It is a pioneering effort to promote peer-to-peer learning and inter-professional education across healthcare disciplines using team-based learning (TBL), flipped learning and e-learning. First piloted in 2016, the initiative engaged 500+ students across 7 programmes from HKU and the Hong Kong Polytechnic University (PolyU). Based on the feedback collected, the event was further scaled out in 2017, serving more than 1,000 students (and as many as 501 students in one particular session) from 12 programmes from the two universities.
In this large-scale flipped classroom implementation, we have demonstrated the following attributes:
Implementation of an entirely new mode of teaching, pushing teachers and students to step out of their comfort zone;
Use of technologies to facilitate teacher-student/student-student interactions; and
Effective collaboration among teaching units and teaching-support units.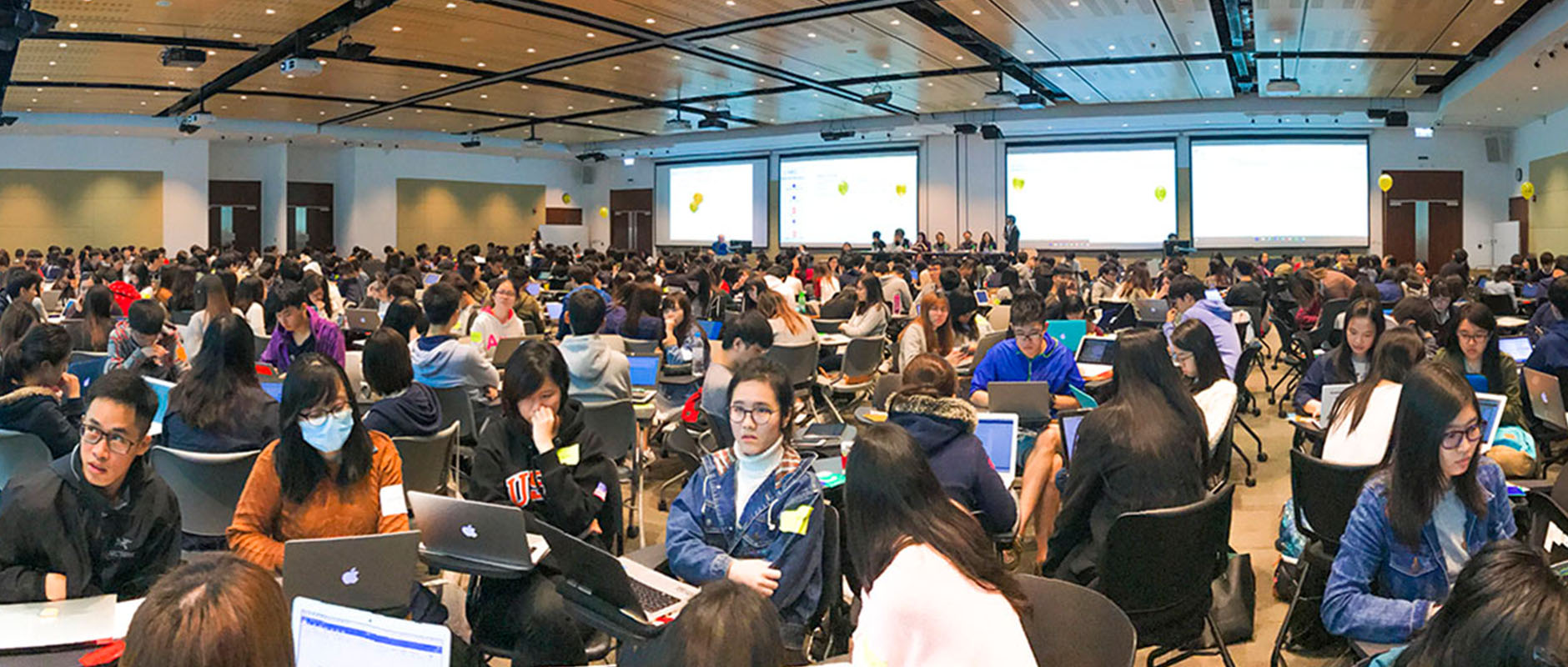 The event served more than 1,000 students (and as many as 501 students in one particular session) from 12 programmes from the two universities.
We are happy to share that the initiative has been recognized locally and internationally. In 2016, the IPTBL team won the Bronze Discipline Award (Life Sciences) in the prestigious QS Stars-Wharton Reimagine Education Awards. Taking one step further in 2017, we had been shortlisted for the HKU Professional Services Awards 2017 (Team category), an annual award programme at the University level to recognise and promote excellence in professional services. We would like to express our gratitude to the University, our colleagues and students for their support, without which our work would not have been possible.
Raising Standards of Classwork Activities
The motivation behind implementing this initiative is to enhance the quality of teaching and learning by pushing both teachers and students out of their comfort zone.
Facilitating teachers to step out of their comfort zone
Traditionally, many teachers tend to focus on their own discipline in teaching or even a particular topic when delivering a lecture. In the case of IPTBL, all members of the teaching team stepped out of their disciplinary silos and collaborated with teachers from different disciplines and institutions.
Facilitating students to step out of their comfort zone
Many health professional graduates in the work field found it difficult to communicate with their colleagues with different backgrounds, as they mainly received training with students from the same discipline in university. In IPTBL, students from multiple disciplines were grouped in ways that reflected the realities of the healthcare sector. This created ample opportunities for them to develop communication and collaboration skills essential for their future career.
Enhancing Teaching and Learning with Technology
Since a large number of students were involved in each session, an online learning platform and a peer evaluation system were developed to facilitate teacher-student and student-student interactions.
Facilitating teacher-student interactions
It is not easy for teachers to engage hundreds of students and monitor their progress simultaneously in face-to-face sessions. To facilitate teachers in managing the class, an online Learning Activity Management System (LAMS) was introduced. In class, students needed to log-in the system and answer questions individually and in teams. The system allowed teachers to track their real-time progress through the different stages of TBL. This system also made it easier for teachers to decide on which groups to interview in the interactive feedback session.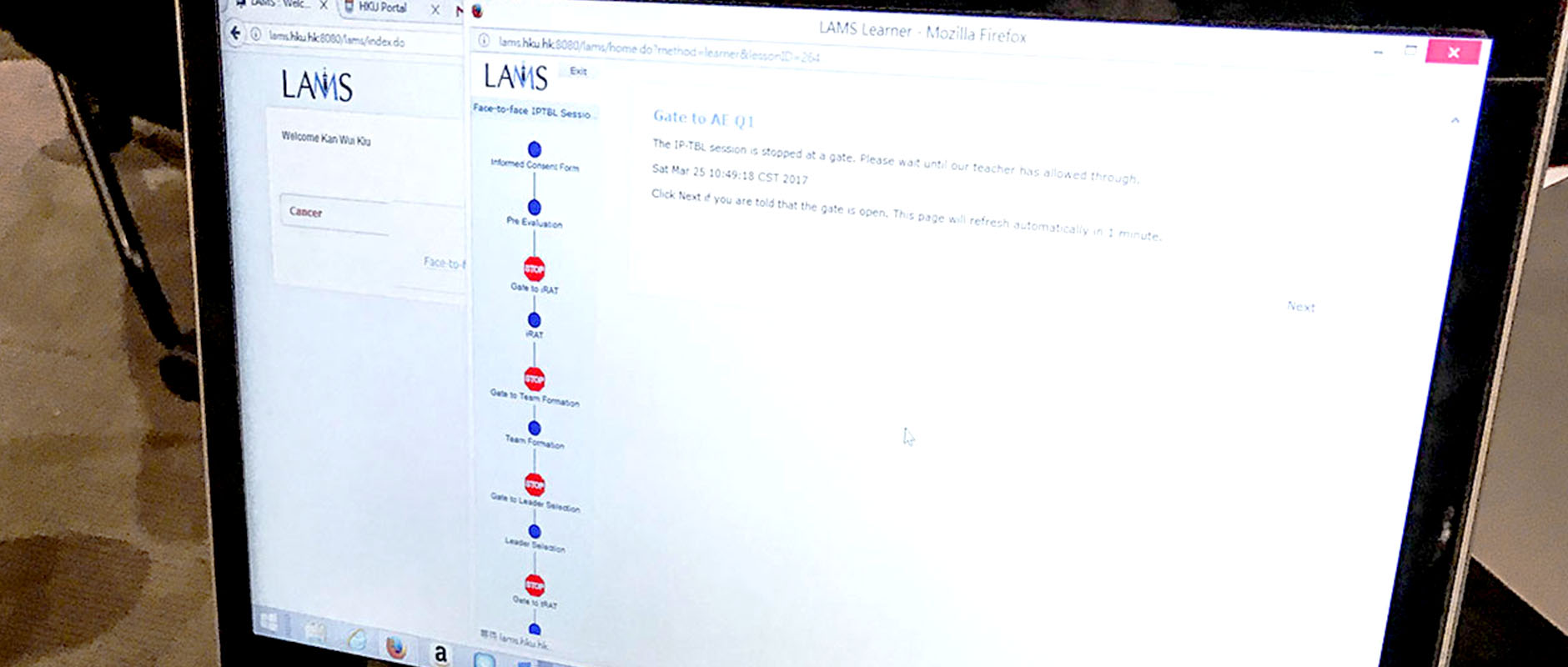 The Learning Activity Management System (LAMS)
Facilitating student-student interactions
A peer evaluation system was developed to enable students to deliver real-time feedback to their teammates for timely self-reflection. The system also came with an online discussion forum to facilitate student interactions after class.
Overcoming Challenges in Implementing Large-Scale Classroom Activities
Careful scheduling
As IPTBL involved teachers and students from multiple departments and universities, careful scheduling of each session was necessary. To accommodate all parties' schedules, all six sessions were held on Saturday mornings.
Briefing sessions
With a large number of students and teachers from various disciplines involved, it was essential to ensure all necessary operation details were effectively communicated to all parties. To overcome this challenge, the team conducted multiple briefing sessions in both universities, not only with teachers, but also with students. In the briefing sessions, the importance of IPTBL, the session formats and rundown were explained in great details.
Creating an environment suitable for large-scale in-class activities
As it was necessary to accommodate a large number of students in each session, the team chose the Centennial Campus Lecture Hall II as the core learning space as it is a large flat area with mobile chairs and strong WiFi connectivity. Standard large lecture halls such as Grand Hall or Rayson Huang Theatre were not chosen as they might not be suitable for large-scale group discussion, both online and offline. Since the halls are not flat and the chairs are not movable, it will be difficult for students to move around and work in groups. It may also be difficult for teachers and students to communicate online as the WiFi connectivity in these halls are relatively weak.
As the number of students varied in each session, floor plans were drawn for each session to ensure that all students enjoyed the best learning environment. In the actual implementation, balloons with group numbers were attached to each group so that teachers and students could quickly locate individual teams.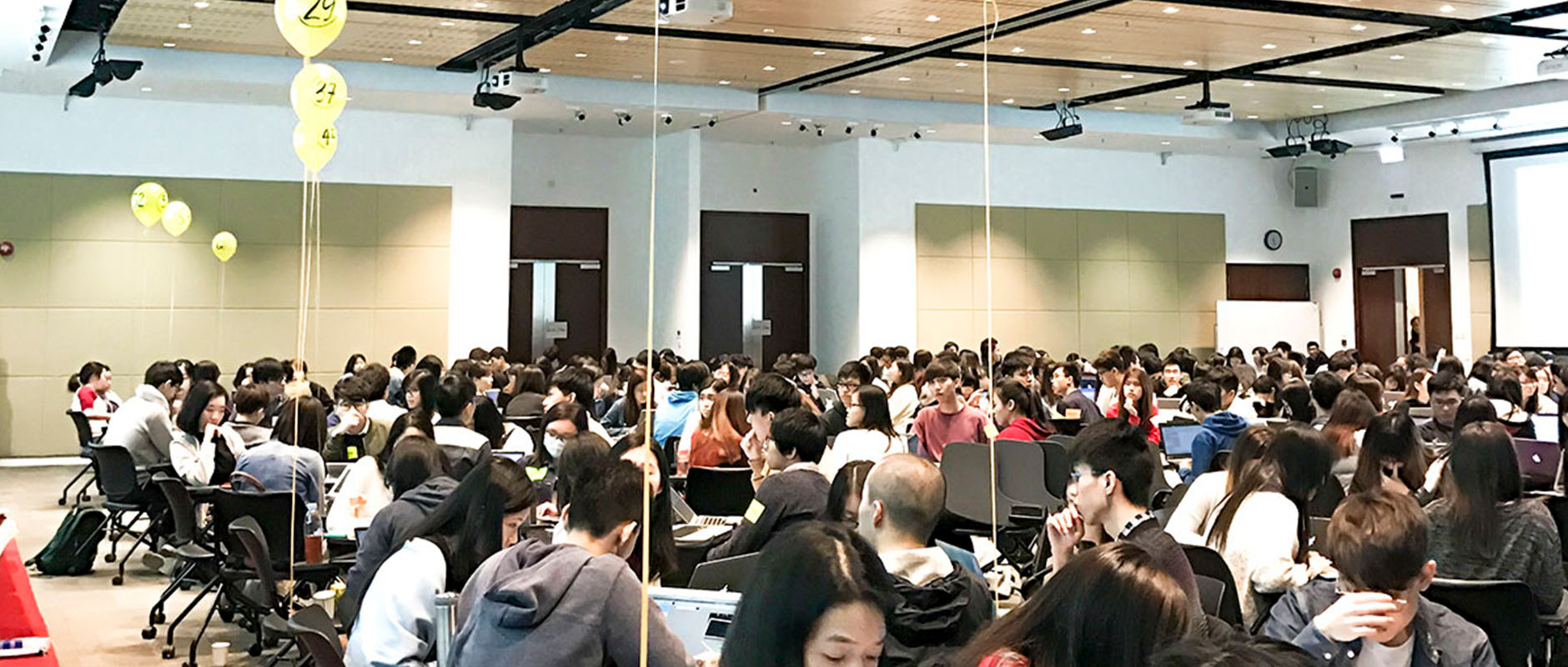 Balloons with group numbers were attached to each group so that teachers and students could quickly locate individual teams.
Collaborations with teaching-support units
Logistics of setting up a suitable environment for large-scale group discussions can be complicated. Reconfiguring the Centennial Campus Lecture Hall II for the IPTBL initiative is particularly challenging, as the hall is usually partitioned into four standard classrooms. Transforming this learning space requires partitions to be lifted up and chairs to be reorganized – a process that would take several hours to complete. As the sessions were held on Saturday mornings, when most HKU offices were closed, the team had to liaise with parties such as Examinations Office and Estates Office to arrange for earlier set up of the venue on the night before.
Each session required materials such as reception tables, refreshments and backup paper tests (in case the online learning system failed to function properly). As most HKU offices were closed on Saturday, transportation of materials was a major challenge to overcome. Extra efforts were made to ensure logistics concerns were addressed – All the materials needed were transported from HKU Medical Campus to Main Campus on the night before. With the assistance from units such as Information Technology Services (ITS) and Learning Environment Services (LES), storage areas were made available.
Multiple rehearsals
To ensure the smooth running of the event, multiple rehearsals had been conducted. With limited time available for each IPTBL session (only 4 hours each) and a tight schedule, time management was crucial to ensure students went through the complete TBL process. Intensive rehearsals and prior testing of the online learning system were necessary to minimize technical problems and possible delays in the actual implementation.
Looking Forward
The IPTBL programme had grown continuously from 2016 to 2017. In the future, the course team aims to continuously improve the online learning platform to provide more informative feedback to both the facilitators and students.
If you are interested in using technology in class or experimenting with new ways of teaching, contact us.