Click here if you cannot access Youtube
Click here if you cannot access Youtube


The world-class quality Implant Dentistry MOOC will be launching its re-run on 27 May 2019! During its first run in October 2016, over 7000 learners from 50+ countries enrolled. Launched by the HKU Faculty of Dentistry, ranked No.1 in the world in 2016, this MOOC is the 1st of the world in Implant Dentistry, offering an important supplement for dental professionals, practitioners and students.
Why study an Implant Dentistry MOOC?
According to the chief course instructor, Dr Niko Mattheos,
"Implant Dentistry is one of the most dynamic and rapidly developing areas within oral health care, but is still a rather new discipline in dental education and is not quite often taught in undergraduate dentistry curricula."
This MOOC, led by Dr. Mattheos, is taught by a stellar dream-team of almost 20 international experts in dental implants and reconstructions. Each week offers specialized knowledge and evidence-based practices for learners to engage with.
What are the contents covered in the course?
The MOOC includes 5 modules and runs over a period of 5 weeks. We will begin the journey of Implant Dentistry by exploring how discoveries in biology and technological developments lead to the current practice of dental implants. Then, we will examine clinical cases, diagnose our patients' needs and expectations and learn the principles of treatment planning. We will learn step-by-step surgical procedures for placing implants and various restorative techniques, directed by current evidence and best practices. Finally, we will investigate major threats and complications of implant procedures and ways to ensure successful treatments and long serving implants.
Here are some highlights of the upcoming Version 2:
A New Lesson by Dr. Nikos Mattheos on Posterior Maxilla and Sinus Augmentations containing new video lectures, readings and assessment.
New Video Lectures and contents by dental surgeons and implant experts.
Alfred Lau's lecture on The Use of Autogenous Bone Graft in Implant Dentistry
Martin Janda's lecture on Ceramic Complications in Implant Supported Reconstructions (A Clinical Case)
James Chow's lecture on Life-like Simulations Using Digital Technology
New Clinical Patient Cases are added. You will meet two new patients, Tom and Lisa, and help them plan and execute the best treatment procedure for their missing teeth.
International Impact
The first run created ripples of impacts to international communities, at not only universities and dental schools, but professional communities alike. Passionate learners in the Arabic community even formed a Facebook group, with over 900 members, where members shared notes with peers and translated the materials to Arabic. We also had a large proportion of Chinese learners, as professional organizations in mainland China spread our MOOC.
This impact continues even after the end of the first run – where there are currently three volunteer groups translating the entire course into Chinese (supplementary materials), Russian and Arabic.
Seminars and Events
Colgate seminar on peri-implant tissues in health and disease (October 2016)
Community event in Bangkok (November 2016), conducted by two of the instructors, Dr. Chatchai Kunavisarut, Mahidol University, and Dr. Nikos Mattheos
The event was broadcast through Facebook live: Part 1, Part 2, Part 3, Part 4
Learner Feedback
Here are some testimonies from the learners: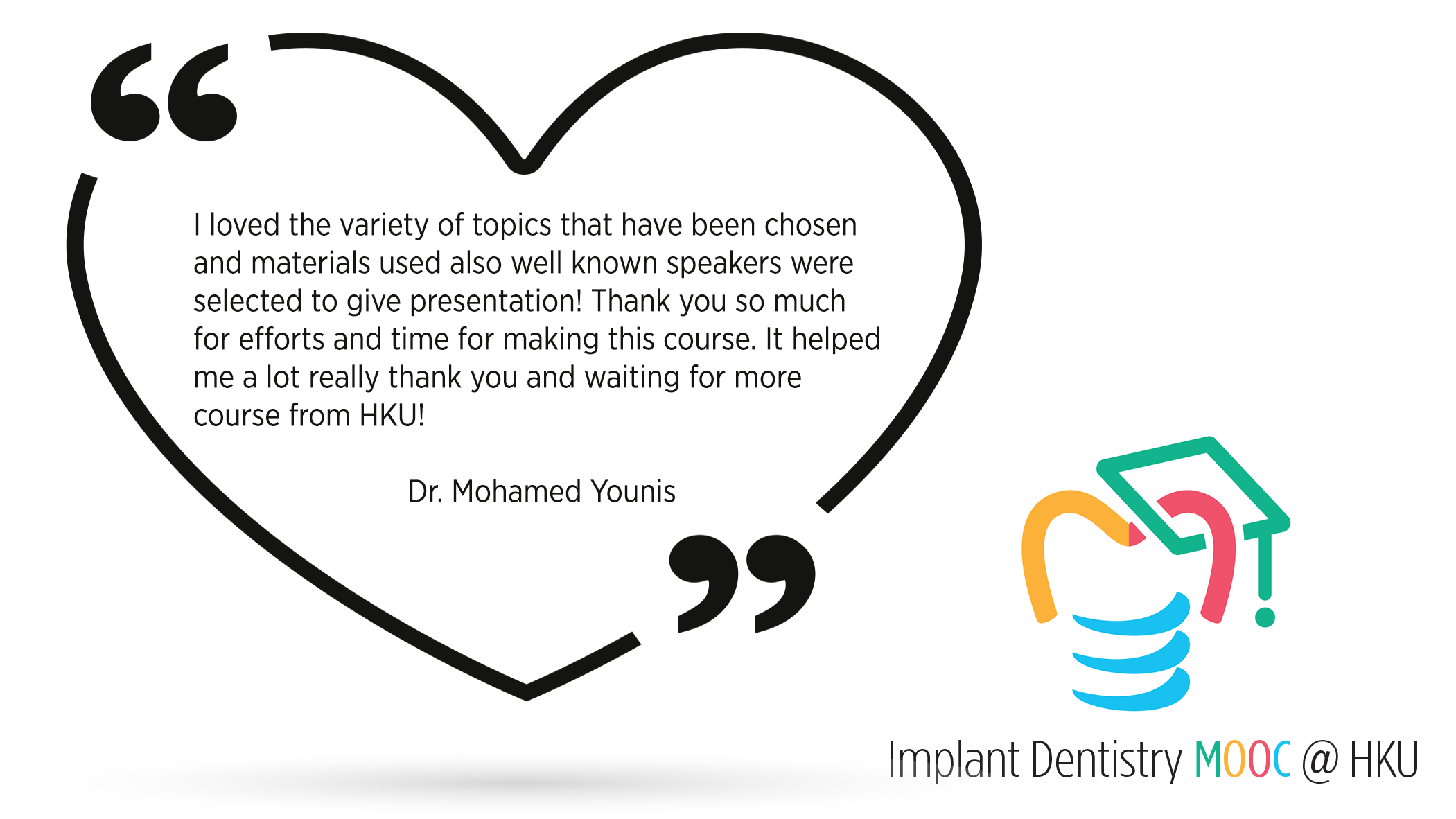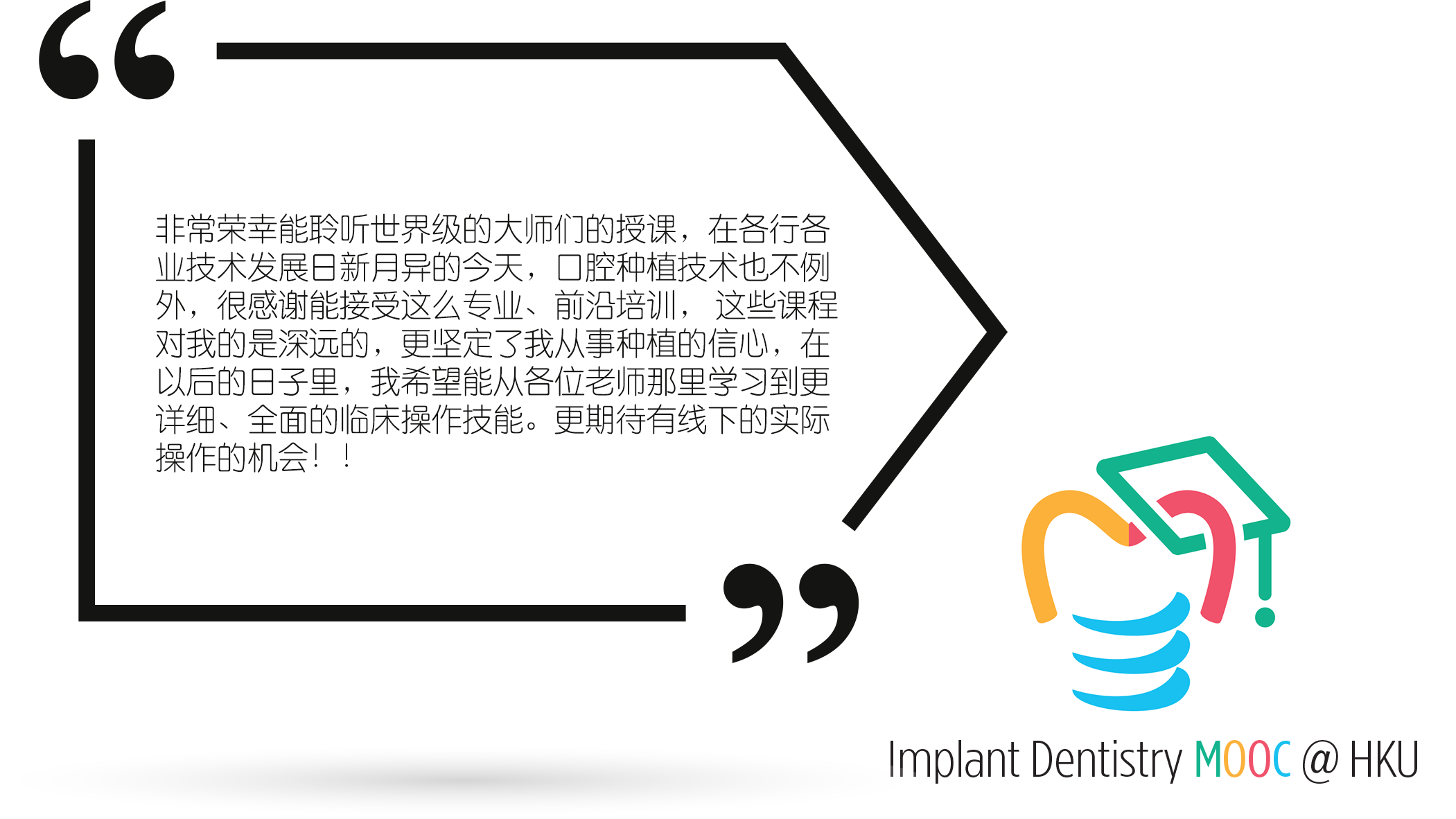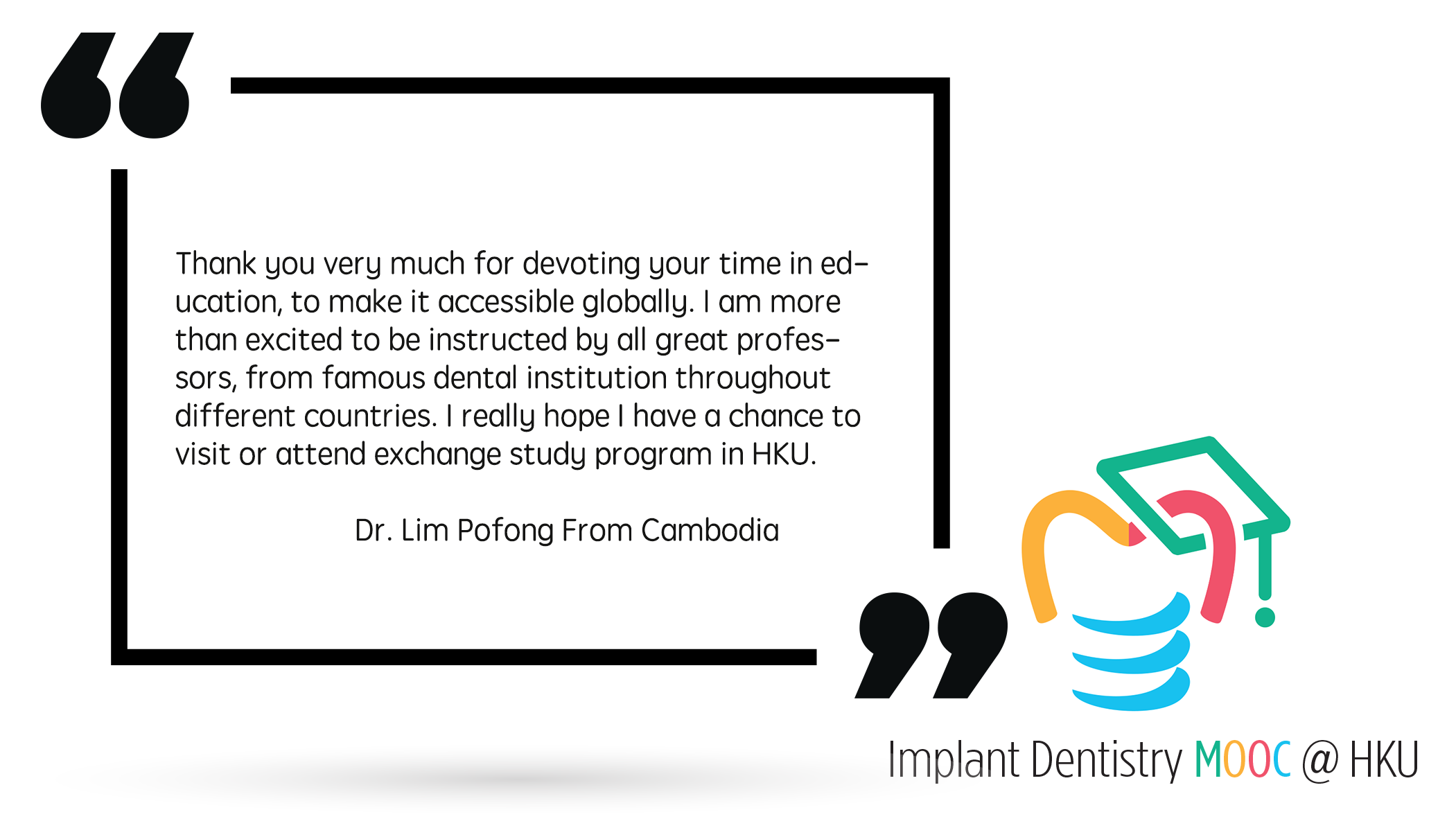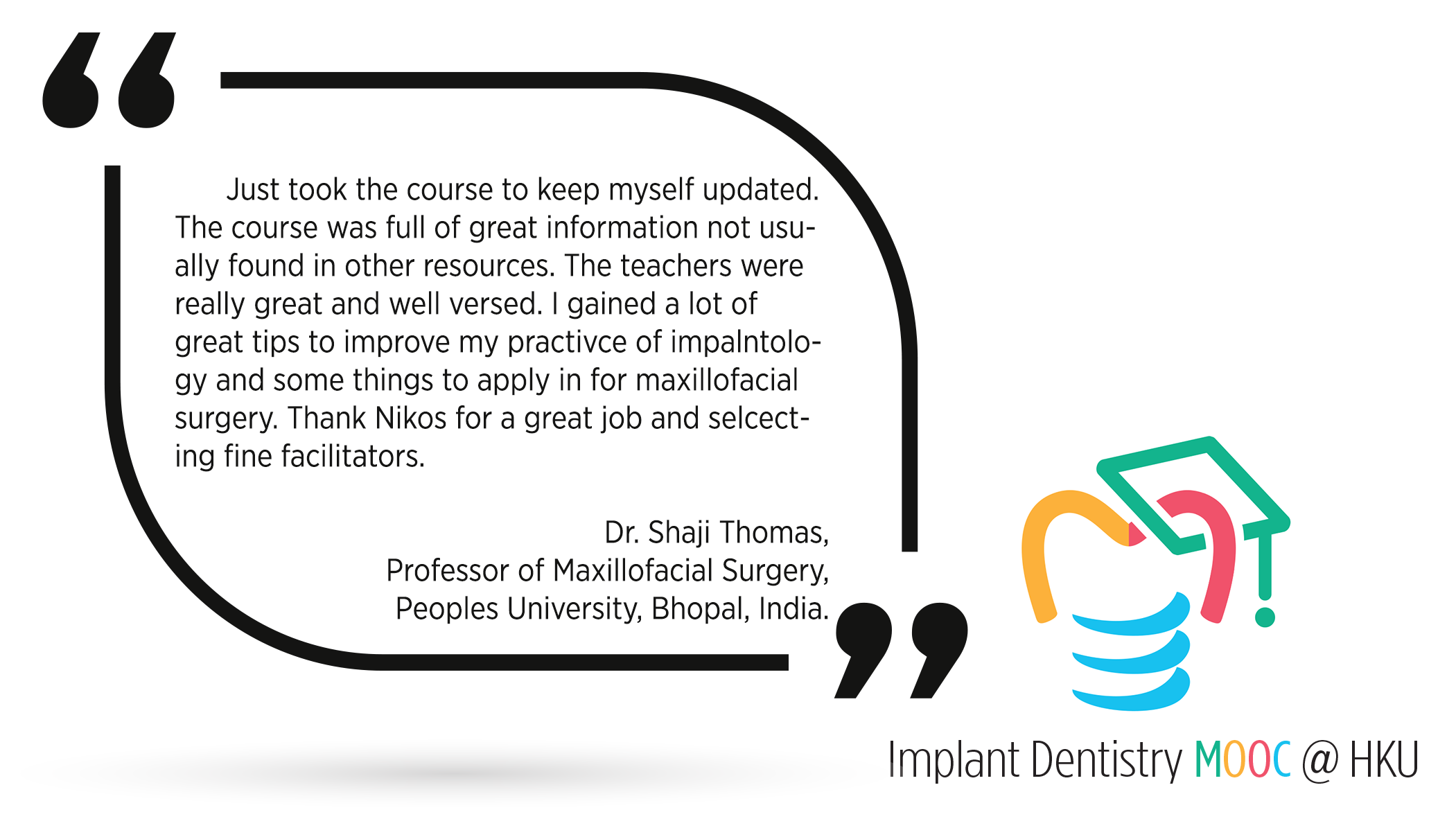 Listen to our students and find out how they like our course!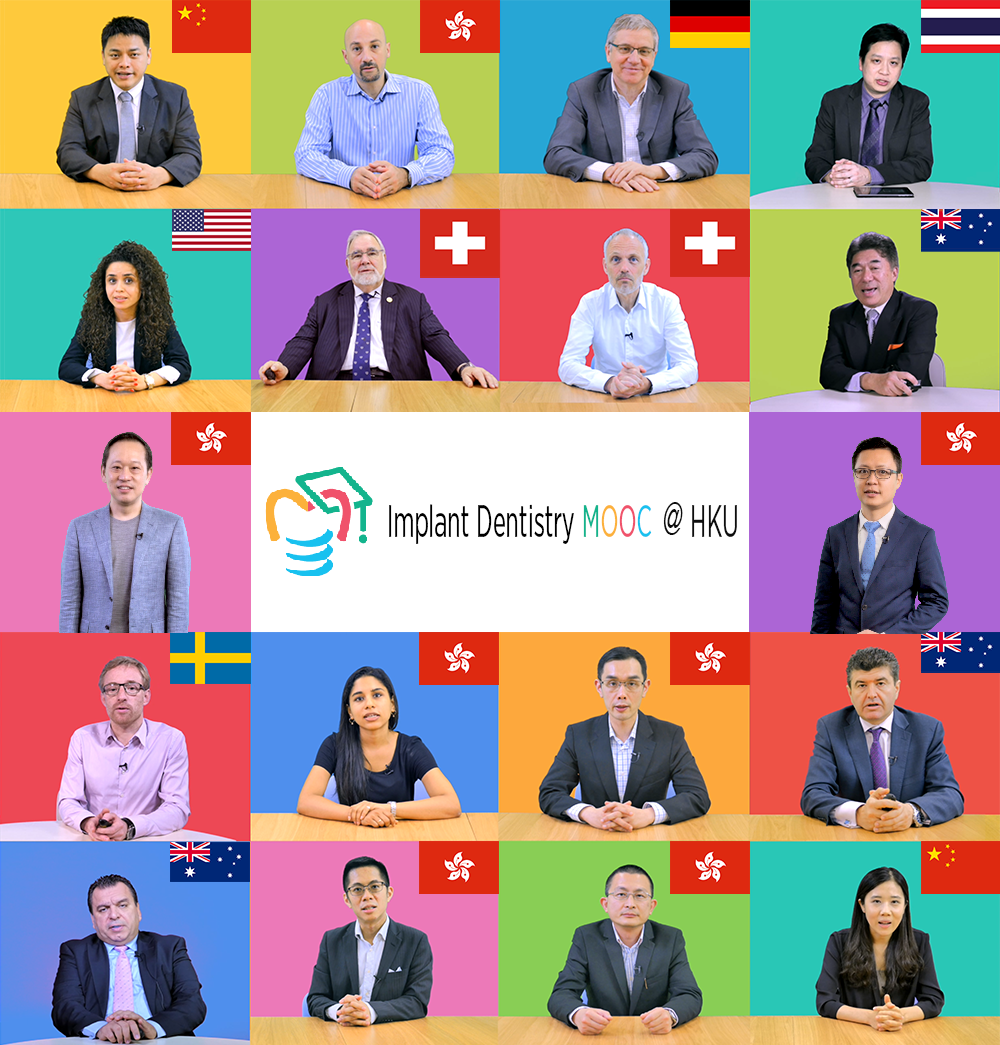 Sneak Previews
Below are some teasers of what you may expect in the course:
| | | |
| --- | --- | --- |
| How to become an Implant dentist | Minimally Invasive Surgery | Micro Surgery Instruments |
| The 3 main pathways | Suture Techniques | Implant Supported Provisional Restorations |
Register today to experience world-class Implant Dentistry education! Re-run begins on 27 May 2019.
Follow us on Facebook and Twitter to get the latest updates!