Message from Information Technology Services
Dear Colleagues,
Please note that all courses registered in SIS (Student Information System) have the correspondent electronic courses created in Moodle. Teachers, whose names are recorded in the Class Staff Information System (CSI) of SIS, can start uploading course materials. (Teachers can ask the Faculty contact point to add your name to CIS – details in http://moodle-support.hku.hk/contact/CSI) Teachers can enable students' access to a Moodle course by clicking the "Enable for student access" link of the course in the "My e-learning" tab of HKU Portal.
Also, new services are rolled out on January 15:
(A) Two quick-start Moodle tips for teachers to set up e-Courses easily:
Quick Moodle course start-up video tutorials
Change the layout for new courses – using weekly layout instead of the default topic-based layout
(Details at http://moodle-support.hku.hk/moodle-tips-new-semester)
(B) Two new features in the one-stop e-learning hub under the "My e-learning tab" of HKU Portal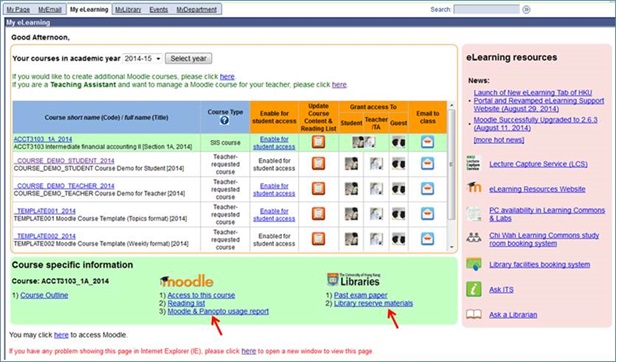 The link "Library reserve materials" allows easy access by both teachers and students to the reserve materials of a particular course, if there is any hosted in the Library system.
The link "Moodle and Panopto usage report" allows teachers to quickly access to the students' usage statistics of Moodle features and Panopto lecture capture service (LCS) of a course. (Details in http://moodle-support.hku.hk/moodle-and-panopto-usage-report)
Besides the above,
http://moodle-support.hku.hk hosts the online tutorials, user guides and FAQ and other Moodle and LCS support information.
Training workshops on Moodle and LCS using Panopto are scheduled on 19 and 28 January 2015. You can find the details and register to attend at http://moodle-support.hku.hk/training/schedule.
If you have any questions or want more information about Moodle, Panopto and training courses, please feel free to email us at elearningteam@hku.hk.
Best Regards,
C.P. Lau
e-learning team